Harry Potter Houses Coloring Pages for Magical Fun (Free Printable Set)
These Harry Potter houses coloring pages are fantastic ways to enjoy magical fun.
This free printable set is perfect for your Harry Potter party, learning fun, and just because. You'll find 2 sizes of Hogwarts House crests plus a bonus page with House signs to color.
Find out more about these free printable Harry Potter coloring pages and get your pack today!
Enjoy Special Yet Simple Harry Potter Coloring Fun
Are you looking for easy yet fun ways to help your Harry Potter fans enjoy their favorite themes?
Or maybe you want some simple (and free) print-and-go activities to boost your Harry Potter learning fun? Or party?
Well, you're going to love these Harry Potter Houses coloring pages!
My 5 boys and I are total Potterheads (Harry Potter fans). We have read all of the 7 books in the Harry Potter series numerous times (as well as listened the audiobooks). The movies featuring our beloved characters (like Hermione Granger, Ron Weasley, Luna Lovegood, Albus Dumbledore, Ginny Weasley, Professor McGonagall, Sirius Black) have been huge hits, too – especially with these awesome activities to extend the fun.
If you're new to Harry Potter (or just want some cool activities to try), I recommend figuring out what Hogwarts House you're in. It's just for fun and an exciting way to get more involved in the books. You can take the Sorting Hat quiz free online at Wizarding World. It's not quite the Sorting Hat, but a casual sorting ceremony can be fun, right? 😉
Before taking the quiz, learn more about each Hogwarts House. You can also use our free printable Hogwarts Houses bookmarks! Take a guess at what House you think you'd be sorted into.
My boys and I had such a blast when we did our sorting. In our homeschool, we have 1 Ravenclaw, 2 Gryffindors, 2 Hufflepuffs, and 1 possible Slytherin (my youngest is 8 and wavers between Gryffindor and Slytherin).
And, of course, use these free printable Harry Potter Houses coloring pages to take your magical fun to the next level!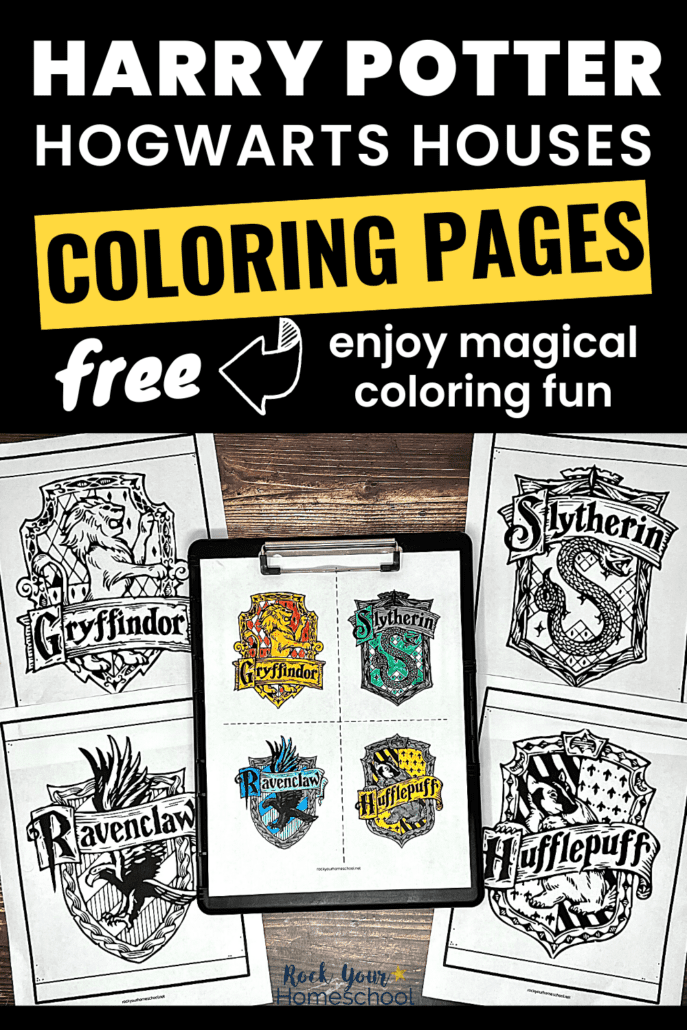 Learn More About This Free Pack of Harry Potter Houses Coloring Pages
This free printable pack includes 6 pages. All of the coloring pages are in black-and-white (which makes it more affordable to print!).
You'll find:
4 full pages with Hogwarts House crests, including:

Gryffindor (featuring a lion)
Hufflepuff (featuring a badger)
Ravenclaw (featuring an eagle)
Slytherin (featuring a serpent)

1 page divided into 4 parts with each crest
1 page with the name of each Hogwarts House
Creative Ideas for Enjoying These Fun Coloring Pages
Oh my stars! There are SO many ways to use these free Harry Potter coloring sheets of Hogwarts School of Witchcraft with kids of all ages.
I recommend having appropriate coloring tools available. We have found crayons and markers with fine tips to work well. Also, color pencils are wonderful ways to complete these printable activities.
If you're not sure what colors to use for the Hogwarts crests, no worries! You can grab our free printable bookmarks for examples. For reference, Hogwarts House colors are:
Gryffindor: gold and red (scarlet)
Hufflepuff: black and yellow
Ravenclaw: blue and bronze
Slytherin: emerald green and silver
Of course, you can modify if you don't have those exact colors. Great way to add a bit of creativity!
The 4 full pages can be used as posters, party decor, and fun binder covers (like for these 3-ring binders with a view). You'll find a space at the top and bottom of each page to customize with name, date, or other information. You can also add important house moments, members of this house, and favorite characters.
The 1 page with 4 smaller crests can be colored and cut. Print on white cardstock and use as larger bookmarks or labels.
The 1 page with 4 Hogwarts House names are also terrific for labels. Another fun way to use each name is to place at the top of a column. Your kids can add facts about each house (including founder, famous members, and more) underneath for a cool challenge (like our free Harry Potter Alphabet Game).
Get Your Free Harry Potter Houses Coloring Pages
Sweet! You're so close to enjoy spectacular fun with these free Harry Potter coloring activities. This collection might just be some of your favorite coloring sheets!
This free printable set includes 6 pages featuring all 4 Hogwarts Houses.
You may print as many of these activities as you need for your personal use, family, class, homeschool co-op, or community event. Go for it! If you have a friend or co-worker who'd enjoy this type of Harry Potter activity with kids, I ask that you please share this post with them. Thanks so much for your cooperation!
To get this set of free Harry Potter coloring pages, simply subscribe to Rock Your Homeschool with your email address.
You'll receive an email with a PDF file, along with a password to open the Subscriber's Library to all Rock Your Homeschool freebies.
Plus, you'll get emails with ideas, resources, and encouragement to make life and learning fun 🙂
(If you're a current RYHS member, you just need to access the Subscriber Freebies page and enter the password in your welcome email. If you have any problems or questions, please email Amy at rockyourhomeschool@gmail.com)
Get your FREE Harry Potter Houses Coloring Pages Pack by tapping HERE or on the image below.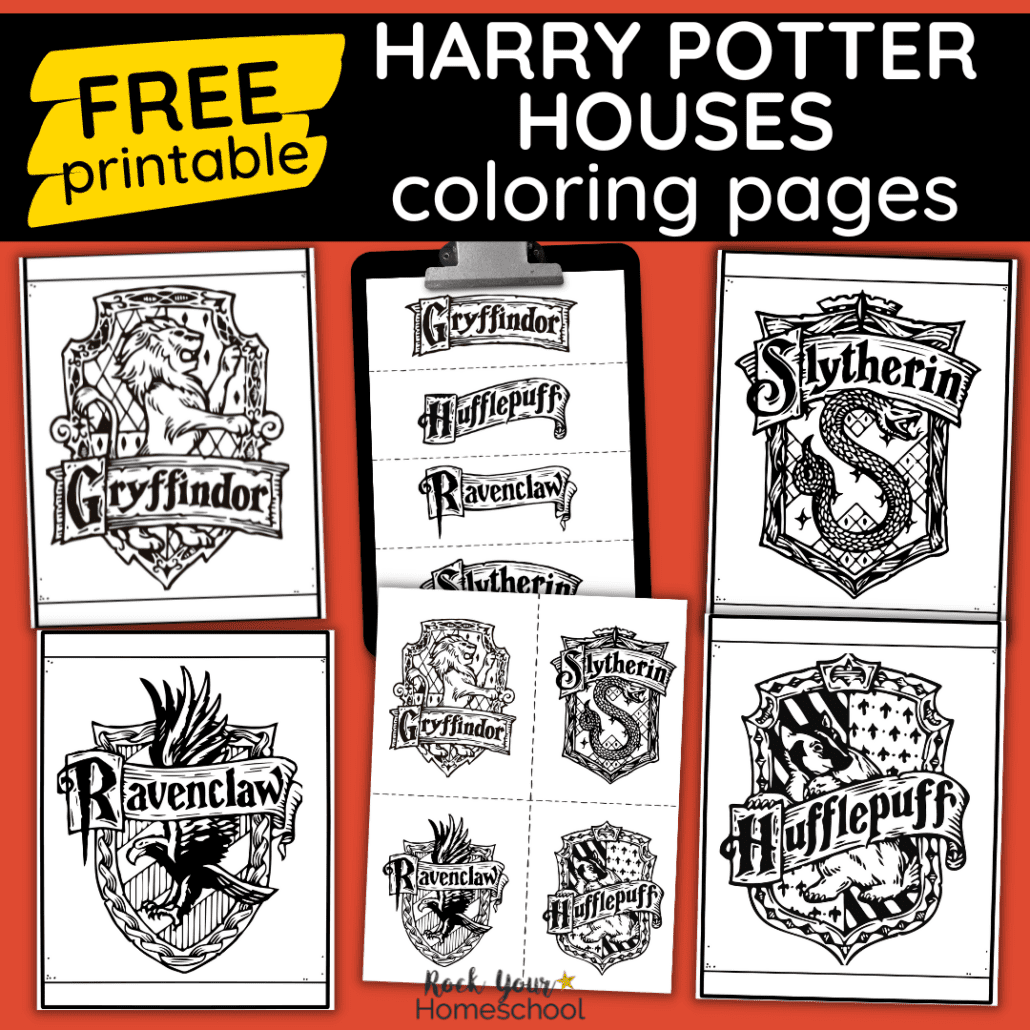 Wishing you tons of Harry Potter coloring fun with your kids!
If you like these coloring pages, you'll love these free Harry Potter printables ✨
More Fun & Free Harry Potter Printables