Free Harry Potter-Inspired Alphabet Game for Amazing Fun
This Harry Potter-Inspired alphabet game is a super cool challenge for your Harry Potter fans! This open-and-go printable is a brilliant activity to boost the magical fun at your Harry Potter-themed party, event, or unit study.
Get creative ideas for enjoying this simple activity and find out how to get started today with this free Harry Potter-Inspired Alphabet Game.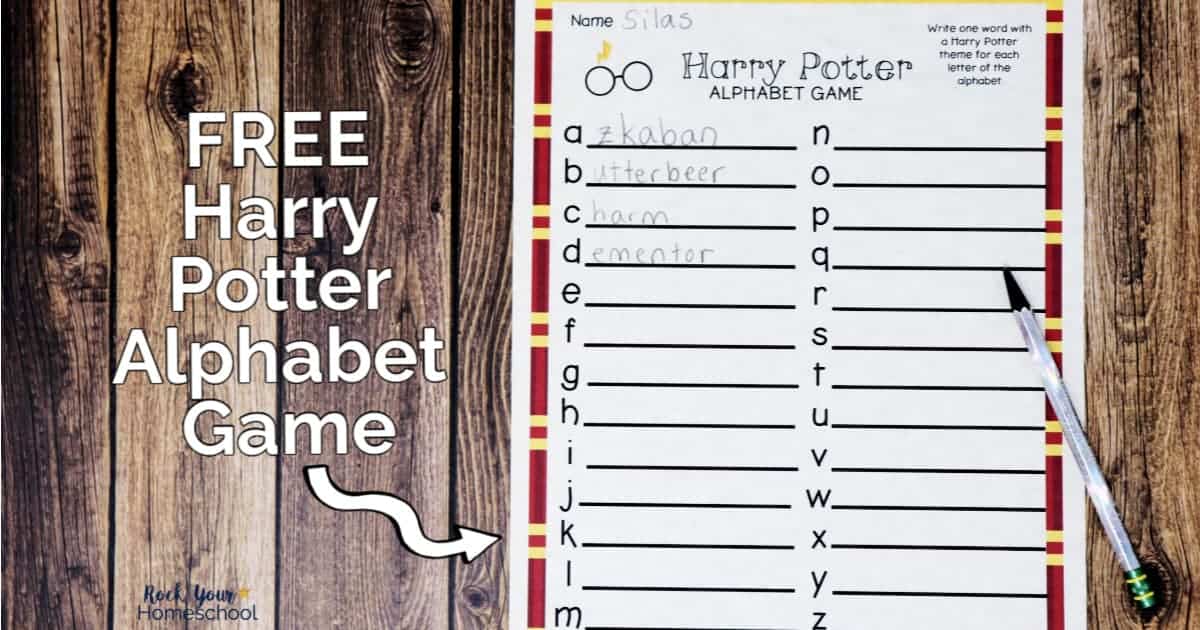 Elevate Your Harry Potter Fun with This Alphabet Game
If you're planning a special Harry Potter-themed party or learning event, this free printable alphabet game is a sure-fire way to amp up the fun.
An alphabet game is such a simple activity with tremendous potential for fun. This game can be played as a group (like a class or party guests) or worked on as an individual project.
Participants are challenged to think of a word for each letter of the alphabet for the particular theme. So, for this Harry Potter-Inspired Alphabet Game, participants think of words like:
A = Azkaban
C = Chamber of Secrets
D = Dementor
etc.
Extra points can be awarded for alliterative answers (like Rowena Ravenclaw) or if a participant can think of a word for each letter of the alphabet (X's and Q's can be challenging).
This Harry Potter-Inspired Alphabet Game is perfect for your classroom, library, and homeschool fun, like:
Writing fun
Part of a Harry Potter unit study
Tuck into a take-home folder (class or homeschool co-op)
Hang a copy with a pencil in a frequently visited area to encourage group participation
This free printable is also excellent to include in your Harry Potter-Inspired Party Bag!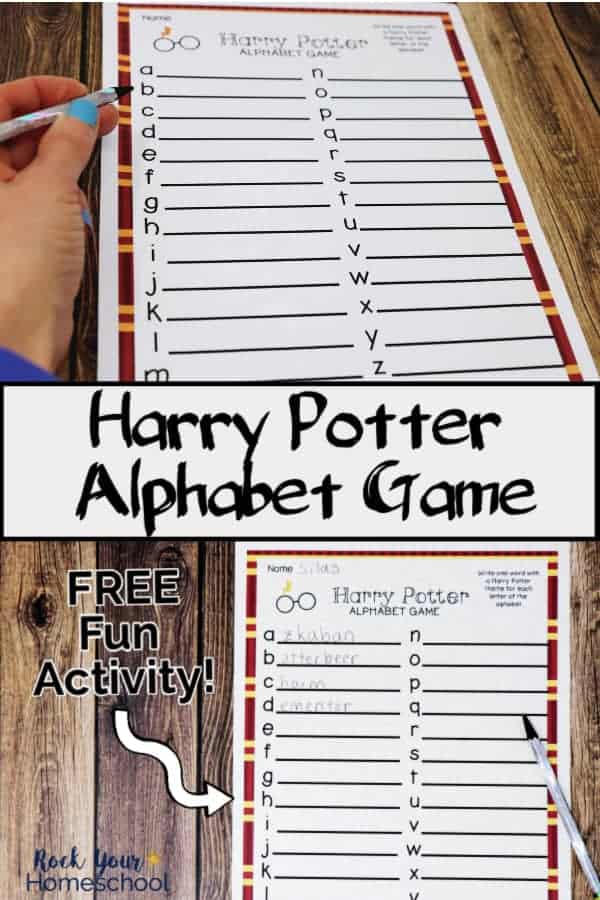 Boost the Learning Fun with This Magical Alphabet Game
Although this printable activity is open-and-go and simple to use, you can easily make it magical fun with a few tweaks and ideas.
Provide fun writing utensils to complete the alphabet game. Harry Potter-themed pencils and pens work like a charm. Erasers and bookmarks are also fun additions.
Hand out small prizes (like stickers or stamps).
Print your Harry Potter-Inspired Alphabet Game on parchment-like paper. This step gives your activity a cool feel and adds special texture.
Set a timer to make it more of a challenge.
Extend the activity over a few days. Keep thinking about Harry Potter words that can be added.
Get out your set of Harry Potter books and do a search for a variety of words to use for each letter.
Harry Potter Party Pencils, Character Erasers, Magic Bookmark & Lightning Bolt Tattoo Bundle Set of 22 items
TINYMILLS 24 Pcs Wizard Multi Point Stackable Push Pencil Assortment with Eraser for Wizard Birthday Party Favor Prize Carnival Goodie Bag Stuffers Classroom Rewards Pinata Fillers
Harry Potter Pencils 12 Different Designs Bundle
TINYMILLS 24 Pcs Wizard Stampers for Kids
Harry Potter Sticker Bundle ~ 60+ Harry Potter Stickers for Laptops, Water Bottles and More | Harry Potter Party Favors and Supplies with Bonus Decal!
Harry Potter Stickers Party Favors Bundle ~ Over 575 Harry Potter Stickers Featuring Harry, Ron, Hermione and More (Harry Potter Party Supplies)
Paper House Productions Harry Potter Floral Hogwarts Micro Stickers Multipack (Pack of 3)
HARRY POTTER Broomstick Pen, Brown
HARRY POTTER 4 Pack Ball Pen Set A, Multicolor, 1
Southworth P984ck336 Parchment Specialty Paper, Ivory, 24Lb, 8 1/2 X 11, 100 Sheets
Get Your Free Harry Potter-Inspired Alphabet Game
Let's have some magical fun with this Harry Potter-Inspired Alphabet Game!
Your free printable includes one page of this activity.
Please feel free to print as many copies of this printable pack as you need to get the most out of this alphabet game with your kids, class, library, and more. If you know a co-worker or friend who'd love to join the Harry Potter-Inspired fun, I ask that you share this post. I greatly appreciate your sharing 🙂
When you subscribe and join the Rock Your Homeschool community, you'll receive this printable set in a PDF file in an email, along with a password to open the Subscriber's Library to all RYHS freebies. Plus, you will get emails with ideas and encouragement to make learning fun.
(Psst! Current RYHS members just need to access the Subscriber Freebies page and enter the password in your welcome email. If you have any questions, please email Amy at rockyourhomeschool@gmail.com)
Get your FREE Harry Potter-Inspired Alphabet Game by tapping HERE or on the image below.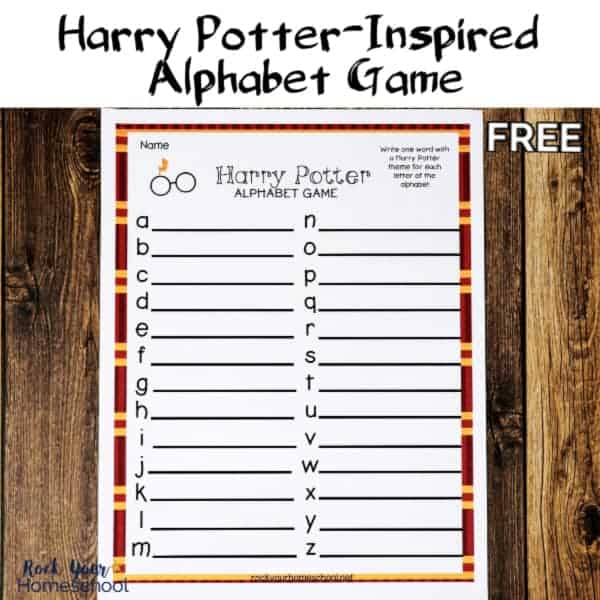 Want even MORE Harry Potter-inspired learning fun? You'll love all of these free Harry Potter printables!
More Fun & Free Harry Potter Printable Activities