Free July Brain Breaks for Easy Fun with Kids
Find out why July Brain Breaks are the perfect solution for summertime fun for your kids!
These FREE printable cards with activity prompts are awesome for boredom busters and any time your kids need ideas for creative summer fun 🙂
When you need a cool way to help your kids do a focused learning fun activity, you need to be prepared.
Summer days become full of outside activities, special events, and family fun. These Brain Breaks for the month of July help you guide your kids into positive ways to expend all that energy.
July Brain Breaks = AWESOME Summer Fun!
What are your summer plans? No matter what you have going on this summer, Brain Breaks are perfect for fun and focused ways for kids to unwind.
If you're on summer break, you're probably soaking up this time for relaxation and enjoying time with your kids. You might be enjoying a relaxed schedule with little to no planned activities. Fabulous!
But, if your kids are like my boys, they get antsy. The novelty of summer break wears off and they're jonesing for something to do. Or they're under my foot as I'm trying to get something done!
Or maybe you're homeschooling through the summer and want to give your kids fun breaks between lessons? Brain Breaks are great motivators to get work done! And your kids will feel like they're still getting a touch of summer in their day 😉
Get Your Free Brain Breaks for Kids to Enjoy This July!
These free printable cards of July Brain Breaks have monthly, seasonal, and fun holiday themes and prompts. These ideas are created to get kids moving, interacting, or relaxing.
There are a total of 24 printable July Brain Breaks cards (4 pages 6 cards each). That's a whole lot of focused learning fun!
You can print out as many copies as you need. If you know someone who you think would love these July Brain Breaks cards with fun activities, please share the link to this post with them 
When you click on the image below to subscribe and join the Rock Your Homeschool community, you'll receive this printable pack in a PDF download in an email, along with a super-secret password that opens the library to all RYHS freebies.
In addition to your freebies, you'll be added to our email list and I'll update you with ways to make learning and life fun again!
(Psst! Current RYHS members just need to access the Subscriber Freebies page and enter the password in your welcome email. Or get the instant download in the email the week of this post)
Click HERE or on the image below to subscribe and get started on rockin' your summer fun with July Brain Breaks!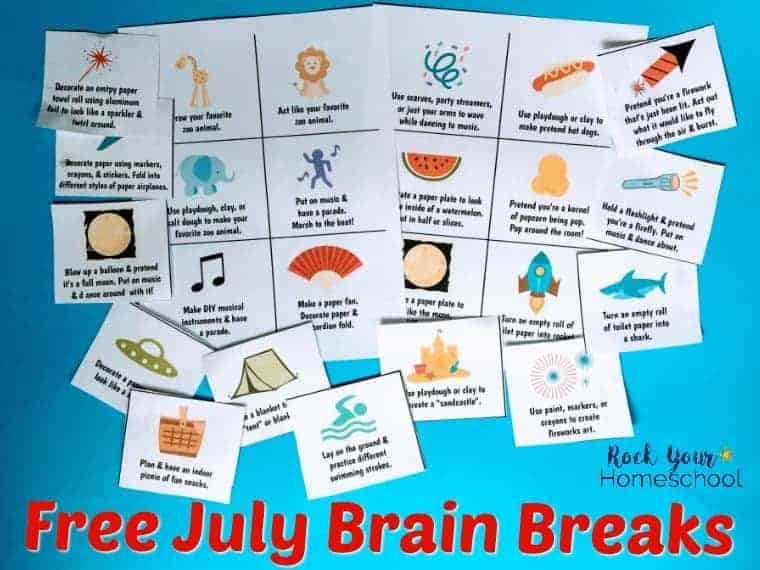 How will you use these brain breaks for kids this summer?
If you like these brain break activity prompts, you'll love our other free Brain Breaks for Kids resources! You can check them all out here and be prepared for fun whenever you need it 🙂