Starfall Review: My #1 Secret to Easily Make Learning Fun for Kids
This Starfall review takes a look at this educational website and why it's such an easy way to make learning fun for kids.
Find out how the Starfall home membership helped this homeschool mom of 5 boost learning at home – and why you'll love using these resources with your students.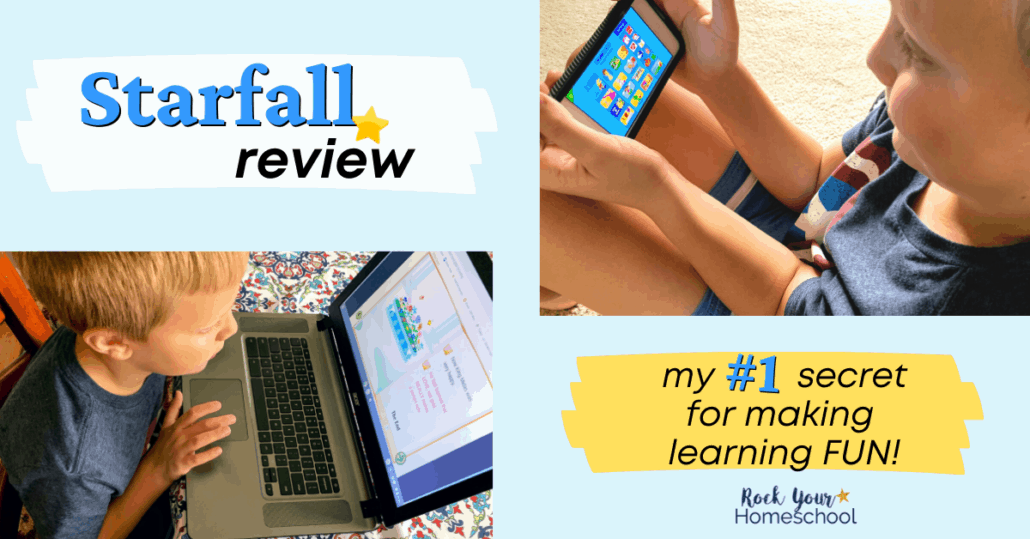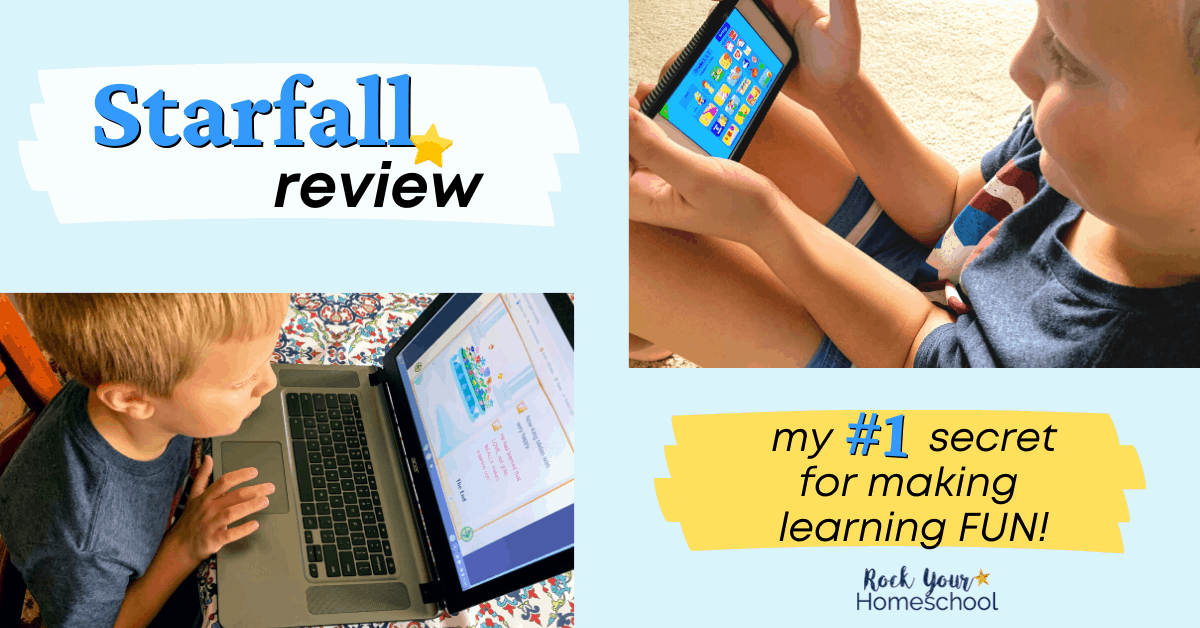 Disclaimer: I received this product for free. As always, I'm sharing my honest opinions and was not required to provide a positive review.
Our Family's History with Starfall
I had a revelation the other day.
I've been going around saying that we've been homeschooling for over 10 years. But, that's a lie.
Actually, our homeschool adventures started as soon as our oldest (Captain) was born – 18+ years ago.
From the moment our first boy entered this world, I started teaching him. And looking for meaningful resources to weave into his development.
Most of our early resources consisted of songs, nursery rhymes, and books. As Captain got older (and we added more boys to the crew), I searched for easy yet powerful ways to boost learning at home and keep him engaged.
I don't exactly recall how I found out about Starfall Education site. (Those early years with preschoolers, toddlers, and babies are a blur.)
I am, however, eternally grateful for this interactive learning platform for younger kids.
Our Early Start with Starfall
Captain expressed interest in learning how to read as a toddler. In addition to working with me, he used Starfall as an online way to take his learning to the next level.
At this point, "ABCs", "It's Fun to Read", and "I'm Reading" captured his attention. Fun videos and activities made concepts, like letter identification and reading simple words, stick.
Starfall ABCs and other interactive games helped Captain excel at preschool, as well as public school Kindergarten through 3rd grade. Captain was often bored at school because he was reading chapter books before he entered Kindergarten. We credit Starfall for his early (and continued) reading success.
Side note: When I mentioned that I was finally writing a Starfall review, Captain burst into a grin as he recalled the ABC song "with the farmer" (not sure the man featured in the video is a farmer but Captain can STILL sing along to that song!).
How Our Family & Homeschool Has Grown with Starfall
Of course, I continued to use Starfall with my other 4 boys. And have enjoyed watching the program grow right along with my boys 😊
Starfall Education opened in October 2002 (the same month and year of Captain's birth!). As a nonprofit organization, this online resource has grown into an optional membership, as well as educational app.
In addition to early literacy activities, Starfall has expanded into math skills and lessons, reading, and seasonal fun for preK-3rd grade.
I believe that all 5 of my boys are such strong readers (and students) because of their experiences with Starfall. It truly is my #1 secret to getting our homeschool off to a successful start (and I'm so excited to finally share our Starfall review!!).
Making Learning Fun for Your Kids Does NOT Have to Be Hard
When we started our official homeschool journey (back in 2012), I thought I had to replicate public school at home. I put together a schedule crammed with lessons and activities. And it was a massive flop.
I learned to let go and not fuss over every little detail. One of the ways that I did that was remembering how how effective it was to use resources that we could relax with and enjoy.
And I bet you can guess that Starfall was one of those resources 😉
Starfall Education site shares my views for keeping learning fun. I call those views the 3 S's of Learning Fun:
Simple
Short
Sweet
Starfall interactive games and videos are short and engaging, with songs and music in a colorful presentation.
As parents, we tend to overcomplicate and think that more is better. Adding more instructions, time, or details, however, isn't the best way to help your kids master concepts.
Oh, and we often think we have to do it all. Wrong!
While it's wonderful spending special time with your kids snuggling over a good book, you do NOT have to do it all – especially when you're busy, like being a WAHM, homeschooling other kids, dealing with special needs, or other situation that requires attention.
Having additional activities for younger children to use on a mobile device or via Starfall website on a desktop is amazing!
Outsourcing with an online educational resource is beneficial for your kids AND you. Instead of worrying if you're doing enough, you can feel good about what and how your kids are learning.
More About Starfall & F.A.Q.s
Like to know the nitty-gritty of a resource before using it with your kids? Same!
The Starfall Education Foundation is a publicly supported nonprofit organization that has both free and low-cost resources to make learning fun.
Positive reinforcement is used to help kids become confident and successful students.
With your Starfall annual membership, you have access to all interactive lessons and resources that are divided into prek-Kindergarten and then first grade/second grade/third grade.
PreK-Kindergarten:
Math

Math Songs
Numbers
Kindergarten Math
Geometry & Measurement

Language Arts & Music

ABCs (wonderful for letter recognition and to help kids practice letter sounds)
Learn to Read
It's Fun to Read
I'm Reading
C-A-T Word Machines
Short Vowel Pals (interactive online early readers)
ABC Rhymes
Backpack Bear's Books
Talking Library
Colors
Nursery Rhymes
Motion Songs
Sing-Along Volume 1 & 2
More Phonics

Seasonal & Fun Games

Calendar
Ten Little Snowmen
Make a Gingerbread Girl or Boy
Silly Turkey
Pick a Pumpkin (Captain still sings the song "Listen to the short u sound…")
100th Day of School (Let's Count to 100)
Every Day is Earth Day
Grandparent's Day (help write a letter)
Send a Valentine!
Groundhog Day
Garden Shop
Respect & Kindness
Grades 1, 2, 3:
Math

Grade 1 math
Grade 2 math
Grade 3 math
Geometry & Measurement

Language Arts & Music

Grade 1 English with lessons like:

Beginning Capitalization
Producing a Sentence
Parts of Speech
First Grade-Level Phonics

Grade 2-3 English with lessons like:

Irregular Plural Nouns
Prefix Practice
Build a Simple Sentence
Intermediate (& Advanced) Capitalization
Punctuation End Marks
2nd Grade & 3rd Grade-Level Phonics

Learn to Read
It's Fun to Read
Historical Folk Songs
More Phonics
Talking Library

Seasonal & Fun Activities

Math Journey – Back to School
Calendar
What is the time?
Send a Valentine!
Word Hunt
Every Day is Earth Day
Groundhog Day
Halloween Fractions
Find a Four Leaf Clover
Respect & Kindness
You have access to the Parent-Teacher Center. This hub contains so many resources to help you best use Starfall's systematic approach!
You'll find an entire section dedicated to Using Starfall.com. This section includes Start with the Basics and Complete Guide to Using Starfall. Also, you'll find lessons broken down by Topic and Activities.
In addition to the getting started section, you'll have access to Free Resources, including:
ELA and Math practice sheets (customizable)
Customizable Math, Word, and Picture Cards
Projectable Books and Posters
Printouts for Grades 1, 2, 3
Phonics and Sight Words Word Book Kit
Additional Practice Sheets
Another incredibly helpful part of the Starfall Parent-Teacher Center is the Lesson Plans and Alignments. You'll find Teaching Guides for Pre-K, Kindergarten (ELA and Math),and Website Alignments.
My Favorite Way to Make Learning Fun: A Starfall Review
Starfall has been one of my absolutely favorite ways to make learning fun for my boys. I feel like this online low-cost membership program helped me give my boys an early start to becoming lifelong learners.
Play, hands-on activities and books, of course, are my preferences for young children. But, when you're also dealing with older siblings or erratic schedules, a child-safe and ad-free site and app can be a life saver!
If you have young learners (preK-3rd grade), I encourage you to try a Starfall Membership. It's super affordable ($35 per year) for a Home Membership (which serves a single family household, including grandparents, for one year on computers and mobile devices).
GIVEAWAY: Win a Starfall Membership!
**WooHoo! Here are TWO different ways to give Starfall a try!
You can get a free 30-day trial (no credit card needed) if you'd like to try the membership. At the end of the trial period, if the membership is a good fit and you choose to join, you'll receive $5.00 off (making the membership only $30.00 for a year).
To receive a 30-day trial, simply email helpdesk@starfall.com and request a 1-month trial.
A fantastic way to give a yearly membership to Starfall a try is to win it in this GIVEAWAY!!
3 winners will get a one-year Starfall Home Membership (value $35).
Please let me know if you have ANY questions about this Starfall review. I'd love to help 😊