Free June Brain Breaks for Easy Homeschool Fun
June brain breaks
for kids are fantastic ways to provide
focused learning fun activities
.
You can use brain breaks for boredom busters, summer learning fun, and any time you'd like to encourage your kids to have some creative fun.
Find out more and get your free printable June Brain Breaks cards now!
Fill Your June with Learning Fun!
You feel like you're on the clock.
How fast can you and your kids get done math so you can tackle writing and reading?
You're wondering what you can do to make the transition from history to art a tad bit less painstaking than yesterday when you felt like pulling your hair out.
Girl, you got this! Brain breaks for kids are where it's at! And you're in the right place to make that easy homeschool fun happen.
Taking a break from homeschool work can be easy! Use these June Brain Breaks cards for homeschool fun activities that give everyone a chance to catch their breath and enjoy time together.
June Brain Breaks + Your Homeschool = Smiles
Brain breaks are ah-mazing! These simple activities are awesome ways to let your kids take a break from all the hard work they're putting into their homeschool day. Research has shown that taking focused breaks can be powerful ways to boost retention and focus.
Our homeschool definitely benefits from homeschool breaks. We chose a brain break from our selection after homeschool morning gathering and after math time. Having these build-in brain break periods in our homeschool routine helps us stay motivated and accomplish what needs to get done for the day.
And brain breaks help us enjoy our homeschool time so much more. Somehow, a short and easy activity gives us that little boost that we need to get that math lesson done and on to something we can all enjoy together.
Get Your FREE June Brain Breaks for Easy Homeschool Fun
These free printable cards Brain Breaks for June have seasonal and fun holiday themes and prompts. These ideas are designed to get kids moving, interacting, or relaxing.
There are a total of 24 printable June Brain Breaks cards (4 pages 6 cards each). That's a whole lot of homeschool learning fun!
To get your free printable pack of June Brain Breaks for Homeschool Fun, simply subscribe to Rock Your Homeschool. You will receive these printables in a PDF download in an email, along with a super secret password that opens the vault to all RYHS freebies. In addition to your freebies, you will be a weekly email with ways to rock your homeschool plus instant downloads to all new freebies.
(Psst! Current RYHS members just need to access the Subscriber Freebies page and enter the password in your welcome email. Or get the instant download in the email the week of this post)
Click HERE or on the image below to subscribe and get started on rockin' your homeschool with June Brain Breaks!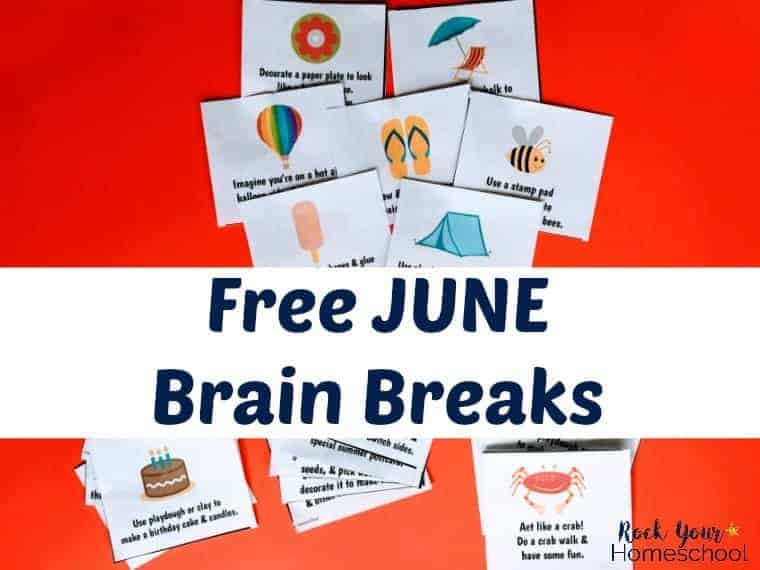 Love the idea of brain breaks for kids but not sure how to get started? Or prefer to have all of our brain breaks gathered into one organized and easy-to-use resource?
Check out Brain Breaks for Kids: Delightful Ways to Boost Learning & Enjoy Your Day! This simple guide provides tips and tricks for making the most out of your brain breaks PLUS all of our brain breaks prompts and cards in one download! Oh, and there are a few bonuses thrown in to make your brain breaks with kids experiences totally awesome!