Simple & Creative Way to Make a Special Time Capsule for Kids
A time capsule for kids is an excellent way to look back on your year and record special memories.
This activity is awesome for New Year's Eve Fun with Kids or any time you want to slow down and reflect on events and progress your kids have made.
Build a time capsule for kids as part of your classroom, library, family, or homeschool fun activities. Your kids will love the process and you'll treasure the memories 🙂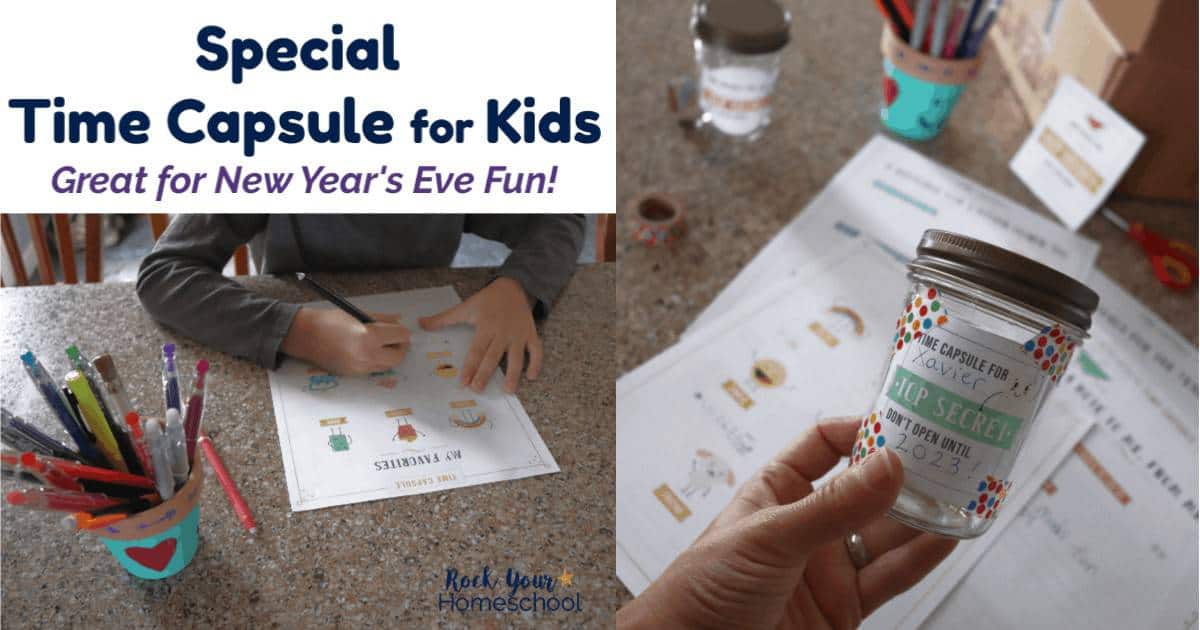 Smile as You Look Back On the Year with a Time Capsule for Kids
Where has the year gone?!?
This year flew by faster than the Golden Snitch in a Quidditch match! Sorry-my love of all things Harry Potter pops up at the oddest moments 😉
And I want to make sure to slow down and reminisce with my five boys about all that we've seen and done this year. Lots of great accomplishments and events to celebrate!
The end of the year carries so much potential. Time to reflect on what's happened and set new goals for the year ahead. And time for fun conversations about all of it!
Although 2020 has certainly looked a lot different for our family, we've had some wonderful things to celebrate:
Captain (18) is working hard on wrapping up his homeschool high school studies. Yup, I'll be graduating my first homeschool student this spring! Captain looks forward to attending trade school in 2021. (I'll be sharing updates on that endeavor.)
Professor (15) continues his homeschool high school work and soccer training, one of his passions (in addition to history).
Smiley (11) continues to show a keen interest in computers and learning how to code. He's become another Potterhead (our family just loves Harry Potter!) and learning how to play the ocarina (an instrument he discovered through playing Legend of Zelda).
Bear (9) continues to be passionate about the protection of blobfish and playing chess. He's finally mastered his multiplication facts after lots of hard work. And his handwriting has improved leaps and bounds with his superb cursive.
Xman (6) has been thoroughly enjoying homeschool first grade and declares on a regular basis that he's probably ready to advance to second or third grade soon. (Our caboose constantly wants to catch up to big brothers 😉 )
Just so many awesome things to recognize, celebrate, and remember!
Easy & Fun Way to Create a Time Capsule for Kids
Although I wanted a special way to make a time capsule for kids with my boys, I wasn't sure how to get started. Or how to make it simple enough to enjoy with all five boys (preschool to high school).
I was thrilled when Personal Creations reached out and shared these fabulous printables to make a time capsule for kids.
Xman and Bear chose to use glass jars for their time capsules. The three older boys decided to use boxes for their time capsules. They cut out and prepared the cute labels.
Next, the boys used glue and washi tape to adhere the labels to the jars or boxes.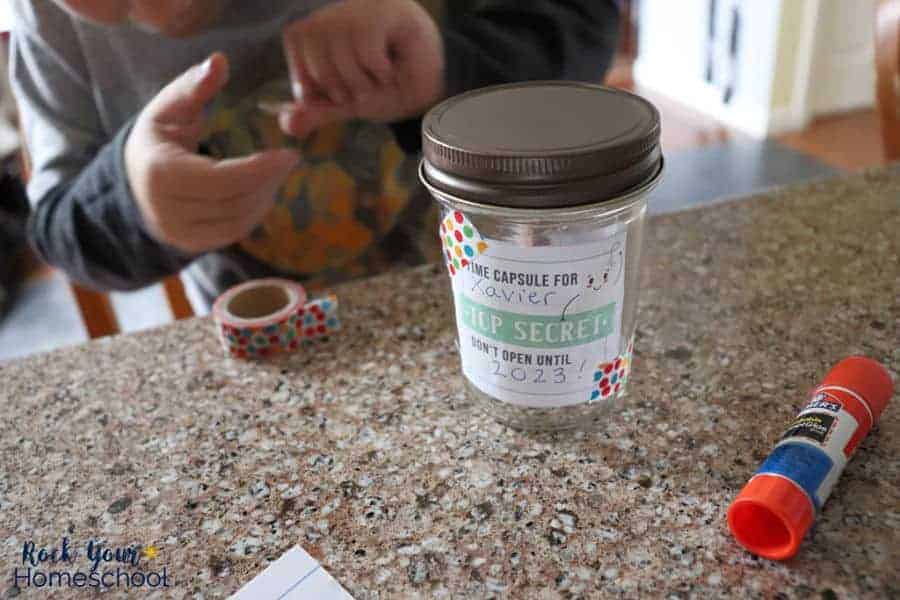 All of the boys had a blast thinking about and writing down their current favorites and future goals. Such a fun activity!
I loved adding this creative project to our homeschool. Great way to sneak in writing (without the whining!) Oh, and the boys got to us our new Pilot FriXion Ball erasable pens. These pens rock because they write so smoothly and are super easy to erase.
And Katie from Personal Creations had this to add:
It's nearing the end of the year and it's the perfect time to reflect on the memories of 2018.
Whether your little one started a new grade level, the family took a trip to Hawaii or a loved one had an epic birthday party, everything should be celebrated! That's why Personal Creations has put together time capsule ideas as a fun end-of-the-year project.
A time capsule is a container that holds any present-day items or items from the past year that you want to cherish. It can be as simple as a ticket stub, or a special letter from a loved one.
Place these memorabilia in a container of your choice, then fill out these printables to include with it. The Goals For The Year printable is a great homeschool activity to have your child reflect on what they can accomplish in one, five and even 10 years!
What wonderful accomplishments, activities, and antics will a time capsule for kids allow you to capture?