20 Fun Ways to Celebrate Arbor Day with Kids
Start a new tradition (or add to a current one) with these 20 fun and creative ways to celebrate Arbor Day with Kids!
Discover awesome crafts, hands-on activities, and printable resources to use and enjoy as you help your kids develop an appreciation for trees and their impact on our environment.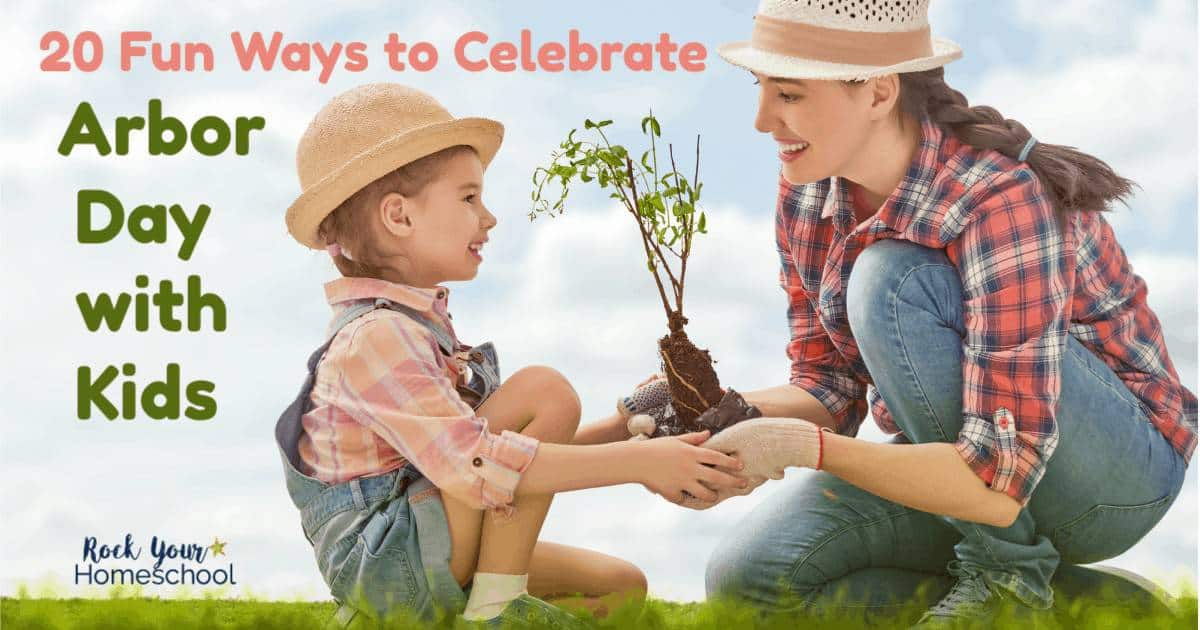 Make Arbor Day with Kids Special!
How will you celebrate Arbor Day with kids? Need some inspiration for fun ways to show your love for trees? Or maybe you are thinking, "Why would one spend time celebrating Arbor Day?"
Arbor Day is a fantastic opportunity to introduce important life lessons in your homeschool and family. Practical lessons on the environment, science, and history can be covered. Also, you can talk about essential life skills like compassion and empathy.
The National Arbor Day Foundation has a whole page dedicated to great ways to celebrate Arbor Day. Learn about the history of Arbor Day, find educational resources and free printable activities to help you recognize this special day. You can also discover how to get tree seedlings!
My boys and I love to celebrate Arbor Day in our homeschool. This year, we are excited to add some fabulous resources.
We have thoroughly enjoyed five books from Candlewick Press that involve trees and their impact on our lives.
Our family will also be using many of these crafts, hands-on activities, and free printables to celebrate Arbor Day.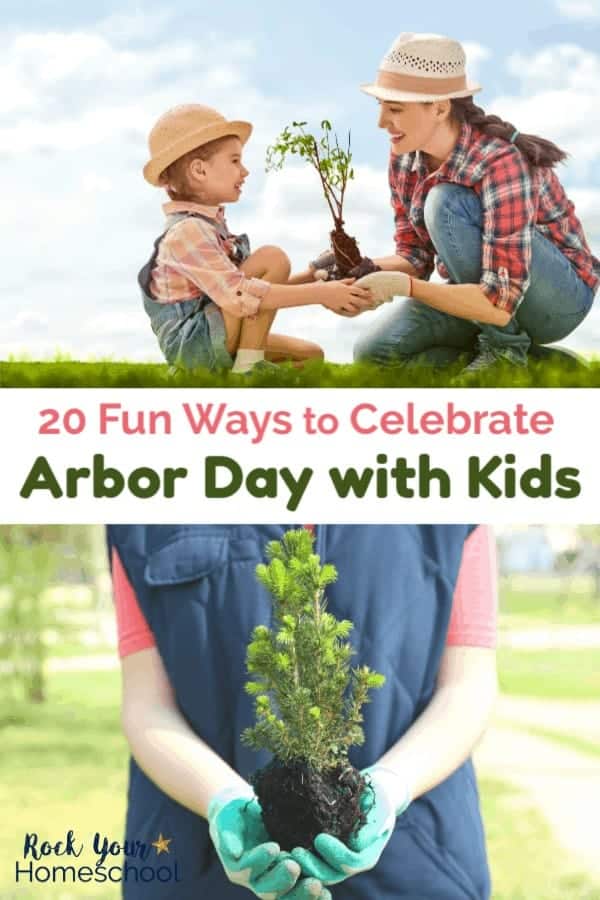 Arbor Day Crafts
Spring Tree Craft for Toddlers (Hands On As We Grow): Sweet craft for practicing scissor skills while making an adorable tree.
Cherry Blossom Spring PomPom Trees (Play Trains): Terrific hands-on activity!
Colorful Spring Branch Craft (Inner Child Fun): Another hands-on craft that creates a beautiful picture.
Spring Tree(No Time for Flash Cards) Simple yet cute craft using Q-tips, paint, and paper.
Fall Toilet Paper Roll Tree (The Ramblings of a Crazy Woman) Great way to recycle those empty TP rolls!
DIY Tissue Tree for Earth Day! (Educents): Easy-to-make craft that's full of hands-on fun!
Paper Bag Tree Structures (Draw The Line At): Super cool 3-D tree craft.
Mixed Media Earth Day Print (MPMIdeas.com): This craft encourages you to create tree art by upcycling.
Puffy Newspaper Tree (I Heart Crafty Things): Another tree with a 3-D element that kids will love!
Hands-On Activities for Arbor Day with Kids
Arbor Day Activity: Bark Rubbing (The Seasoned Mom): Get outside and create some special keepsakes with bark rubbings.
Plant a Tree for Arbor Day (Rhythms of Play) Great step-by-step instructions for planting a tree!
Sorting Leaves & Seeds and Celebrating Autumn (Inspiration Laboratories): Have some sorting fun with various parts of trees 🙂
9 Awesome Ways For Hands-On Learning Fun With Sticks (Rock Your Homeschool): My boys love to use these ideas for learning fun with sticks.
Planting Trees Sensory Bin for Earth Day (Mom Inspired Life): Give your kids some practice planting trees with this fun activity.
Arbor Day Tree Snack & Storytime (The Seasoned Mom): Enjoy a healthy snack and story to help you celebrate Arbor Day.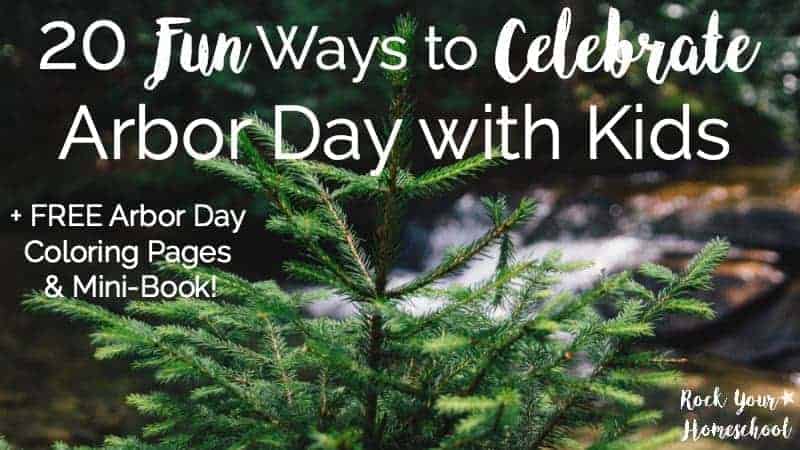 Free Printables to Celebrate Arbor Day with Kids
Free Arbor Day Learning Pack (Year Round Homeschooling): This printable pack includes activities for coloring pages, leaf identification, handwriting, and matching.
"For the Love of Trees" Lessons, Books, FREE Printables & Hands-on Activities (The Natural Homeschool): Lovely activities for trees! Hands-on games, matching, and book recommendations.
Arbor Day coloring pages, sheets, and pictures! (Raising Our Kids) Includes 15 free coloring pages and activities.
Arbor Day Mini-Book (Twisty Noodle): Cute printable mini-book for kids.
Arbor Day Coloring Pages + Mini-Book (Rock Your Homeschool): Includes two free full-sheet coloring pages and four half-sheets for a mini-book.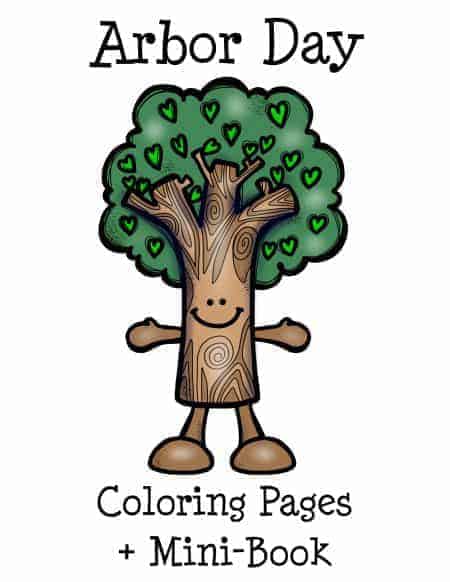 Get your FREE Arbor Day Coloring Pages + Mini-Book by subscribing to Rock Your Homeschool!  Includes 2 coloring pages and a mini-book to help you celebrate Arbor Day with kids. TAP on the image above to get your Arbor Day printable pack.
How will you celebrate Arbor Day with kids?
Share your ideas in the comments below 🙂