Free Circus Activities Pack of Fun Coloring Pages and More
These circus activities are excellent ways to make learning fun.
You can use this free printable pack full of fun activities for coloring, cutting, and more.
Engage your kids in a variety of learning fun activities with these circus themes.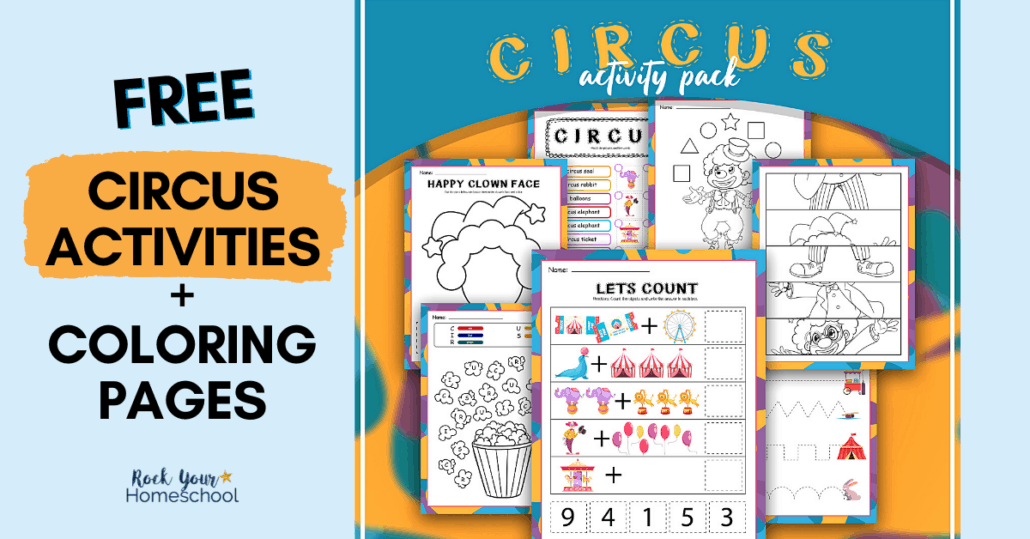 Circus Activities Are SO Much Fun for Kids!
Who doesn't love the circus? It's the greatest show on earth!
So many amazing things to see, like cool stunts and performances by magicians!
Children often get excited about seeing the clowns, elephants, and other parts of the circus show. If your kids are fans of the circus, expect them to have fun with this printable pack!
Although my boys haven't been to a circus (adding to our homeschool fun bucket list…), they still get pumped up about it.
When my youngest (Xman) asked to read The Circus Ship to me again, I thought it was probably a good time to add a circus theme to our learning fun.
Tips & Tricks for Using These Circus-Themed Activities
This free pack of printable fun circus activities is a fun way encourage children to get creative with coloring, drawing, and even cutting and pasting different images.
After you subscribe to Rock Your Homeschool (see below) and get this pack, print the circus activity pages. I recommend using white cardstock for the Happy Clown Face Cut-and-Paste coloring activity and for the Clown Coloring Puzzle.
Oh, and if your kids like to do activities again and again, consider laminating or putting in dry erase sleeve pockets! Get out the dry erase markers and use as many times as you want. (And then you don't have to make multiple copies!)
Prep your supplies. You'll need:
Scissors
Glue (or glue stick)
Crayons, markers, color pencils
Pencil
These printable worksheets are perfect for:
Rainy day fun
Circus-themed unit study
Pairing with a circus-themed movie or book
A circus party or circus birthday party
Creative Ideas for Boosting These Coloring Pages
Use the circus coloring pages to help children identify and match different colors.
For example, the popcorn page encourages children to color each piece of popcorn with a different crayon.
These circus coloring activities help with:
Recognizing colors (and the letters they start with)
Fine motor skills (improving the function of their hands while strengthening muscles)
Concentration (ignoring background noise and completing the assignment)
While coloring is good for children, it's also outstanding for adults! Consider printing out an extra sheet so that you can work side by side with the children to color in the pieces of popcorn and much more.
Encourage older kids to use a dictionary or thesaurus to find other names for color words. For example, instead of "blue", you could use azure, cobalt, or navy.
Cut and Paste with the Happy Clown Face
The Happy Clown Face is another fun DIY part of the printable activity. And fantastic for practicing scissor skills!
Children cut out different parts of the face, including the eyes, nose, and lips. If you have younger kids, you can teach them to how to cut these shapes out using safety scissors OR demonstrate and do the task for them.
I recommend having your kids color the clown face parts prior to cutting. Eliminate the frustration of trying to color small pieces that need the glue to dry.
Depending on the ages of each child, you may need to offer some assistance with cutting, but that's okay. Even if you're lending a helping hand, your children are still learning how to correctly hold the scissors – and how to open and close them to create cutting motions.
Once your kids have cut the different shapes out from the paper, be sure to encourage your children to add those shapes to the face, letting them have free range. It doesn't matter if the eyes aren't even or the nose is too far down.
Benefits of Using These Free Circus Activities for Kids
The educational activities are easy ways to get your kids engaged in learning fun. Since these activities are print-and-go, you can use these free printables whenever you need something quick and simple.
If you want to help your children learn how to trace dotted lines, cut, paste, recognize colors, and much more, this pack is an excellent way to do so.
A few other awesome advantages for using these circus-themed activities include:
Keep your children entertained and off screens. Wonderful ways to get your children to try something new and have fun with it.
Improve muscle tone and coordination. With pencils and crayons to complete different parts of the activity, you're helping your children work on strengthening their muscle tone and improving their coordination skills. When a child has stronger hands and better coordination skills, they can write, draw, and color with greater ease.
Make learning fun. With these activities, you're making sure that learning is fun for your kids.
Get Your FREE Circus Activities for Kids Pack
WooHoo! You're on your way to giving your kids enjoyable circus-themed activities.
This free PDF file (printable) pack includes 11 pages:
3 circus-themed coloring pages (with big top tents, circus animals, circus performers, and train)
Circus line tracing
Popcorn color-by-number
Happy clown face (cut-and-paste & coloring)
Circus matching activity
Clown shapes color-by-number
Clown coloring puzzle
Circus addition activity
You can print as many copies of these circus activities that you'll need for learning fun with your kids, class, co-op, or community event. If you have a friend or co-worker who may like to use these free printable activities with their kids, I ask that you please share the link to this post. Thanks so much for your cooperation & sharing!
To get these 11 FREE Circus Activities for Kids, all you need to do is subscribe to Rock Your Homeschool.
(Psst! Current RYHS members just need to access the Subscriber Freebies page and enter the password in your welcome email.)
Get your FREE circus activities by tapping HERE or on the image below.