Gingerbread House Coloring Page for 3D DIY Holiday Fun (Free)
This gingerbread house coloring page is a great DIY craft for holiday fun.
Featuring a super cute gingerbread man and decorated home in black-and-white, you'll be able to customize the colors, textures, and more with this free printable.
Discover creative ideas for enjoying this color your own gingerbread house and get your free set today!
Fun and Frugal Holiday Activity with Kids
I LOVE enjoying holiday fun with my boys, especially hands-on activities that allow us to make special decor, cards, and memories.
However, I do not love spending a ton of money on kits and supplies 😉 There's already enough things to spend money on over the holidays!
I know that holiday fun (well, really any type of fun) can be frugal and still be awesome. Plus, it's those simple and affordable DIY activities that seem to mean the most and be talked about for years to come.
That's why I'm adding new FREE crafts and activities to our holiday fun collection, like this Gingerbread House Coloring Page (3D Craft)!
You can totally use it for your:
holiday party
get older kids excited about the holiday season
get into the holiday spirit
add a 3D component to bulletin boards
make a mess-free, cute gingerbread house
make and share Christmas decorations
community event to have an easy and fun activity
Learn More About This Free Gingerbread House Coloring Page Craft
In this free printable set, you'll find 1 page with Color Your Own Gingerbread House template. And it has so many fun ways to build fine motor skills this Christmas season!
The template includes:
Color example
Instructions on how to color and assemble your 3D craft gingerbread house coloring page
Black-and-white items to color and customize (gingerbread man and house)
Dotted lines to guide cutting out template with scissors
Tabs with "glue" in small red letters to indicate where to apply glue
And let me chat a bit about this adorable gingerbread coloring page! It has:
a sweet little gingerbread man
candy canes
fun gingerbread house
candies
stars
Christmas lights
and so much more!
How to Make This 3D Gingerbread House Coloring Craft
You'll find simple, step-by-step instructions on how to put together your 3D gingerbread house in the right lower corner of the template. Such a fun coloring craft activity for the holiday season!
First, I recommend using crayons, color pencils, or fine-tip markers on your gingerbread house coloring page.
When you're done customizing your gingerbread house, use scissors to cut out the template. If you're enjoying this holiday craft with younger kids, I suggest sitting with them and taking it slow as you guide where to cut. Also, use child-safe scissors!
After the template is cut out, fold along solid lines for the walls, floor, and roof. Also, fold the glue tabs. It makes it easier to assemble and help the glue adhere when this folding step is completed at this time.
Prior to adding glue, gently assemble the sides together so you have an idea on how it all fits (and where the glue tabs will be).
My boys and I found it helpful to apply glue to all the tabs before final assembly.
When your gingerbread house is assembled, you can reinforce sides with clear tape.
Creative Ideas for Making & Enjoying This Gingerbread House Craft
Want to easily add a special touch to your 3D DIY gingerbread house coloring page?
When your gingerbread house is assembled, you can add drops of glue and glitter (or just use glitter glue!).
Also, you can use glitter or holiday-themed washi tape to reinforce AND customize.
Print several copies of this 3D DIY gingerbread house coloring page on white cardstock. Decorate in traditional holiday colors. Then, think outside the box and add a creative twist.
Oh, and you can totally use stickers to add a Christmas tree, your favorite colors, Santa Claus, and more!
You can really turn the front of the house into any thing you'd like. Want funny gingerbread houses? Use all sorts of colors.
Neenah Paper Exact Index, 110-Pounds, 8.5 x 11 Inches, 250 Sheets, White, 94 Brightness (WAU40411)
Scissors, Taotree 8
Elmer's All Purpose School Glue Sticks, Clear, Washable, 4 Pack, 0.24-ounce sticks
Liquid School Glue, Clear, Washable, Pack of 3-1
64 Crayons Per Box, Classic Colors, Built In Sharpener, Crayons For Kids, School Crayons, Assorted Colors – 64 Crayons Per Box – 1 Box
Crayola Bulk Buy Glitter Crayons 16/Pkg 52-3716 (6-Pack)
Crayola Glitter Markers, Sparkle Markers, Unique Arts and Crafts Supplies, Assorted Colors, Gift for Kids and Adults, 6 Count
Crayola Super Tips Marker Set (100 Count), Washable Markers, Kids Gifts for Girls & Boys
Crayola Mini Colored Pencils (Colors May Vary), Coloring Supplies for Kids, 64 Count, Gift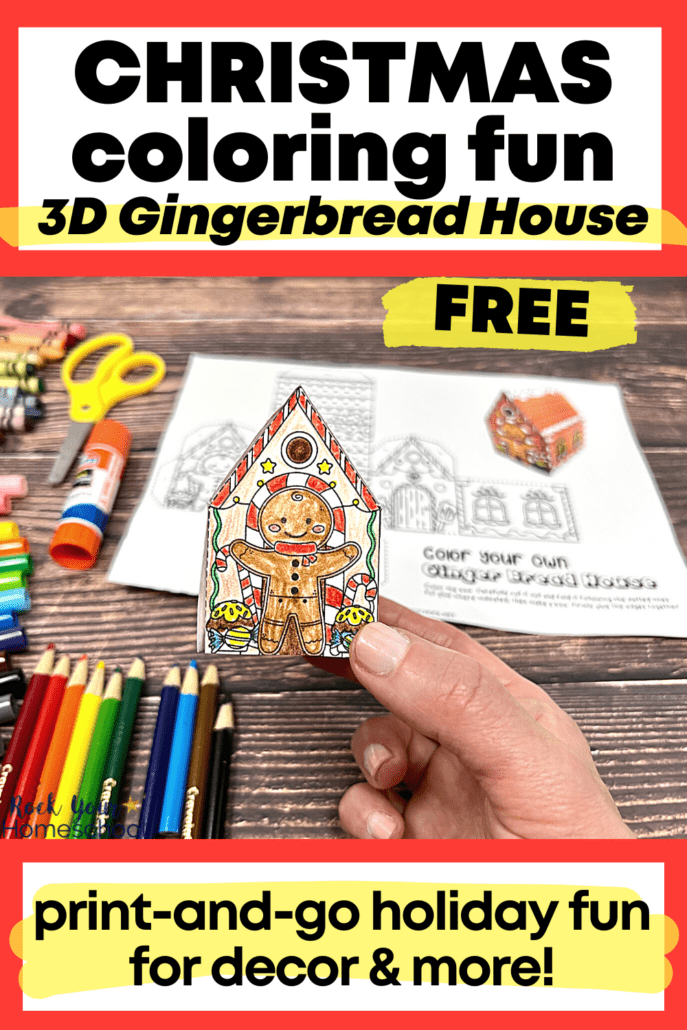 Get Your Free Gingerbread House Coloring Page (3D Craft)
Ho ho ho! You're on your way to having fantastic holiday fun using this creative activity with your kids!
This free pack includes 1 printable (PDF) page featuring color your own gingerbread house.
You may print as many copies of this 3D DIY gingerbread house coloring page as you'd like to enjoy with your kids for personal use and classroom use. If you have a friend or co-worker who might like to boost their holiday fun, please share this post. I truly appreciate your sharing!
To get this free 3D DIY gingerbread house craft, subscribe to Rock Your Homeschool.
You'll receive an email with a PDF file, along with a password to open the Subscriber's Library to all RYHS free printables.
AND you'll get emails with ideas, resources, and encouragement to positively make life and learning fun 🙂
(Hey hey! Current RYHS members just need to access the Subscriber Freebies page and enter the password in your welcome email. If you have any problems or questions, please email Amy at rockyourhomeschool@gmail.com)
You can get your FREE 3D DIY Gingerbread House Coloring Page by tapping HERE or on the image below.
Wishing you and your kids a wonderful holiday and festive season full of fun with your own gingerbread houses!
More Fun & Free Gingerbread Activities for Kids