Amazing Way to Take the Stress & Mess Out of Homeschool Science Labs
Homeschool science labs don't have to be stressful or messy.
You can effectively provide your homeschool students with quality science labs without losing your sanity or going broke. And keep your kitchen clean (well, as least not any messier than usual 😉 ).
Find out about what I'm using with my older boys to take the mess and stress out of homeschool science labs and why these options might be perfect for your family, too.
Disclaimer: I received this product for free and was compensated for my time. As always, I'm sharing my honest opinions and was not required to provide a positive review.
High School Science Labs Keeping You Up At Night, Too?
Okay, so I wasn't a complete basket case when it came to homeschooling science labs.
But, I was pretty close.
Usually, I could tuck away that homeschool fear by saying that we'd tackle it soon. After a few days of hemming and hawing, I'd roll up my sleeves and starting doing a manic search for homeschool science lab resources.
Then, I'd get overwhelmed and tuck it away again.
What was I so wound up about it? Well, a few things like:
How could we effectively do homeschool science labs without breaking the bank?
How would I teach labs like chemistry and physics when I barely remember anything from those high school science experiences?
Where were we going to store all the supplies, containers, and not-so-pleasant things (a.k.a. dissection kits)?
Who was going to clean up the mess from experiments?
Could I do a decent job of teaching my boys how to write quality science lab reports?
All of these questions and more would swirl around my head, often popping in at the most inconvenient moments (like in the middle of the night).
With 5 boys to homeschool, I don't have time for these types of shenanigans. I need all my energy and what's left of my sanity to make sure these kids are properly educated!
Aha! There's A Solution to Not Stressing Over Homeschool Science Labs!
Have you heard about virtual science labs?
I had but didn't know too much about them. Or if these types of labs were a viable option for our homeschool.
During one of my manic searches for homeschool science lab options, my eyes bugged out when I came across College Prep Science. Could I have found a perfect match for our homeschool high school science lab needs?
In short, yes 😉
First, I browsed through the online homeschool science class listings. (You can check out those amazing options for full year, one semester, live, self-paced, and more by clicking HERE).
Then, I closely studied the virtual science labs offered by Greg Landry. And I felt this incredible sensation of my homeschool science lab fears melting off my shoulders.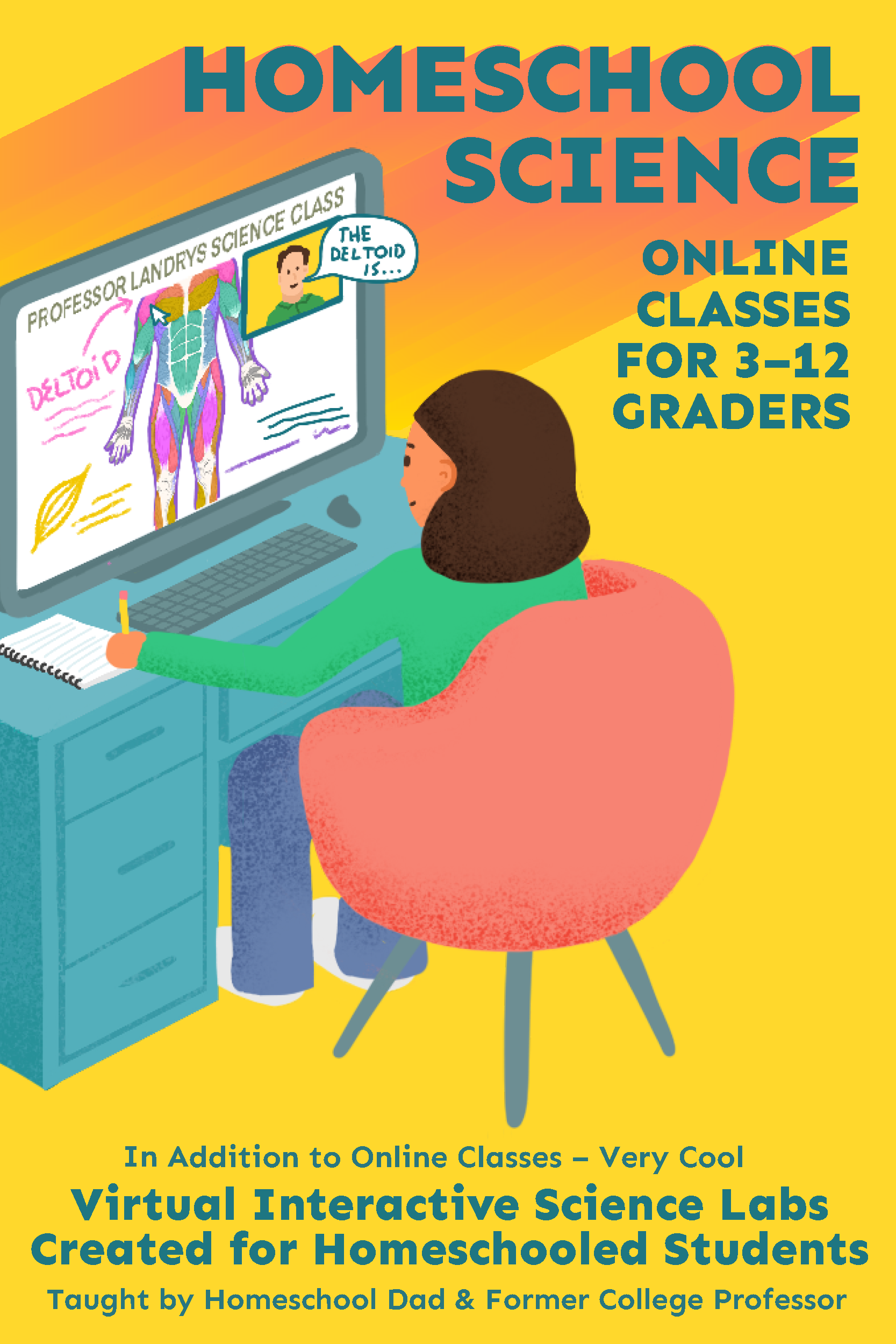 Why was I so relieved, you may ask?
Well, my nagging fears and doubts about homeschooling high school science were addressed like:
Classes are taught by a former college and medical school professor
Each science lab has a video to explain the procedure, things to note, and why the lab is being done
Students learn proper lab procedure, including the importance of repetition and recording accurate measurements
Students get step-by-step instructions on how to write a quality science lab report (and plenty of opportunities to practice!)
All science labs are virtually completed, meaning no mess to deal with OR fuss over how to store all that stuff
Students get constructive feedback on their science lab reports
Science labs are broken down into easy-to-understand steps
Your homeschooler gets more than enough labs to count for one year of high school science lab credit (6 labs are typically recommended but students can choose from between 10 different labs!)
HUGE deal for our homeschool – no actual dissection! My boys are against animal dissection so I'm happy to have this virtual option (plus, thrilled that we don't have to deal with the smell or disposal issues 😉 )
Homeschool Science Labs Without the Stress or Mess – It's Actually a Thing!
Although the look and feel of these virtual science labs appealed to me, I wasn't sure what my older boys would think. They are very picky selective when it comes to online learning options.
Thankfully, my older boys approved. Professor (15) is the student who's actually taking the Virtual Physics Lab (6th – 12th Grade) but my oldest (18) and middle boy (12) like to jump into the physics lab fun, too.
Oh, because that's another cool bonus of these virtual science labs –> lab tuition is per subject and it may be used by any kids in the family.
Immediately, Professor knew this homeschool science lab was a good fit for him. Mr. Landry presents the information in a logical, easy-to-understand way. Professor felt like he had everything that he needed to independently complete the labs.
When Professor asked me to check his first science lab report, I was blown away.
He tends to doubt himself and fights perfectionism. I had tears in my eyes as I read his report. Thorough, detailed, and well-written. He shone with confidence and I thought my homeschool mama heart was going to burst 💙
I'm so relieved to not have to worry about teaching a physics lab (or all that goes along with it). Anything that my older boys can do on their own (and do well) frees up my time to spend teaching little brothers, take care of other responsibilities, and enjoy fun activities with all.
Experience a Better Way to Teach & Enjoy Science Labs in Your Home
I'm all about finding and using smart ways to take the stress out of homeschooling. It's way too easy to make homeschooling harder than it needs to be.
And if that smart option means less mess…well, sign me up!
Reminder: You don't have to do it all (and stress yourself out in the process). It's totally okay to outsource homeschool subjects, especially if it frees up your time, boosts your sanity, and helps you preserve your relationship with your kids.
These virtual science labs take the stress and mess out of homeschool science.
Plus, you'll find that these lab options are truly fantastic prep for advanced science classes and college.
College Prep Science is perfect for Christian families who are looking for quality online options for homeschool science classes and labs.
Get a feel for College Prep Science by trying their science freebies. (Includes a FREE test drive of the virtual, interactive science lab!)
I shared my 5 reasons (+ a bonus) that College Prep Science virtual labs rock in this video:
Kick all that homeschool science stress and mess to the curb! College Prep Science can help you sit back and enjoy homeschool science labs (and more) with your kids.
If you have any questions about these virtual science labs, please let me know in the comments area below 🙂