How to Make a Pop Up Valentine Card (Plus Free Printable Templates)
Learn how to make a pop up Valentine card and how easy it is with these free printable templates.
These printable Valentine's Day cards are super cute and simple to make. You can have a fun time making them with your kids for DIY holiday fun.
Find out more these free printable Valentine's Day templates plus get tips on how to make these pop up cards.
Easily Add a Special Touch to Your Valentine's Day Celebration
Looking for a super cute way to boost your Valentine's Day celebration? You've got to try these pop up Valentine's Day cards!
If you're wondering how to make a pop up Valentine card (and keep it simple), this free printable set of templates and printable instructions can help you enjoy the process.
As a mom of 5 boys, I'm always looking for fun, hands-on ways to celebrate Valentine's Day. My boys don't get that excited about this holiday so I try to find and share ways to at least make it interesting (like our free printable Mandalorian Valentine's Day cards).
Lately, my boys have been into making homemade cards (like sliding and 3D cards). They think these types of cards are super cool. So, I thought it was time to teach them how to make a Valentine pop up card, too!
Learn More About This Free Printable Valentine's Day Card Template Set
This free printable pack includes 4 pages for making an adorable Valentine Sliding Pop Up Card. In this set, you'll find:
Materials checklist and step-by-step directions (it's like an easy tutorial)
Large base card with decorative pink and white background with hearts
Short card with fold and cut lines (plus directions) and cute teddy bear holding box of red hearts
Circle with To: and From: to personalize, as well as border of pink hearts AND Happy Valentine's Day greeting to place inside of the card
The recommended materials list includes:
3 template sheets printed on white cardstock paper
Instruction sheet (optional to print)
Small, sharp scissors (or craft knife)
Ruler
Glue or glue stick
Adult hands helping little hands (if applicable)
How to Make a Pop Up Valentine Card with This Free Set
Creating a pop up card can be quite simple, especially when you follow these step-by-step directions and use these free templates.
Directions on How to Make Valentine Pop Up Card
Cut out all the pieces from the DIY Valentine's Day cards templates.
Fold the base card in half – printed side facing out.
Score and fold back the solid lines on the shorter card template. Cut out the slot along the dotted lines.
Fold the bottom tab of the bear forward.
Open up the short card with the printed side up. Align the slot along the middle fold line on the back of the main base card.
Apply glue to the outside of the front flap on the short card template.
While keeping the short card aligned to the very center, fold the tab under and glue it in place.
Thread the bear through the slot. Glue its bottom tab down, lining the back of this tab along the center fold line of the base card.
Next, fold under and glue the other flap in place, then fold the entire card in half.
Glue the inside greeting in place. Finally glue the outside "To/From" label onto the front of the card.
FAQs on How to Make Pop Up Valentine Day Cards (& This Free Template Set)
I'm a bit confused on how to make pop up Valentine day cards. What should I do?
I totally get it! That's why I made a video to demonstrate how to make. Sometimes it's easier to see it than to read it 😉
This free template set is cute but I'd like another theme/color set. What should I do?
No worries! I recommend tracing the templates and customizing with your own themes. You can add color with crayons, color pencils, Kwik Stix (or other tempera paint sticks), water color paints, washi tape, stickers, and more. Get creative! Once you're done customizing, simply cut out and follow the directions.
I plan on making this card with my young child. How can I simplify the process?
You can do a few things to make the experience more enjoyable for kids of all ages. First, determine how much time you realistically have to make the card. If you don't mind stretching out the project, you can also spread it out over a few days.
You can take one day to cut out the template pieces. (Or if you're crunched for time, cut out before you start). Then, another day to fold and glue.
Try to keep it as relaxed as possible – no need to rush! It can help to play soft, calming music in the background, too.
Get Your Free Valentine's Day Pop Up Card Templates
High five! You're on your way to enjoying a hands-on pop-up Valentine's card with your kids!
This free Valentine pop up card set includes 4 printable (PDF) pages.
You may print as many of these Valentine's Day card templates as you need for your personal use, family, class, homeschool co-op, or community event. If you have a friend or co-worker who'd like to have this sort of holiday fun, I ask that you please share this post with them so they can get their own copy of the template set. Thanks so much for your cooperation!
To get this free Valentine pop up card template set, simply subscribe to Rock Your Homeschool.
You'll get an email with a PDF file, along with a password to open the Subscriber's Library to all RYHS freebies.
Oh, and you'll receive emails with ideas, resources, and encouragement to make life and learning fun 🙂
(Psst! Current RYHS members can access the Subscriber Freebies page and enter the password in your welcome email. If you have any problems or questions, please email Amy at rockyourhomeschool@gmail.com)
Get your FREE Valentine Sliding Pop-Up Card template set by tapping HERE or on the image below.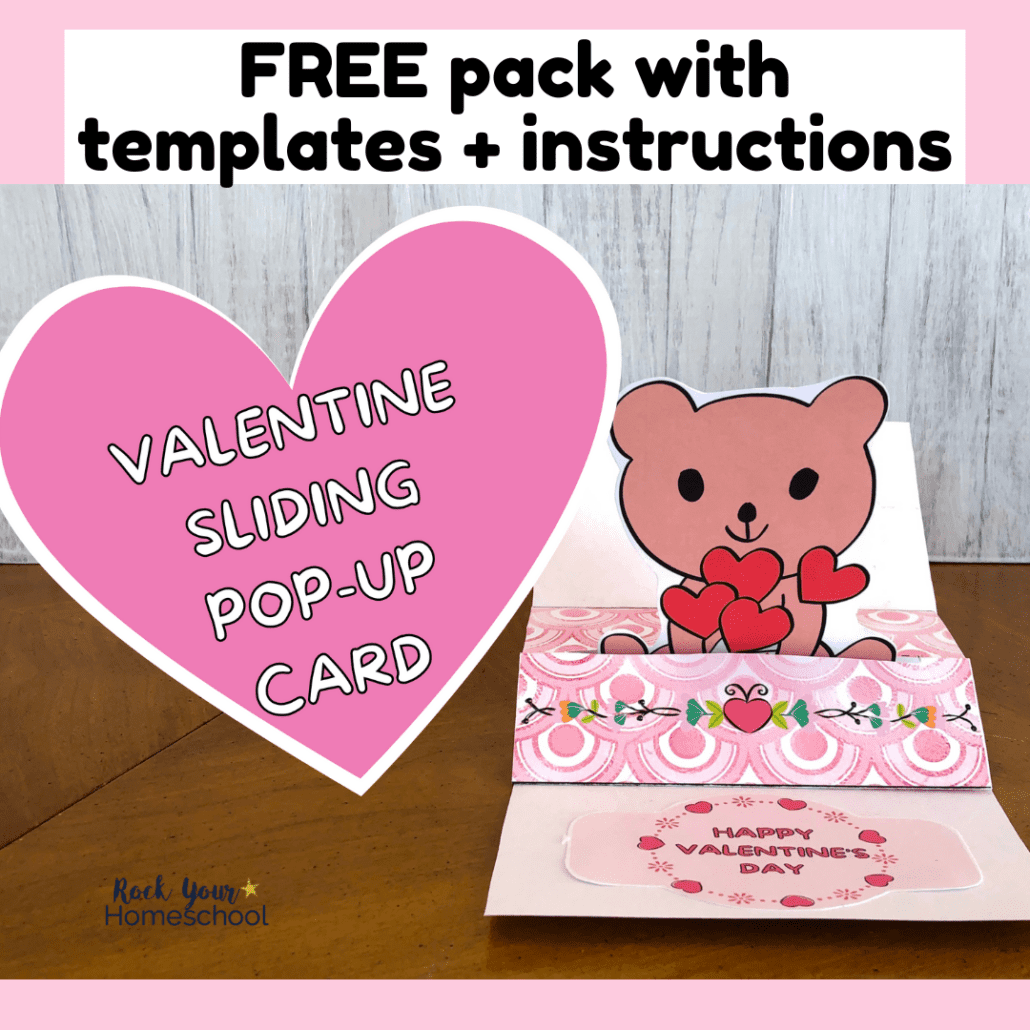 Wishing you tons of creative Valentine's Day fun with your kids! Hope you have so much fun making your own cards for loved ones, best friends, and more 🙂
More Fun & Free Valentine's Day Activities