Homeschool Middle School Science With Christian Kids Explore Chemistry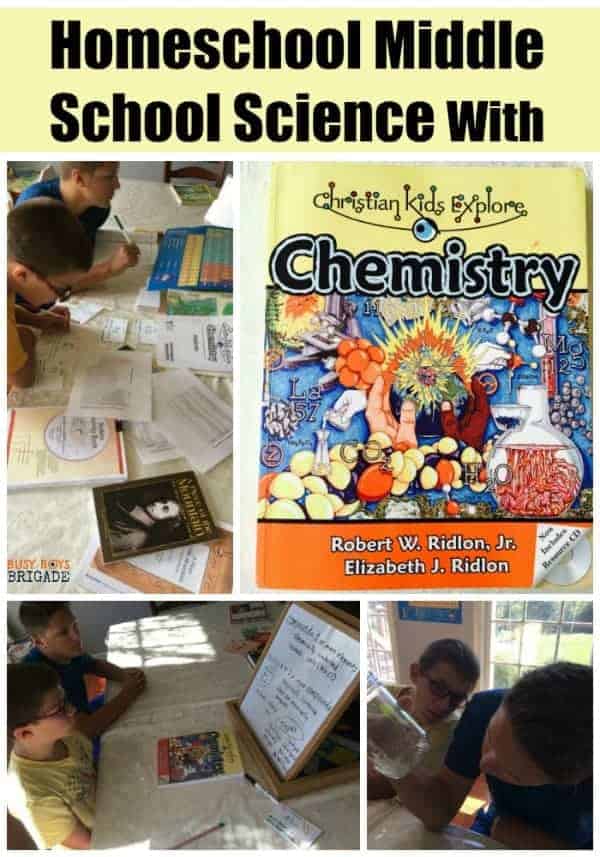 Middle school science scares me-and many homeschool moms. As our children get older, homeschool subjects understandably become more complicated and difficult. Often, homeschoolers feel like they are learning right along side their kids as they teach higher level subjects.
Read on to discover why our family has been so blessed to use Christian Kids Explore Chemistry distributed by Bright Ideas Press. You will understand why this chemistry-phobic mom got on her knees in thanks for this easy-to-use and effective homeschool science curriculum.
Disclaimer:  I received this product free for review. Also, I was compensated for my time.
All opinions are 100% my own and a positive review was not required.
My fear of chemistry dates back to my public high school years. Other subjects (well, besides geometry) came easy to me. As long as I studied and worked hard, I got good grades.
Chemistry, on the other hand, was an enigma.
I never came to tears during my high school chemistry years. Those tears were saved for my organic and inorganic chemistry classes in college. (Interestingly, I was a pre-med major with mostly science classes my first two years of college.)  The floodgates opened and it was not pretty.

Homeschool Middle School Science-Gulp!
Chemistry was one of my biggest fears when we began our homeschool journey. I kept burying this dreaded subject in the back of my brain while I enthusiastically jumped into homeschooling. Alas, I knew the time would come when my boys would need to learn chemistry but I was in homeschool denial.
When my oldest asked me during our homeschool planning time to learn chemistry for his eighth grade year, I shuddered. Internally, I felt like I was going to implode and crackle into pieces. Outwardly, I nodded with an unnatural grin, wondering how in the world I would teach a subject I disliked so much.
With perfect timing, the opportunity to use and review Christian Kids Explore Chemistry arose. I leaped at the chance to use this s0lid and affordable homeschool middle school science curriculum.
Effective, Affordable, & Easy To Use: Christian Kids Explore Chemistry
Oh, Christian Kids Explore Chemistry, how do I love thee? Let me count the ways…
Bright Ideas Press offers this amazingly awesome homeschool middle school science curriculum at such an affordable price ($39.95 for paperback book plus resource CD). When I read more about this chemistry (especially that it included supplemental reading suggestions), I couldn't wait to check it out!
We love CKE Chemistry. You will see that my younger boys (even my toddler!) enjoy learning with this chemistry text and resources.
easy to use text in paperback form:  We have found this book simple to navigate and easy to find what we need. It has a simple layout that is not cluttered with unnecessary pictures or colors. (In fact, it is in black and white which we prefer.)  I like that it is paperback and not bulky or heavy.
daily lesson plans:  Can I get an amen? This busy homeschool mom rejoiced when I saw that CKE Chemistry had suggested lesson plans that are flexible. Page numbers and activities are proposed for two lessons per week. If necessary, it is encouraged to revisit concepts and take a longer amount of time for better understanding and retention.
hands-on activities with common household materials:  Not only is this homeschool middle school science curriculum affordable, but the materials necessary for experiments and activities are not expensive (most you probably already have at home). The hands-on activities truly reinforce presented concepts.

Captain & Professor determine what type of mixture is in jar during a hands-on activity.

brilliant for combining ages:  This homeschool chemistry is designed for use with grades 4-8.  It is easy to adjust the activities for appropriate age level use. Coloring pages are provided for each chapter which are perfect for little ones to complete during lesson read aloud and work.

Xman has fun learning about mixtures while big brothers conduct their own hands-on activities using Christian Kids Explore Chemistry.

straight forward:  CKE Chemistry does not have a lot of bells and whistles. Concepts are introduced in a thorough manner that does not feel forced. Extra fluff is not included-and we love it! The boys and I do not have to sift through convoluted sentences or explanations. We get right down to work and get the job done!
simple yet effective:  Concepts are broken down into manageable chunks. Vocabulary and examples are not overcomplicated. My boys are really learning chemistry!

Professor & Captain making element cards, one of the best activities for learning & practicing periodic table of elements.

independent work (for older students):  Your older kids can read and do written work on their own. Tremendous time saver! Most experiments can also be conducted without adult supervision.
critical skills building:  Every chapter ends with a Think About It section. These questions are fantastic for helping students (especially older ones) develop a creative approach to science. Deductive reasoning and logic skills are often practiced.
suggested supplemental readings:  CKE Chemistry has a thorough list of resources to include in your homeschool science studies. A bonus literature study guide is included on the resource CD for A Piece of the Mountain: The Story of Blaise Pascal (book not included with purchase of CKE Chemistry), a book incorporated into the lesson plans towards the end of the curriculum.

Christian Kids Explore Chemistry is part of an excellent series of homeschool middle school science resources by Bright Ideas Press.
One of the best parts about our homeschool chemistry time is that all of my boys (ages 2, 5, 7, 11, & 13) like to listen to the lesson and participate in hands-on activities when appropriate. My older boys benefit from explaining concepts to their younger brothers. We all benefit from the time well spent together having learning fun.
[bctt tweet="#Homeschool Middle School #Science With Christian Kids Explore Chemistry @BrightIdeasTeam #ihsnet" username="busyboysbrigdade"]
If you are like me and have any fears associated with homeschool middle school science or just looking for an effective and affordable Christian approach to science, check out Christian Kids Explore Chemistry at Bright Ideas Press. Make sure to follow Bright Ideas Press on Facebook, Pinterest, Twitter, and Instagram for updates.
I feel like I am finally understanding all those chemistry concepts that never stuck in high school. I look forward to continuing this learning adventure with my boys. What do you like best about this homeschool middle school science resource?