Free New Year's Eve Bingo for Fun Game with Kids

New Year's Eve Bingo is an excellent way to celebrate the holiday with kids. Created with cute New Year's Eve themes, this fun game is great for all ages.
Make this special night rock with this free printable New Year's Eve Bingo Game that your kids will love!
Make Your New Year's Eve Special with a Fun Game
If your New Year's Eve plans include kids, you'll want to be prepared with fun activities and games. The long wait for the ball to drop at midnight can feel sooo much longer is your kids don't have anything to do 😉
Not sure how to make this New Year's Eve fun with kids? My #1 tip is to keep it simple. You can check out my other tips and ideas at 50+ Epic Ways To Celebrate New Year's Eve With Kids.
My boys and I like to break up the wait with fun ways to spend time together. We usually have one activity or game planned for each hour mark.
For example, our first activity (this super cool time capsule!) last year was planned for around 4 p.m. before dinner. After dinner, we relaxed with a few of our favorite New Year's Eve books. Then, about an hour later, we had a blast with our New Year's Eve Fun Pack. And so on…
This year, we are adding to our New Year's Eve Fun with MORE printable activities and games. I'm most excited about this game because my boys and I share so many laughs whenever we play bingo 🙂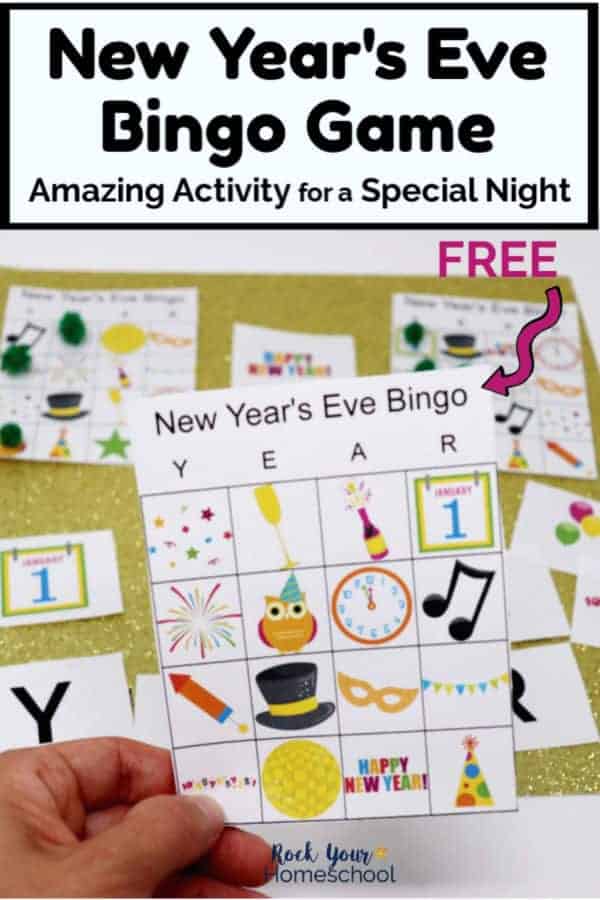 Amazing Ways to Boost the Fun with This Holiday Bingo Game
Looking for some awesome ways to make your New Year's Eve Bingo a hit? My boys and I play a lot of bingo and here are a few of the things we do to make it extra special:
Use special bingo markers. We love to use seasonal or holiday-themed markers for our bingo cards. Mini-erasers, small candies, playdough blobs or balls (we just take a small chunk of playdough and roll it around in our hand), and small crackers work well. Get creative and use what you have!
Laminate your bingo cards. You'll be able to use the cards again and again. Plus, you can use stickers, stamps, or dry erase markers to as temporary markers.
Switch bingo callers so everyone has a turn at the fun! Young kids (pre-readers) can also enjoy this game because it features pictures (no words!).
Add some fun bingo rules to your game. Will you allow a postage stamp win (all four corners)? Or other variations of bingo wins? Decide and agree upon the rules before you start your game so everyone is on the same page 😉
Have a small basket of prizes for your bingo winners. Candy bars, packs of gum, stickers, stamps, and balloons have been hits in our home. Or keep it creative and affordable by making special "coupons" for your kids to cash in on extra screen time, date night with a parent, or other fun activity.
DISTINCTIVS New Year's Eve Party Favor Stickers – Black and Gold – 180 Labels
2 Sheets – Happy NEW Year Stickers – Black & Gold
Happy New Year Paper Cone Hat (Set of 12) New Year's Eve Party Supplies
Amscan Colorful Opulent Affair New Year's Party Kit for 100, Includes Top Hats and Glitter Tiaras
Partay Shenanigans 50-Pack New Year's Eve NYE Party Celebrate Balloons
Beistle Awards Night Confetti Tableware Decorations, VIP Party Supplies, 0.5 Ounces, Black/Gold/Silver
Peachy Party Poppers Confetti Cannons, (12 inch) 6 Pack Modern Biodegradable Wedding Confetti Cannon, Black Confetti Poppers for Birthday Party, Wedding, New Years Eve | Launches up to 30ft
Get Your Free New Year's Eve Bingo Game
I congratulate you for taking the time to make New Year's Eve fun with kids. You'll be creating special memories that you'll be able to enjoy with your kids in years to come 🙂
This free printable pack of New Year's Eve Bingo fun includes a total of 20 bingo cards (10 pages with 2 cards per page) and 23 calling cards (2 pages).
Please feel free to print out as many copies of this bingo game and calling cards as you need! If you know a family member, friend, co-worker, or other loved one who'd enjoy this holiday game, share this post. I truly appreciate your sharing!
By subscribing and joining the Rock Your Homeschool community, you'll receive this printable pack in a PDF file in an email, along with a password to open all RYHS freebies.
In addition to your freebies, you will get emails with creative and easy ways to make life and learning fun.
(Psst! Current RYHS members just need to access the Subscriber Freebies page and enter the password in your welcome email. If you have any questions or problems, please email Amy at rockyourhomeschool@gmail.com)
TAP on the image below to subscribe and get your free printable New Year's Eve Bingo Game!
I'd love to hear about your New Year's Eve plans with kids!
Share your ideas in the comments area below 🙂
More Fun New Year's Eve Activities for Kids