Raise your hand if you are a Star Wars geek!  (No need to hide.  Wear that title with pride!)
Do you observe May The 4th in true Star Wars geek fashion?  Super fun way to enjoy celebrate these sci-fi tales.
I have always loved Star Wars.  My brother and I would act out scenes in our backyard.  Of course, I was Princess Leia (my mom would even braid my long hair into those cool side buns!).  My brother would switch between Luke Skywalker and Hans Solo.  Such great times!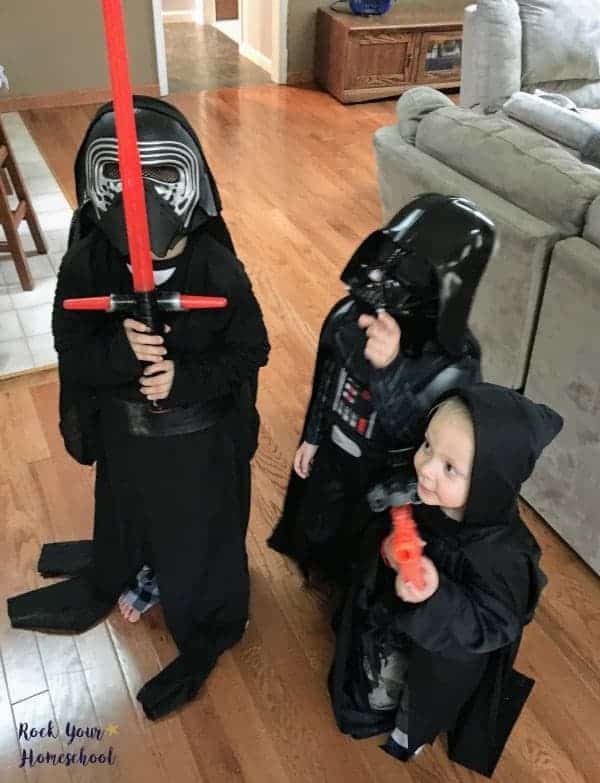 When I met my husband, I quickly learned that he was an even bigger Star Wars geek than I.   We have nobly passed on our love of Star Wars to our five boys.  At least once a day, one of my boys dons a Star Wars costume and wields a lightsaber.
My boys and I love to find new Star Wars activities, crafts, and learning fun.  We are already getting prepared to have a major celebration for May The 4th.  Professor's birthday is May 3 so we are just going to keep the party going!
Free Star Wars Cards for May The 4th Be With You
I created these free Star Wars Cards for May The 4th to use with my boys and to share with you.  When you subscribe to Rock Your Homeschool, you will receive these free printable cards plus exclusive access to all RYHS freebies (and weekly email updates!)
Your FREE Star Wars Cards for May The 4th Be With You printable pack will include 7 cute Star Wars characters sharing this message.  One card has crossed light sabers.
These printable cards would be great for surprise messages for your kids at home or in their lunchbox. Use as a label or tag for snacks and drinks as you celebrate this special fun day.  Teachers, these cards would be great for students!
Click HERE or on the image below to subscribe and get your FREE printable Star Wars Cards for May The 4th Be With You!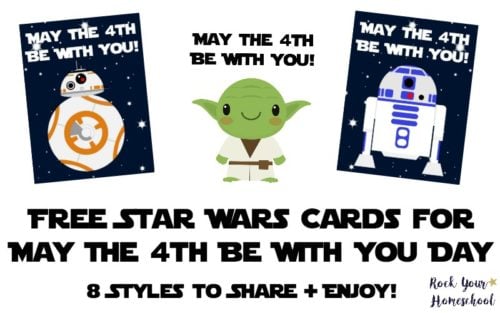 If you like these cards, you'll love these other resources for Star Wars-Inspired Fun!
2 Free Star Wars-Inspired Origami Fortune Tellers