Amazing Ways to Celebrate August Fun Days with Kids
These August Fun Days are awesome ways to easily enjoy special summer activities with your kids. Julie Lavender shares her tips and tricks for making this August a wonderful time for all.
Enjoy These August Fun Days with Kids
Don't give up just yet on summertime because the calendar proclaims the season for several weeks ahead!
Create additional summertime fun and memories, even if lesson plans and schoolwork have already begun. Spend another afternoon in the sprinkler. Take one more trip to the beach. Schedule a handful of picnics and early evening hikes.
Enjoy every minute of leftover summer days with celebrations. Try some of the ones listed below or create your own unique family ones 🙂
National Watermelon Month – Slice into a juicy watermelon for a lingering taste of summer.
After snacking, try out a seed-spitting contest, age-appropriate, of course. And if kids are too young for that novelty, try a seed-flicking contest.
Wash and dry some of the watermelon seeds. Spread one layer of already-read newspaper pages on the table. Mark a starting line on one edge of the paper. Teach the kids to touch the index finger to the thumb and then flick the index finger quickly to send the seed scooting across the newspaper. Write the flicker's name next to the stopping point of the seed.
After everyone has taken several turns, determine which seed traveled the farthest. Share the holiday with a friend by purchasing an extra watermelon to share with someone who might need some extra company and fellowship on a long, summer day.
Aviation Day – Play aviation relay games outside to enjoy a summer afternoon.
Hold both arms extended and sprint across the yard for a jumbo jet relay

Flap the arms and skip for a propeller plane relay
Twirl around for a short distance to complete a helicopter relay
Take large leaps into the air across the yard for a hot-air balloon relay
Jump, roll, and repeat for a parachute relay
Get creative for additional aviation-style relay races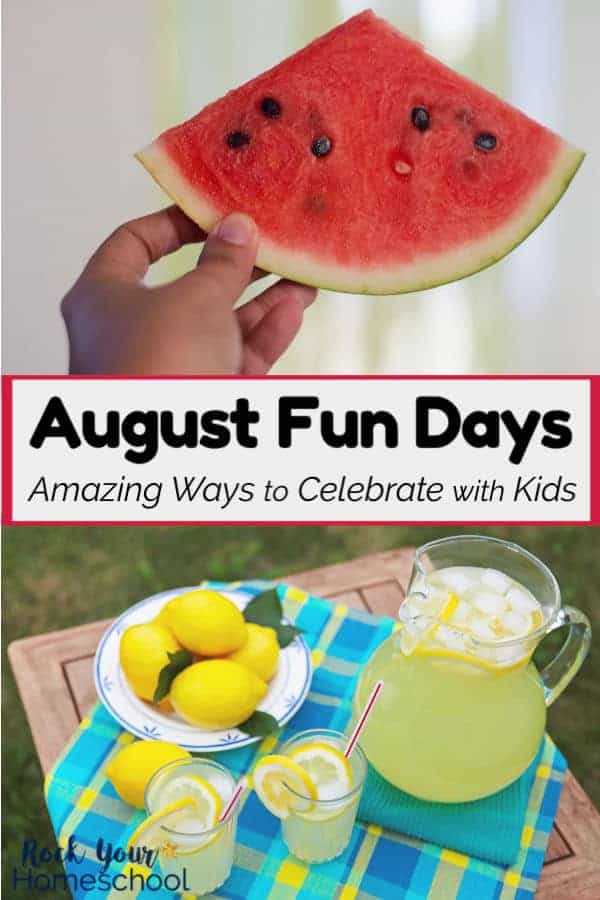 Middle Child's Day – Celebrate this unique holiday whether you have one, two, three or more kids in the family.
See how many objects you can think of with a middle, like, a sandwich, a cream-filled cookie, fingers on a hand, a book, a Bingo card. Who had the most answers? The most unusual answer?
National Mustard Day – Experiment with flavors to create new sensations for a hot dog and pretzel indoor picnic.
Start with small amounts of regular yellow mustard in shallow dishes. To each one, add one or more of the following ingredients: minced garlic, soy sauce, Heinz 57, cinnamon, a couple of drops of hot sauce, sour cream, mayonnaise, honey, maple syrup, ketchup or a variety of herbs from the pantry. Stir to blend.
Cook and cut hot dogs into bite-sized pieces. Use toothpicks to skewer the hot dog bites and dip into the mustard. Dip salted pretzels into the mustard for a snack also. What is your favorite mustard blend?
Architecture Month – Do you know what the words Doric, Ionic, and Corinthian mean when speaking of architectural design?
Do some research online to find pictures of these types of architecture, and then go for a scavenger hunt around town to locate some of the beautiful columns and architectural gems in your city. Check out churches, banks, homes, and buildings in your downtown area. Walk or drive slowly, but you'll need to look up to see most of the beauty.
Don't let the summer days slip off the calendar without intentionally celebrating the gift of family with fun time spent together. Enjoy sunny days and rainy days and everything in-between with games, crafts, books, recipes, and much more. Make the most of summer, squished between schoolwork, chores, and extracurricular activities.