Fun & Free Track Your Homeschool Year Chart (Updated 2023)
Have some awesome fun as you track your homeschool year with this free printable chart! Work with your kids to record your progress as you move forward in your upcoming or current homeschool year.
Find out how my five boys and I are using this chart and how you can get your free activity to track your homeschool year.
**UPDATE for 2023:  I wanted to share our NEW chart that we're using to track 100 Days in our homeschool! We love to celebrate our 100th day of school. This free printable set features circles that are just the right size for dot-a-dot markers.
Oh, and I also added a free 170 Days to Rock Our Homeschool Chart 🎉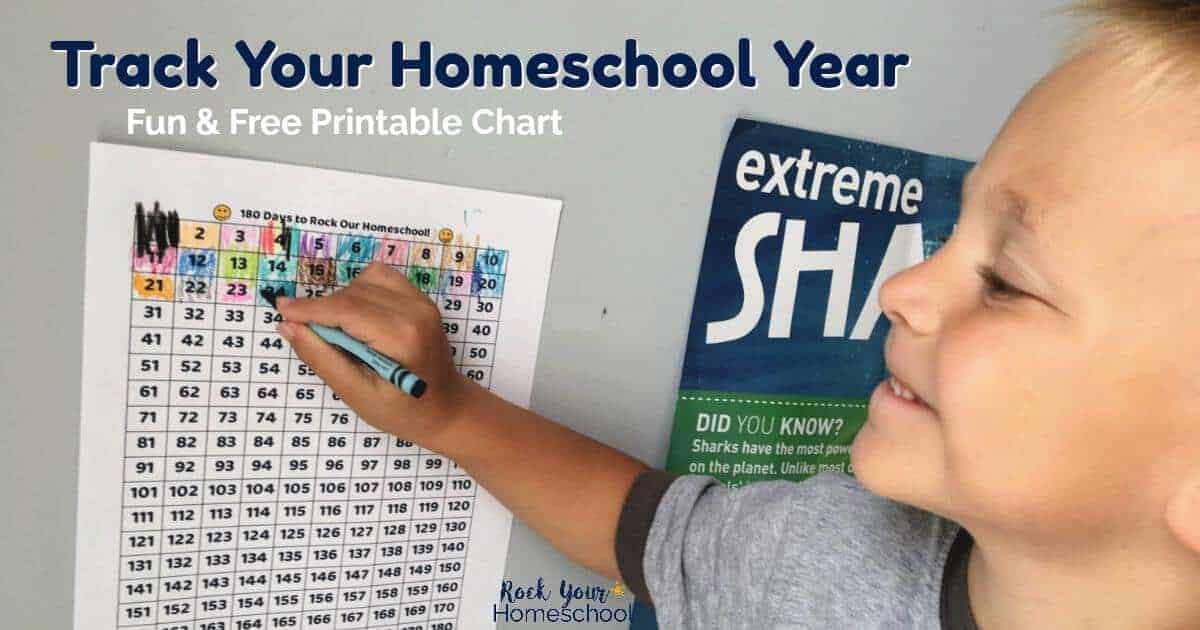 Reasons Why You Might Want to Keep Track of Your Homeschool Days
Before I chat about why our family tracks the number of days in our homeschool year, let's brainstorm a few reasons why you might want to include this practice in your homeschool record keeping:
A requirement for your state: Does your state require you to keep track of how many days you homeschool your kids? Find out at HSLDA (Home School Legal Defense Association). If so, make sure to have some sort of system to track your homeschool days!
Personal accountability: Do you tend to squirrel (like I do)? Or procrastinate ("Oh, we didn't get to our lessons today. That's alright! We'll get to it tomorrow." And then something else comes up…)?
Visual motivation: Seeing how far you've come can really help motivate you to keep going and finish out the year. My boys and I love thinking back on what we've accomplished and what is yet to come 🙂
Hands-on learning: Incorporate your homeschool tracking into your learning fun! Get your kids involved with counting by using small objects or stickers to represent each day. Paper clips, stickers, paper chains, and charts are fantastic ways to build this practice into your homeschool morning time.
Fun Ways to Track Your Homeschool Year
My boys and I love to track our homeschool days.
We live in Pennsylvania where we are required to do homeschool for 180 days. In an effort to track those days and make it fun, we've used some fun activities to make it exciting and collaborative.
In the past, we used a paper chain to record our progress. The paper chain was long but we were motivated 😉
As our homeschool year progressed, we marveled at how quickly the chain shortened. Great hands-on and visual way to track your homeschool year!
I try to include a hands-on component for tracking our homeschool days. The boys are able to participate no matter what age and it's a fun way to include a bit of math (adding on and subtracting) to our homeschool morning time.
A few fun ideas that we've done in the past include:
Paperclip chain (link 180 paperclips together)
Sticker chart
Straws (Start with 180 plastic drinking straws and remove one a day. Or start with zero and add on!)
This year, we are using a super-duper coloring chart!
**For 2021, we're using a cool NEW 100 Days of School chart that features circles. Perfect for using our shimmer dot-a-dot markers 😉 And it's also fantastic for creative ways to practice with a hundreds chart. Scroll down to the bottom of the post to get this free set.
Get Your Free Printable Chart to Track Your Homeschool Year
You can track your homeschool year, too! Use this free printable chart to get started. Scroll down to subscribe and grab your free set!
If your state requires a different number of days, let me know in the comments area below! I can customize and add to this post. I just added 170 Days to Rock Our Homeschool Chart to the files!

And here's our NEW 100 Days of School Chart, this set includes two pages:
1 page of 100 Days Chart (with title 100 Days of School) and 1-100 in the circles
1 page with only circles (to be used for students to practice writing from 1-100 or other creative hundreds chart activities)
You may certainly print as many copies of these charts that you need for your homeschool or co-op. If you have a friend or co-worker who may like to use these free charts, I ask that you please share this post (and not the download). Thanks so much for your cooperation & sharing!
To get your FREE Track Your Homeschool Year charts, simply subscribe to Rock Your Homeschool.
You'll receive an email with a PDF pack, along with a password to open the Subscriber's Library to all RYHS freebies.
Plus, you'll get emails with ideas, resources, and encouragement to make life and learning fun 🙂
(Psst! Current RYHS members just need to access the Subscriber Freebies page and enter the password in your welcome email. If you have any questions, please email Amy at rockyourhomeschool@gmail.com)
Get your FREE Track Your Homeschool Year Charts by tapping HERE
How will these printables help you track your homeschool year?
I'd love to see these charts in action!
Tag @rockyourhomeschool and show us how you're tracking your school year 🙂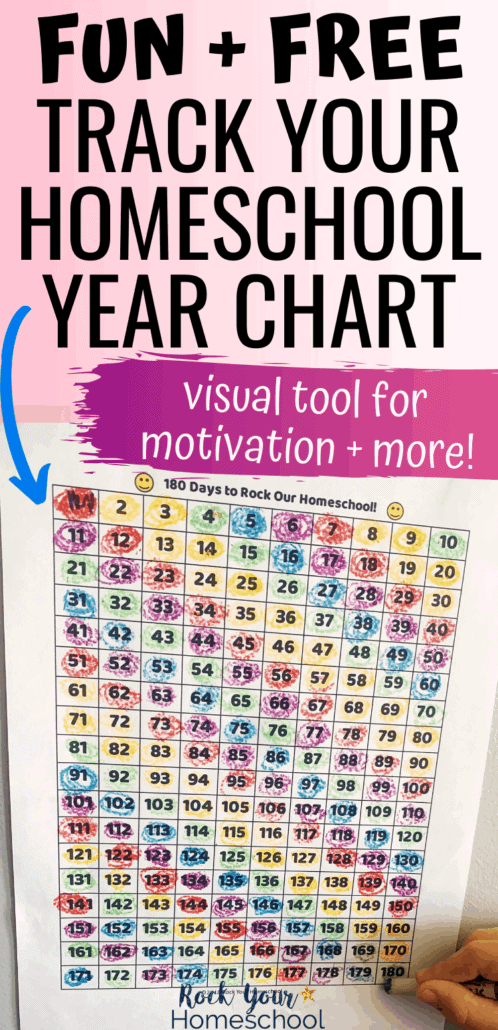 More Fun & Free Activities for Your Homeschool