Football Perler Beads for Fun Craft Activity for Kids (Free Patterns)
Football perler beads crafts are fantastic ways to enjoy fun hands-on activities with your kids.
These crafts feature 7 football symbols. Plus, your children can use these DIY crafts in so many ways!
Learn more about this type of perler bead art and get your free printable set with football patterns.
Incredible Crafts for Football Fun with Kids
Need simple yet cool ways to help your football fans (or football player) enjoy their favorite sport? Try perler bead crafts!
These hands-on activities are fantastic opportunities to have some football fun with kids ️🏈
I grew up watching football and playing outside with my neighborhood friends. I was such a tomboy!
My dad was a football high school coach. My brother played football for years. And then I moved to the Pittsburgh area and now I'm surrounded by Steelers fans 😉
When I shared our free printable football activities with my boys, they had a blast. I knew that I wanted to combine this type of fun with one of their new favorite crafts.
My boys love crafting with perler beads. They use these small plastic beads (also called fuse beads or Hama beads) to make all sorts of cool stuff. The boys turn these DIY crafts into little toys, keychains, and decor.
Some other ways to use these football crafts are:
celebrating the Super Bowl
end of football season treats
football parties
rainy day fun
library craft
frugal gifts
just because
Find Out More About These Football Perler Beads Patterns
This free printable pack of football perler bead patterns features 7 symbols.
These patterns were created to be made on a hexagon board 31 peg diameter with 5mm beads. You don't need to use that exact recommendation – my boys were able to easily use on the square boards that we have 😊
The football symbols with perler bead patterns included in this set are:
Football flag
Football cleat
Football jersey
Football
Football helmet
Hot dog
Trophy
How to Make These Football-Themed Perler Bead Crafts
Art time with your kids using perler beads can be super fun when you use these tips and tricks. You'll quickly discover that it makes it much easier to create all of these cool crafts.
I recommend that you have ALL of your supplies prepared and organized.
I got a big canister of perler beads and perler bead peg boards that attach (in case the boys want to create larger crafts). And I purchased a plastic craft organizer to make it easier to sort the perler beads by colors. I also think this perler beads kit looks amazing and comes with everything!
Your kids may prefer using perler beads tweezer tools. These types of tools are totally optional – my boys like to work with their fingers.
After your perler bead creation is completed on the pegboard, place it on a flat surface.
The set of perler bead pegboards that I have includes reusable ironing paper. I've found that you can also use parchment paper or waxed paper. This type of paper is placed over your completed creation.
You need an iron to fuse your perler beads. I set the temperature of my iron to a medium heat. When your iron is warm, press firmly on the ironing paper and slowly move around. I sneak a look at the perler bead creation about every 30 seconds to see how well the beads are melting together.
When using these football perler bead patterns, I suggest going over the template and having your child pick out a favorite one for their first craft.
If you don't have the exact colors, don't worry. You can totally use a different color. Use what colors you have and enjoy your designs. In fact, you can easily customize these football crafts to match your favorite team! It's a great way to boost game days, too.
You might find a better production process for your craft time. If so, go for it the next time!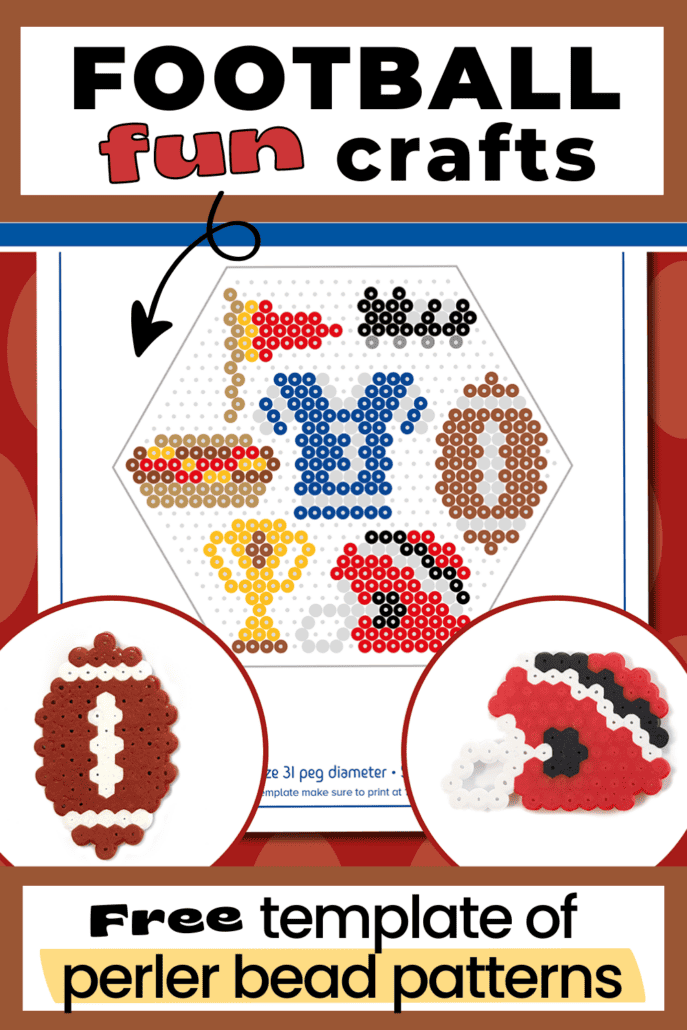 Fun Ideas for Enjoying Crafts with Football Perler Beads
Talk with your children about their ideas for these perler bead art activities. Brainstorm ways to enjoy and share your football perler bead crafts, too.
One idea is to start a collection of perler bead crafts. My boys place their crafts in their bedrooms, as well as decorate our shelves and bookcases with them. They have quite a growing collection at this point with our free Pokemon, Minecraft, Easter, Earth Day, and Super Mario packs.
Another idea is to leave a space or hole near the top of your perler bead craft. You can add a key chain ring or loose binder ring. Your kids can use this type of craft for a football charm, key chains, decorate party gift bags (great gift tags!), and party favors.
Your kids can also make their own designs and perler bead pattern with football themes.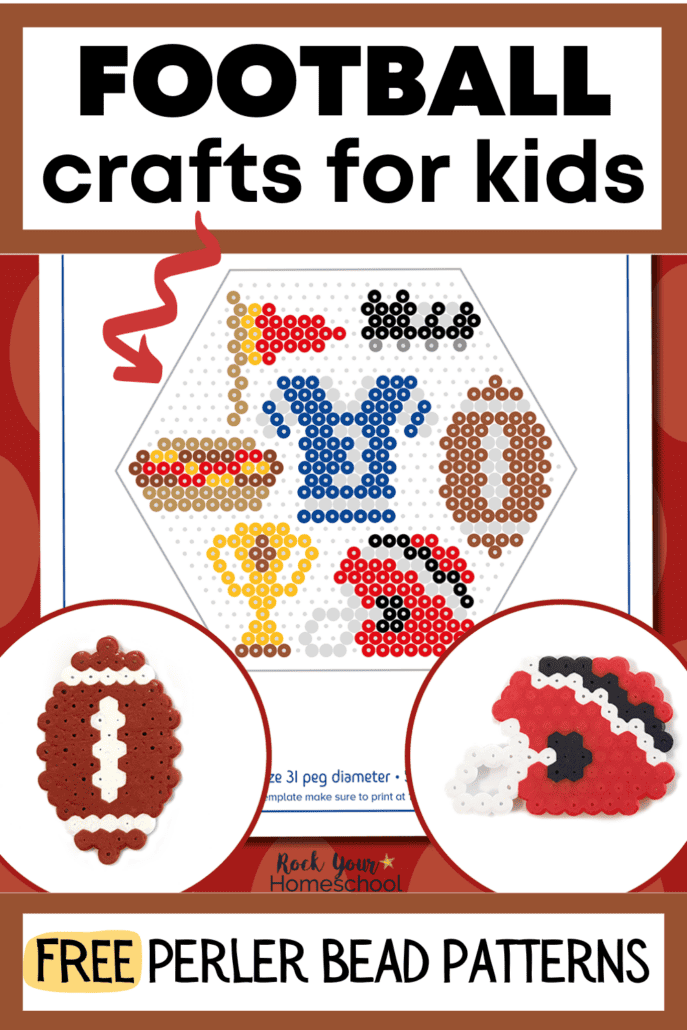 Get Your Free Pack of Football Perler Beads Patterns
High five! You'll have a blast with these hands-on activities featuring football crafts for kids!
This free printable pack of football perler bead patterns includes 1 page of 7 football themes (plus terms of use page).
You may print as many copies of these football perler bead patterns as you need for your homeschool, classroom, or co-op. If you have co-workers or friends who'd enjoy these free printables, please share this post. Thank you for sharing – I appreciate your cooperation!
To get these FREE printable patterns of football perler beads crafts, all you need to do is subscribe to Rock Your Homeschool.
You'll get an email with a PDF file, along with a password to open the Subscriber's Library to all RYHS freebies.
AND you'll receive emails with ideas, resources, and encouragement to make life and learning fun 🙂
(Hey hey! Current RYHS members can access the Subscriber Freebies page and enter the password in your welcome email. Please contact Amy at rockyourhomeschool@gmail.com with any questions or problems!)
Get your Free Football Perler Bead Patterns Pack by tapping here or on the image below.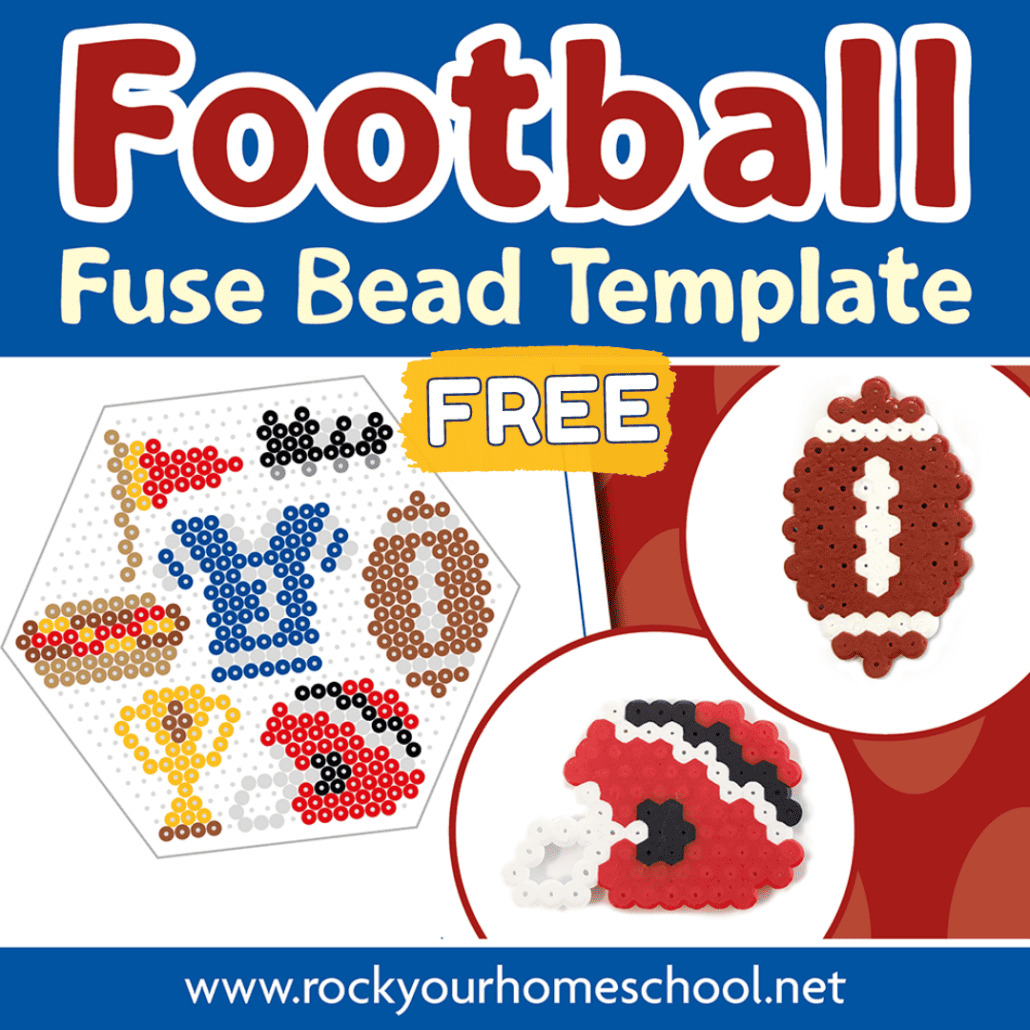 Do your kids enjoy perler bead crafts? What are their favorite types of things to make? Share in the comments area at the bottom of this post!
More Fun & Free Perler Bead Pattern Packs