Pokemon Crafts for Fun Activities for Kids (20 Free Printables)
Pokemon crafts are perfect activities to provide your kids with screen-free ways to enjoy some of their favorite video game characters.
These hands-on activities are super cool for a Pokemon party, brain breaks, boredom busters, or just because.
Learn more about this printable pack of crafts with Pokemon themes and get your free set today! Your Pokémon fan will get such a kick out of this type of fun craft.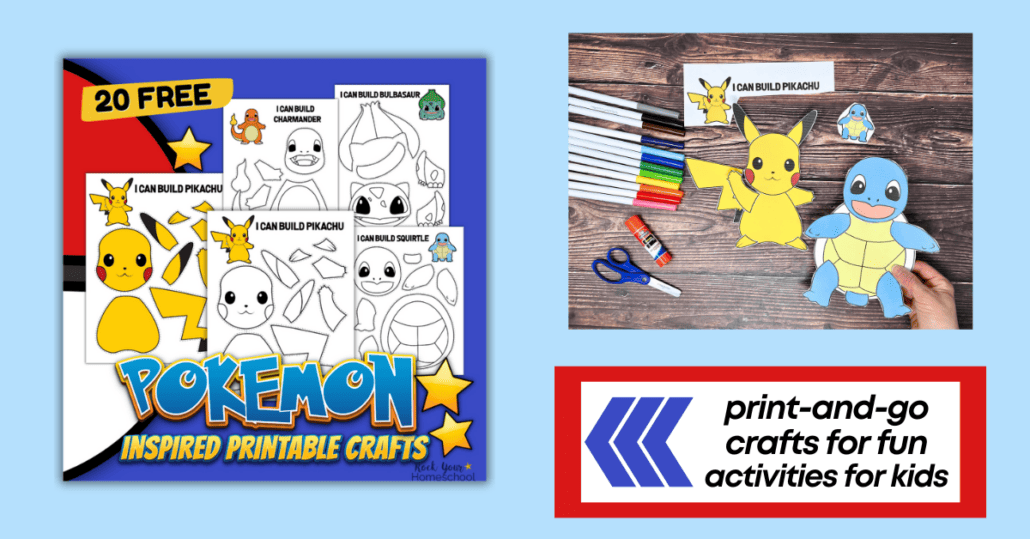 Incredible Ways for Kids to Have Screen-Free Pokemon Fun
Got Pokemon fans? If so, then you're going to love these free printable paper crafts featuring characters from these video games!
My boys LOVE Pokemon. When my two older boys were younger, one of my mom's friends gifted us a bunch of Pokemon cards that her kids outgrew. Well, that gift sparked a whole new interest for my boys! They were fascinated by the creative creatures, features, and Hit Points (HP).
My younger boys caught the Pokemon bug, too. And they all enjoy playing Pokemon video games on Nintendo Switch and Nintendo 3DS.
Since my boys got such a big kick out of our other Pokemon activities, I thought some crafts with Pokemon themes would be awesome for them to try. And, of course, our free Pokemon coloring pages!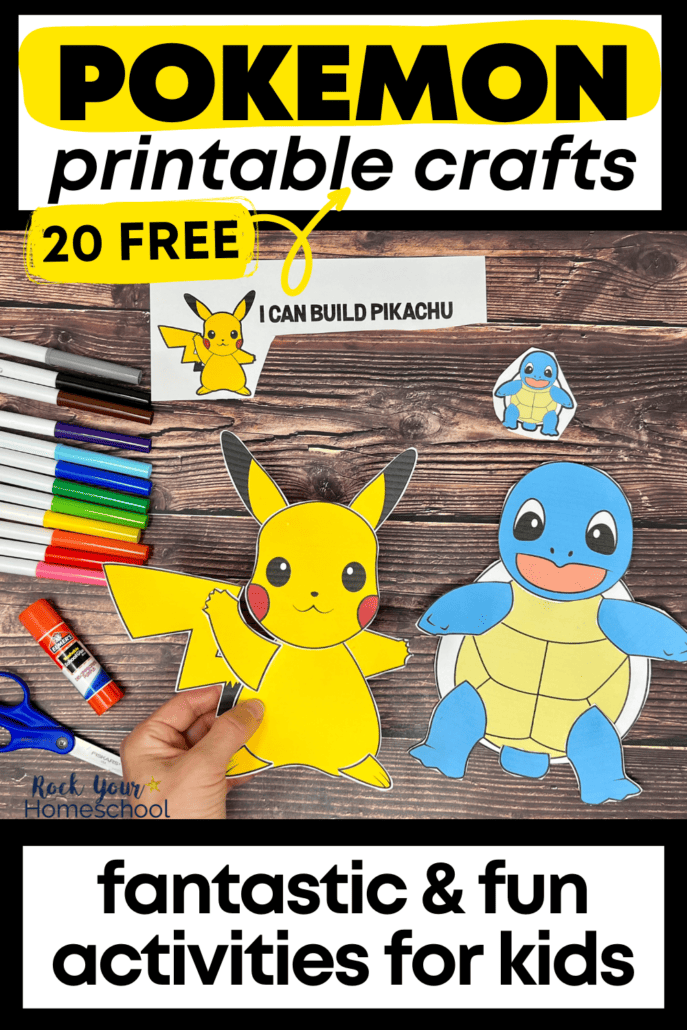 Find Out More About This Free Pokemon Crafts Pack
This pack of free printable Pokémon crafts has 20 pages (plus a terms of use page). You'll find 10 pages in color and 10 pages in black-and-white for your kids to have coloring fun (and able to customize their crafts).
These Pokemon characters are featured in this pack:
Pikachu
Charmander
Squirtle
Bulbasaur
Jigglypuff
Eevee
Meowth
Snorlax
Gardevoir
Gengar
Suggested Supplies for Making These Pokemon Crafts
Over the years, I've discovered that it's extremely helpful to have your craft supplies prepared before starting your hands-on activities. It just makes it so much fun for everyone. For your Pokemon craft time, I recommend having these materials ready for use:
Creative Ideas for Enjoying These Printable Pokemon Activities
Before you start all of your Pokemon craft fun, I suggest that you get all of your supplies out and ready to go. It makes the experience so much easier and enjoyable for all 😉 A fun Pokemon craft can be enjoyed with kids of all ages.
Print as many copies as you need to enjoy these crafts. If you're doing this activity with multiple kids, you may want to print out several of each Pokemon character.
When the craft pieces have been cut out, you can use glue to attach the pieces to each other and/or paper (like printer paper, construction paper, or cardstock).
If you want your Pokemon crafts to be moveable, use brads at the joints to make some pieces moveable. Another great way to make your craft move (and add different colors) is to use pipe cleaners.
Another incredible idea for a fun activity that my youngest, Xman, did was to make paper bag puppets with these pieces. All you have to do is glue the pieces that you'd like for the character onto the bag. For example, you can glue Pikachu's face to the flat bottom of a paper bag. Glue the body underneath on the side of the bag. Use glue to add the arms and legs to the sides of the body. Your young children will have a fun time with their favorite characters as puppets!
These Pokemon Mario paper crafts are fantastic for:
party decor (for a Pokemon-themed party)
rainy days
library activity (Our local library has a few table with craft stations. My younger boys love being able to sit down and make fun crafts after they pick out their books.)
just because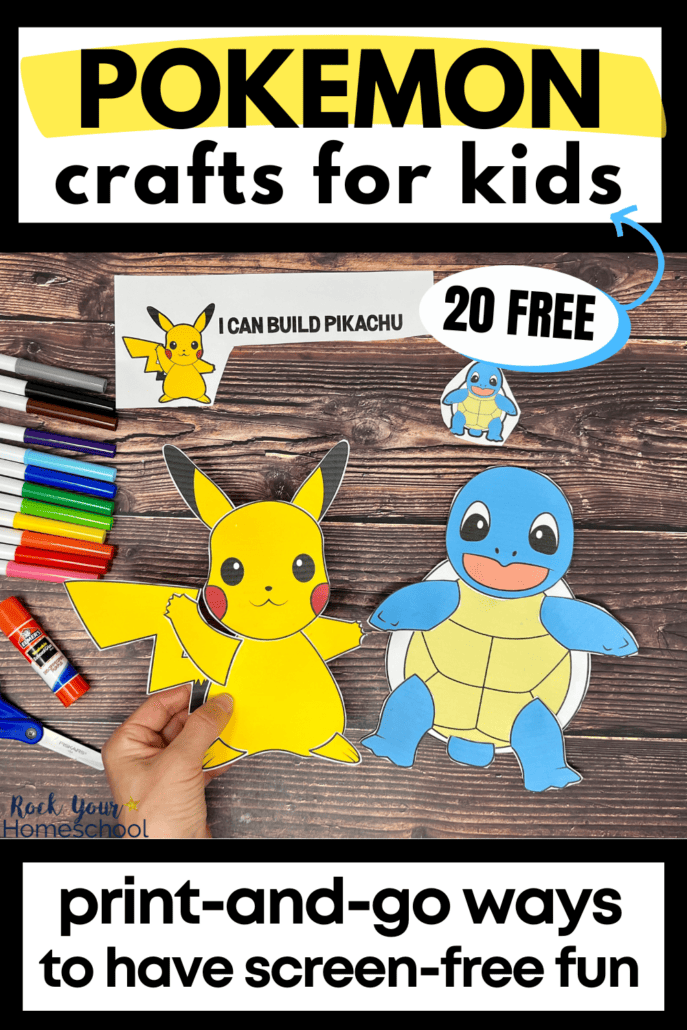 Get Your Free Pack of Pokemon Crafts
High five! You're so close to getting and enjoying these Pokemon activities with your kids.
This FREE printable pack includes 20 pages (10 color and 10 black-and white) of Pokemon crafts.
You can print as many copies of these craft activities as you need to enjoy with your homeschool, classroom, or co-op. If you have co-workers or friends who may like to use these free printables, please share this post. Thank you for your cooperation and sharing!
To get these FREE printable Pokemon craft activities, simply subscribe to Rock Your Homeschool with your email address.
You'll receive an email with a PDF file plus a password to open the Subscriber's Library to all RYHS freebies. Email Amy at rockyourhomeschool@gmail.com if you have any problems!
Oh, and you'll also get emails with ideas, resources, and encouragement to make life and learning fun 🙂
(Hey there! Current RYHS members just need to access the Subscriber Freebies page and enter the password in your welcome email.)
Get your Free Printable Pokemon Crafts Pack by tapping here or on the image below.
Do you have a Pokemon fan or two? How will you use these DIY Pokemon crafts with them? Please share your great idea in the comments area at the bottom of this post 🙂
More Fun & Free Crafts for Kids