9+ Fun Reading Games for Kids for Creative Learning Activities
These 9 fun reading games for kids are fantastic ways to enjoy creative learning activities.
You can easily get your kids engaged and excited about reading with these types of fun games.
Plus, boost the learning fun with these ideas and tips for using these reading games!
You Can Make Reading Fun with Cool Games and Activities
Reading time doesn't have to be boring for your kids (or you!).
Help your kids get excited about learning and practicing these important skills by using fun reading games and activities.
You'll find a variety of reading games for kids of all ages. Some reading activities are more hands-on with game boards, tiles, and/or cards.
Other fun reading games can be found online or via apps.
With a bit of creativity and openness to try new things, you'll find that you can extend many of these reading games for kids for an extra boost to learning.
9 Fun Reading Games for Kids to Enjoy
Reading is a vital skill for our children to learn. You know that the ability to read opens doors to the world and gives you the ability to learn anything you could ever want.
Like other subjects, kids learn to read best through fun and play. Using games to teach your child to read and grow developing reading skills is a wonderful way to help even reluctant readers grow into strong and confident readers. 
Check out these 9 fun reading games to get you started with adding these types of cool learning activities to your teaching toolbox:
1. Memory for Fun Reading Games
Sight word memory match is an easy-to-make and play reading game you can do at home using index cards. (Or you can grab this FREE sight words memory game with 8 sets of 25 words!)
If you choose the DIY version, make a list of sight words you want your child to work on and create a memory match game by making 2 cards for each word.
As your child plays memory match, they'll see the words repeatedly. Play with them reading the words out loud to help them memorize them quickly while having fun. 
2. Teach Your Monster to Read
Teach Your Monster To Read is a great option if you are looking for a free web-based reading game for kids.
This program has a bunch of fun reading games and built-in rewards to encourage your child to read and improve reading skills over 3 levels. This reading program has a web browser-based and an app-based option for play. 
3. Starfall
Starfall is packed with great free games online for teaching your child to read.
You can enjoy this program online or in-app. It's a great option if you need to use screen time while homeschooling on the go, like for helping your child learn in places such as a doctor's office, waiting for older siblings at competitive sports or other extracurricular events, or even in a long line at the store. 
4. Tall Tales
Tall Tales boosts your child's literacy skills by encouraging them to build an exciting and creative story.
This game is perfect for the entire family to play together, each adding the next twist to the tall tale.
As children fall enjoy telling stories with this game, they'll feel more encouraged to seek out stories to read that interest them. 
5. Sequence Letters
Sequence Letters is a great board game for teaching kids their letters and the sounds they make.
This game is perfect for working on early phonics skills in a fun and interactive way with your child. This super fun reading game is a wonderful way to include your preschooler in family game nights. 
6. Boggle
Get the older kids excited to work on reading and spelling skills with the classic game of Boggle.
Shake it up and see what you can find! It's like a hands-on word search activity that's fun. 
7. Apples to Apples
Apples to Apples Junior is another great option for reading games for your family game night and to add some pep to your homeschool.
My boys and I love have had a blast with this game over the years. Such a cool way to build vocabulary, too!
Use Apples to Apples with your older kids (ages 12 and up) for more advanced reading and vocabulary fun.
8. Scrabble
As your child gains reading and spelling confidence, give Scrabble Jr. and Scrabble a try for family game night.
These tiles can be used for:
Practicing spelling words
Building sight words
Fun letter scavenger hunt (just hide the tiles around a room and then have kids identify the letter and make words)
Bananagrams is another terrific letter tile game for reading and spelling fun!
2 Bonus Activities for Fun Reading Games
It's always nice to have options when you're looking for ways to make reading fun for kids. That's why I included these two resources found here on Rock Your Homeschool!
Sight Words Coloring Activities:  Give your kids hands-on opportunities to learn and practice sight words with this set of color-by-sight word pages.
Collection of Sight Words Worksheets:  WooHoo! 5 sets of special sight word worksheets for grades preschool through third grade.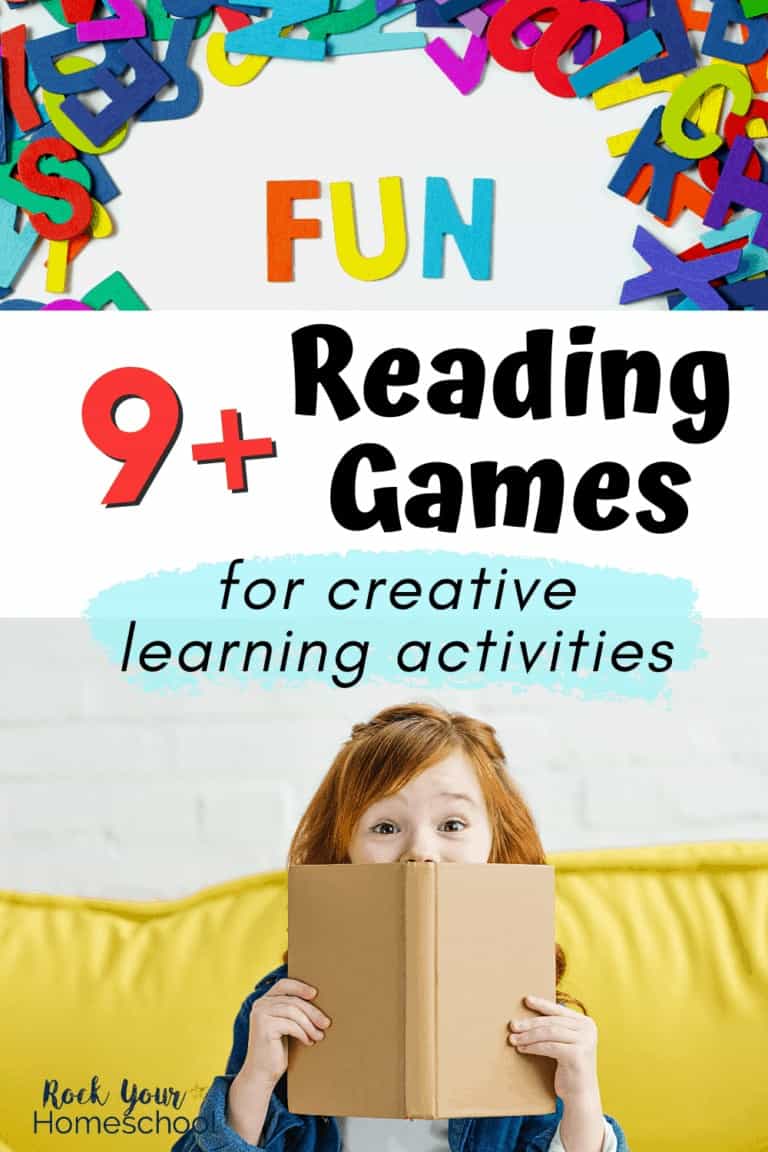 I'm super excited that you're on your way to making learning exciting by using these fun reading games for kids! If you enjoyed other reading games and activities, please share your suggestions in the comments area below 🙂