Free Sight Words Memory Game to Boost Reading Fun
This free sight words memory game makes learning how to read fun. Your kids will love this hands-on, interactive approach to practicing sight words.
I'm using these printable cards with my boys in a variety of ways. Find out more about the creative activities that we are doing to have sight words fun and how you can get started with your free printable pack today!
Our Relaxed Approach to Learning How to Read
As a homeschool parent, I've had my share of guilt.
At times, I feel like I'm totally rocking this whole homeschool thing. And then it's like I've hit a brick wall and had a ton of concrete poured on me.
Fortunately, I found the key to digging myself out of that big mess. And that key is to just relax and enjoy the ride.
Teaching my four older boys how to read was no exception. We went through some big ups and some big downs. And lot of those erratic experiences were due to me!
I've learned a few tips and tricks that I'm now using with my youngest boy. And the #1 thing that I've discovered is that you must keep it fun and follow your child's lead 🙂
My two oldest boys expressed interest in learning how to read during preschool. They loved worksheets and workbooks for practicing phonics and sight words. These boys wanted structure and thrived using Teach Your Child to Read in 100 Easy Lessons.
Boys #3 and #4 were different stories. Smiley (#3) adored our read-aloud time and quickly learned his letter sounds. But, any attempt at teaching him how to read was a flop.
After lots of frustration and tears, I followed the wise words of Julie Bogart and her Brave Writer lifestyle. I stepped back from all the pressure and structured approaches. It was so hard because I worried that I'd fail my child. But, it was the best thing I could have done for that boy and our relationship 🙂
We kept up our read-alouds and listening to audiobooks. Smiley watched big brothers read and soaked it all in. We used hands-on games like Bananagrams and Pop for Letters to continue practicing letter sounds.
Bananagrams
Learning Resources Pop for Letters Game
And when he was ready, Smiley took a book out of one of our many overflowing book baskets and started reading. I kid you not! You could have picked up jaw up from the floor.
His first book was Hop on Pop by Dr. Seuss. We had read that book A LOT so I tested to see if he was really reading it (or had simply memorized). He read a page from the middle of the book backward!
There was no stopping him with his reading adventures after that 😉
Bear (#4) enjoyed learning how to read with Bob Books. Since that approach worked with him, I got every Bob Books set that I could. He breezed through that series and began his reading adventures fun.
My First BOB Books: Pre-Reading Skills
Bob Books, Set 1: Beginning Readers
Bob Books Set 2-Advancing Beginners
Complete Set of Bob Books, Sets 1-5 (42 books)
Bob Books Sight Words: Kindergarten
Bob Books: Sight Words, 1st Grade
Bob Books: First Stories
Bob Books: Rhyming Words
Bob Books Set 4 – Complex Words
Bob Books Set 5- Long Vowels
This past summer, my youngest (Xman) begged me to learn how to read. He's an interesting mix of all his older brothers. We're using a combination of Teach Your Child to Read in 100 Easy Lessons and Bob Books. And it's working for him 🙂
In addition to those resources, Xman and I are having a blast with hands-on activities, like our new free sight words memory game.
Learning Sight Words Can Be Fun!
Sight words can be real buggers for some kids.
My oldest seemed to quickly memorize sight words. We used a set of sight words flashcards on a loose-leaf ring that my mom (a retired Kindergarten teacher) gifted us. After a few rounds of practice, Captain mastered sight words.
His brothers needed more time and practice 😉 After a bit of panic, I found out that it's completely normal for kids to learn how to read in their own time.
To make learning sight words fun, I added games and hands-on activities to our reading practice. With these types of activities, my boys were able to relax and have learning fun. And, when they were ready, reading started to happen.
Don't fear fun! Learning can be enjoyable, even something to be eagerly anticipated.
This free sight words memory game is one of the ways I'm making this process fun for my lil' man. It has become one of his favorite ways to practice sight words (and that makes my homeschool mama heart so happy!).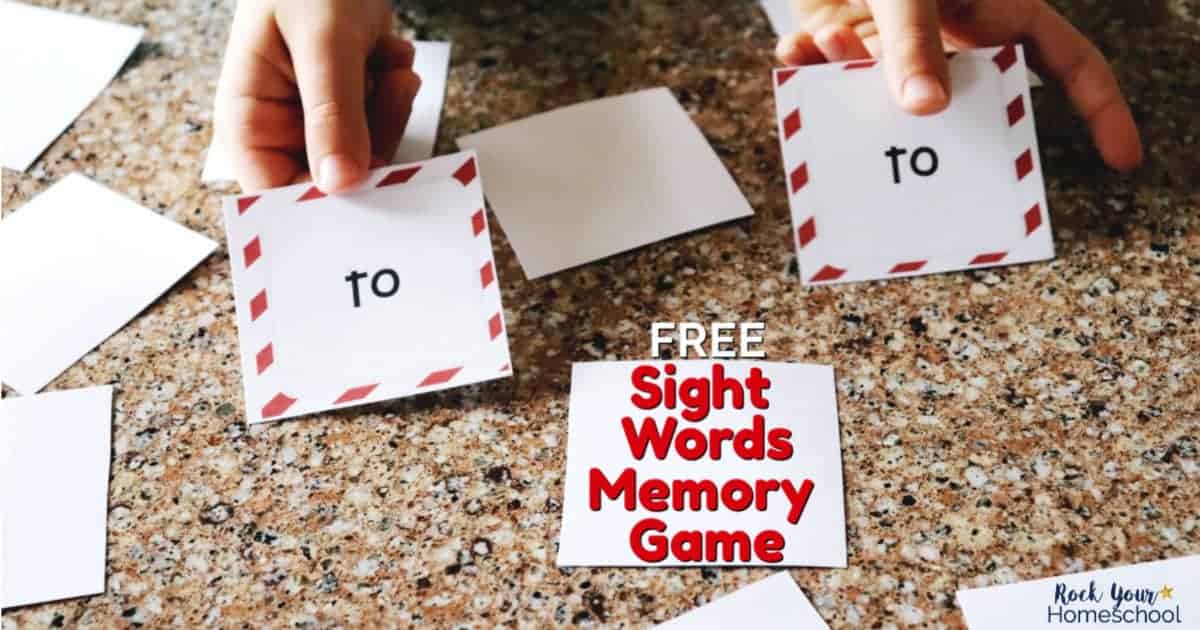 Creative Ways to Boost the Learning Fun with This Sight Words Memory Game
Not sure if a sight words memory game is going to engage your young learner? Here are a few ways that Xman and I are making the most of this special time to learn and practice sight words with this game:
Add fun challenges when a sight word match is made. Do five toe touches. Or stick your tongue out and pat your head. Something to make the game interesting and silly.
Play music in the background. Recently, I've discovered that my boys get so much more out of our learning fun when I softly play music during a game or activity. If you're adding movement prompts for fun challenges, energetic music would work well. If focus and attention are required, classical or relaxing music may be best.
Tally it up! For every match made, make a tally mark. Keep score and see who gets the most sight words matches. (Great for a bit of math practice!)
Practice growth mindset fun. Learning something new is a challenge. And can become frustrating, fast. Gently remind your child of how we grow and learn when we make a mistake-and how we can work towards mastery with practice and persistence.
Plan a special event or activity. When your child has mastered the set of sight words memory game, play a board game, go to the library, or have a yummy treat.
Have flashcard fun! There's nothing wrong with flashcards, per se. Some kids really like them. Most kids benefit from using flashcards, even if not a favorite activity. Instead of drill-and-kill, spice things up a bit. Add a hands-on component, like forming the letters with playdough or using Scrabble tiles to spell the sight words after reading a flashcard.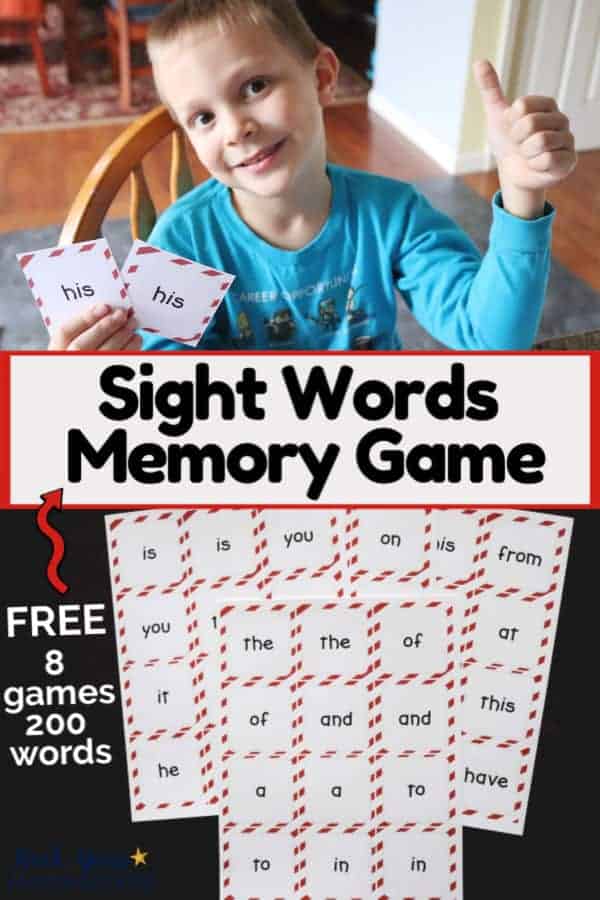 Easy Steps for Playing Sight Word Memory Games
Each of these free sight word memory games contain 25 words. You know your child best 🙂
If your child is new to learning and practicing sight words, you might want to start small with 5 or 10 pairs and build from there.
If your child is ready for a bigger challenge, use all 25 pairs (or mix up sets!).
Print out your sight word memory games on white cardstock.
Use scissors or paper trimmer board to cut out each card.
Shuffle cards.
Place cards with sight words down in rows (or circles or however your child wants to play!).
Determine if you'll make it a two-person (or more) game or if your child will independently play. If a multi-player game, determine who will go first.
The player turns over two cards at a time to try to make a sight words match. The player reads both cards.
Encourage your child to give best effort in reading the sight word. If your child needs help, give clues or read sight word aloud and have your child repeat.
If a match, place the cards in win pile. If not a match, the cards remain in play.
If a match is made, player continues turn until no match is made. If multi-player game, next player takes turn.
Play continues until all sight words are matched.
Optional: Tally how many sight word matches each player has. The highest total wins!
Celebrate reading and practicing sight words with this fun game 🙂
Store sight words memory game cards in plastic sandwich bags or other simple storage container. Label for future use.
Get Your Free Sight Words Memory Game for Reading Fun
Want to have reading fun with these sight words memory games? Get your free printable pack today!
I'm currently building this free sight words memory game pack. In this download, you'll receive 8 separate downloads. Each download contains memory game cards for 25 different words.
These printables are based on Fry Sight Words and are currently for First Hundred and Second Hundred. (I'll continue to add as I work on these sight words with my lil' man. The Fry Sight Words lists go up to Tenth Hundred.)
I color-coded the sight words memory games based on the Fry Sight Words divisions as such:
Red: 1-100
Orange: 2-100
Yellow: 3-100
Green: 4-100
Blue: 1-200
Purple: 2-200
Gray: 3-200
Black: 4-200
I've found that it's nice to be able to differentiate between the sets in case they get mixed up 😉
**I recommend printing this sight words memory game on white cardstock. The thickness of cardstock prevents transparency (see-through) and can still be used in printers.
Please feel free to print as many of these sight words memory game cards as you need for your family or class. If you know a friend or co-worker who you think would enjoy sight words fun with their kids, please share the link to this post. Your sharing is very appreciated!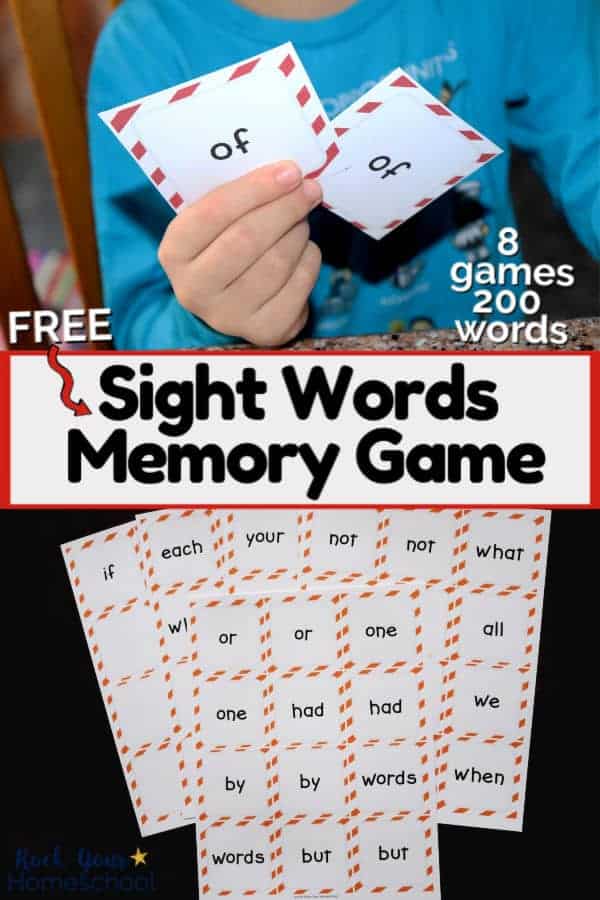 When you subscribe and join the Rock Your Homeschool community, you'll receive this printable pack in a PDF download in an email, along with a password to open the library to all RYHS freebies. In addition to your freebies, you will get emails with ideas and encouragement to make learning fun (plus instant downloads to all new freebies!).
**I'll send emails with updates for when I update this printable pack with other sight words memory game cards.
(Psst! Current RYHS members just need to access the Subscriber Freebies page and enter the password in your welcome email. Or get the instant download in the email the week of this post.)
Click on the image below to subscribe and get your free printable Sight Words Memory Game sets!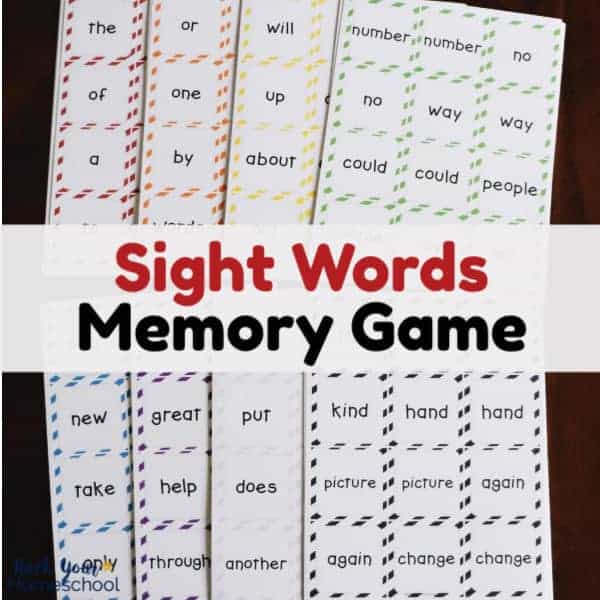 Have you tried these sight word memory games with your kids?
Please share your experiences or questions in the comments area below 🙂