Remarkable Ways to Make Homeschool Reading Fun
You can get so creative with how to make homeschool reading fun!
With the right resources and a few tips, you'll be on your way to making reading fun at home with your kids 🙂
Why Reading Fun at Home Rocks
I'm one of those moms who loves to make reading fun.
Over the years, I've added quite a few tricks to my reading fun bucket. Those little (and not so little) things have made a world of difference in energizing our homeschool reading time.
When I look back, I realize that my desire to make reading fun for kids started as a babysitter. I'd love to act out stories, using different voices for different characters. (And laugh with the kids when I'd mix up voices!)
A touch of silly or serious could easily add excitement to any book. Oh, and the addition of stuffed animals and toys to my cast would be a huge hit.
I carried those habits into reading to my boys. Our love for read-aloud time continues. I even catch my two older boys (17 and 15) listening to our homeschool read-alouds. It's such fun when all five of my boys participate 🙂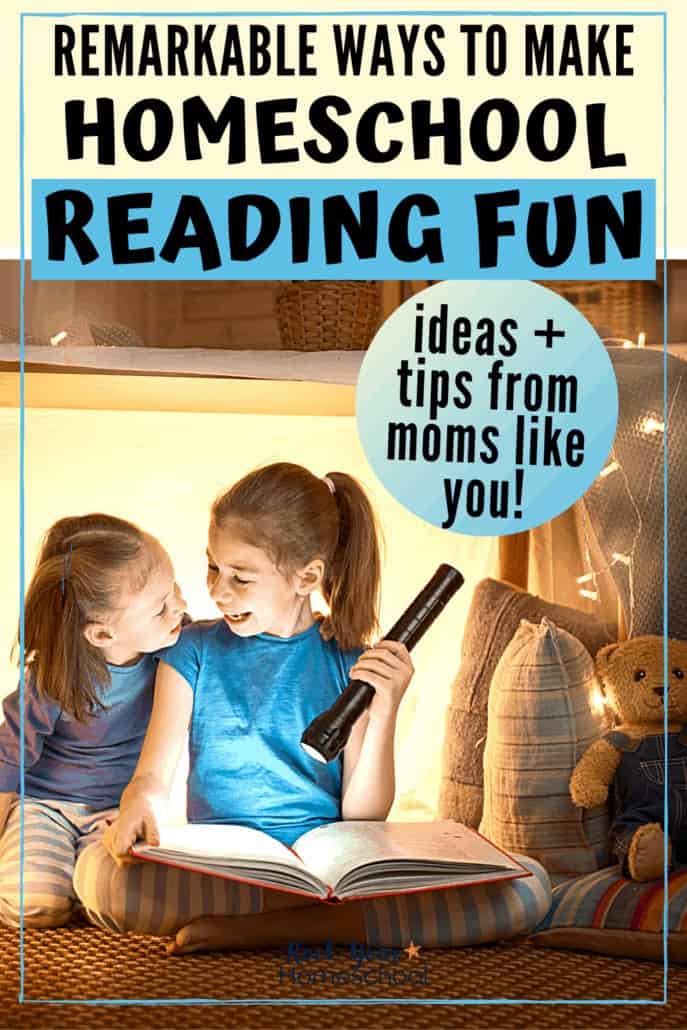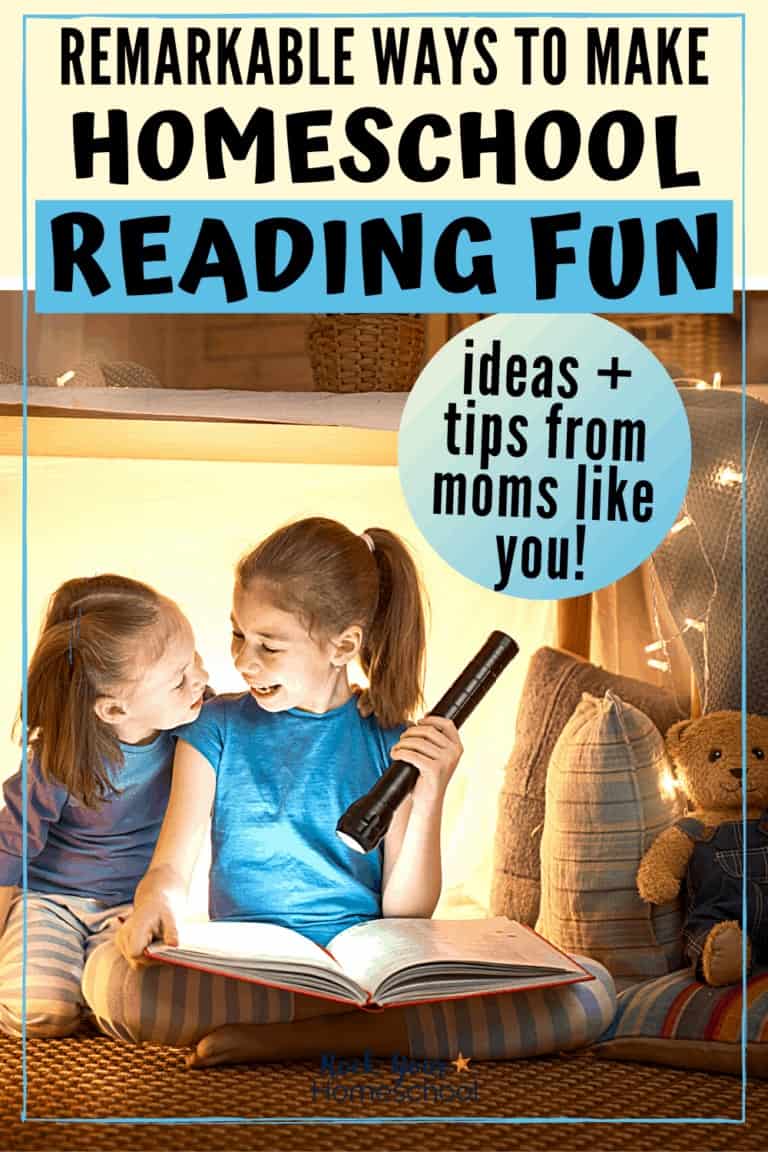 Cool Ideas & Tips for Making Homeschool Reading Fun
I thought it would be awesome to gather ideas and inspiration for ways to make homeschool reading fun. I find it most helpful to turn to homeschoolers like us when searching for marvelous ways to boost learning at home.
On my quest to collect these homeschool reading fun ideas and activities, I asked a few of my homeschool friends to share what works for their family.
I suggest taking these tips and customizing to best meet the needs of your family 🙂
Read-Alouds for Homeschool Reading Fun
Wonderful Ways to Boost Early Reading
Creative Ideas & Activities for Reading Fun at Home
Great Games for Reading Fun with Kids
Read-Alouds for Homeschool Reading Fun
Reading Together: A Great Way to Connect with Your Child (The Koala Mom):  The parent-child relationship is very important in homeschooling. Reading aloud to your child is a great way to not only foster learning but also increase closeness between you and your child.
How I Motivate my Children Reading in Cantonese and English (Fortune Cookie Mom):  By adding independent & family reading to your routine, your child will be motivated to read more.
Wonderful Ways to Boost Early Reading
CVC Activities (Line Upon Line Learning):  Practice sorting words into word family houses, put CVC word puzzles together, and practice spelling CVC words with CVC Activities.
Sight Words Coloring Pages for Fantastic Reading Fun (Rock Your Homeschool):  Give your young readers hands-on, creative fun with these sight words coloring pages.
Sight Words Memory Games to Boost Reading Fun (Rock Your Homeschool):  These free printable games are amazing ways to learn and practice sight words for kids.
Go, Cubs, Go Early Reader (Line Upon Line Learning):  Practice early reading with a printable short vowel baseball reader.
Double Gross Motor Skills Egg Hunt Reading (Line Upon Line Learning):  Practice reading short vowel words by hiding words in eggs and searching for them. When short vowel action words are used, this becomes gross motor practice too!
Funny Early Reading Silly Sentences (Line Upon Line Learning):  With silly sentences, the switch the right words have been replaced with the wrong words. Finding the errors is a hoot!
Creative Ideas & Activities for Reading Fun at Home
Nonfiction Graphic Novels for Kids and Teens (Humility and Doxology):  Graphic novels can be helpful for reluctant readers who may be drawn in by the illustrations. Readers of all levels will benefit from the sequencing skills graphic novels encourage, as well as learning how to infer meaning from the combination of words and pictures. Comic-lovers may be encouraged to read about subjects they would not have otherwise explored simply due to the similarities in the medium. They're a great supplement to textbook-free history studies. Plus, many readers just find them super fun!
Badges for Books Challenge (Line Upon Line Learning):  Encourage children to read books from a variety of genres with a genre reading challenge!
Reading Tracker Fun for Kids with Free Printable Punchcards (Rock Your Homeschool):  Help your kids tracking their reading progress with these fun punchcards (or use stickers!).
Free Coloring Bookmarks for Reading Fun for Kids (Rock Your Homeschool):  These bookmarks combine hands-on coloring with tracking reading progress for the ultimate fun.
Free Reading Log Printable Charts That Your Kids Will Love (Rock Your Homeschool):  Give your kids a fun reading challenge with these cool charts with 5 styles.
Poetry Teatime Quick Start Guide (The Waldock Way):  Poetry teatime is such an amazing experience to share with your kids. Check out Jessica's tips for ideas for beginning these special times.
7 Awesome Ways to Have Fun Studying Shakespeare in Your Homeschool (Captivating Compass):  Shakespeare can be difficult to understand at any age. There are so many ways to go about studying William Shakespeare and his famous plays, and poems. However, finding creative ways to engage your children with Shakespeare in your homeschool and have fun learning about 'The Bard' is not as hard as you may think!
5 Easy Ways to Teach Your Children about Shakespeare (Homeschooling in Progress):  Teaching your children about Shakespeare can be a fun and enjoyable experience with the right resources. Find easy tips for adding Shakespeare to your homeschool day.
Let's Study Charles Dickens & Victorian England (Captivating Compass):  Charles Dickens' uniquely personal perspective of Victorian life in England permeates his most famous books. This well-traveled writer has a keen observation of reality and a unique talent to communicate in a way that draws the reader into the experience of the story. Make homeschool reading fun by engaging your children in Charles Dickens' personal story.
10 Creative Ways to Have Learning Fun with Shakespeare (Rock Your Homeschool):  Find out how I rock learning fun with Shakespeare in our homeschool.
How to Host a Book Tasting (The Language Arts Coach):  Help your kids get excited about the year's reading selections when you offer them choices in a "book tasting".
Great Games for Reading Fun with Kids
Gameschooling: Language Arts (The Waldock Way):  Awesome ways to make learning reading, writing, and other language arts fun for kids.
Scrabble Junior Game
Learning Resources Snap It Up! Phonics & Reading Card Game, Homeschool, Reading Game, 90 Cards Included, Ages 6+
Learning Resources Sight Word Swat a Sight Word Game, Homeschool, Visual, Tactile and Auditory Learning, 114 Pieces, Ages 5+
Junior Learning Spelligator, Multicolor, Model:JL100
DK Games: Silly Sentences
Bananagrams: Multi-Award-Winning Word Game
Boggle Classic Game
Scrabble Game
How Do YOU Make Homeschool Reading Fun?
Okay, so now that you've seen all of these ideas and resources, I'd love to know what you to do make reading fun at home with kids?
Please share your ideas and tips in the comments area below. If you have a link to a post, you may share that as well 🙂
Check out our entire How to Make Homeschool Fun series where you'll find hope and help for:
Amazing Ways to Make Homeschool Art Fun
Grand Ways to Make Homeschool Music Fun