Free Coloring Bookmarks for Fun Reading Log for Kids
Boost reading for for kids with these free coloring bookmarks! With four different designs, you can use these printables as a reading log for kids, too.
Find out how I'm using these coloring bookmarks with my boys and how you can get your free printable set today!
Creative Way to Tracker Reading Progress
One of my boys' new favorite things to do is track how much they've been reading.
And I'm totally encouraging it!
When Xman (5) expressed a desire to learn how to read, I knew it would only be a matter of time before his older brothers got involved. As I took out our copy of Teach Your Child to Read in 100 Easy Lessons, big brothers reminisced about their experiences with this approach to learning how to read.
For each boy, I had maintained a chart to record each completed lesson. The boys loved the visual reminder plus fun way to track progress.
To give all my boys an opportunity to have reading tracker fun, I've created a variety of printables for them to choose and use. These coloring bookmarks are one of the ways I'm helping them have reading fun 🙂
Encourage Positive Habits with This Fun Reading Log for Kids
Would you like to help your kids enjoy their independent reading time more? I think it's wonderful that you're looking for ways to make the experience positive!
Not all kids naturally love reading. In fact, some kids find it a struggle or hassle. Others are distracted by screens or playtime.
I have boys that fall into each of these categories 😉  That's why I look for fun ways to motivate and reward my boys to continue their reading practice and progress.
Charts and motivational tools work well in our homeschool and family. The boys appreciate the visual reminders and have a blast marking down completed lessons or reading sessions.
Plus. my boys love making creative bookmarks (like these Star Wars and Harry Potter-Inspired ones!) to use to mark their place in their books. Such a simple way to encourage reading!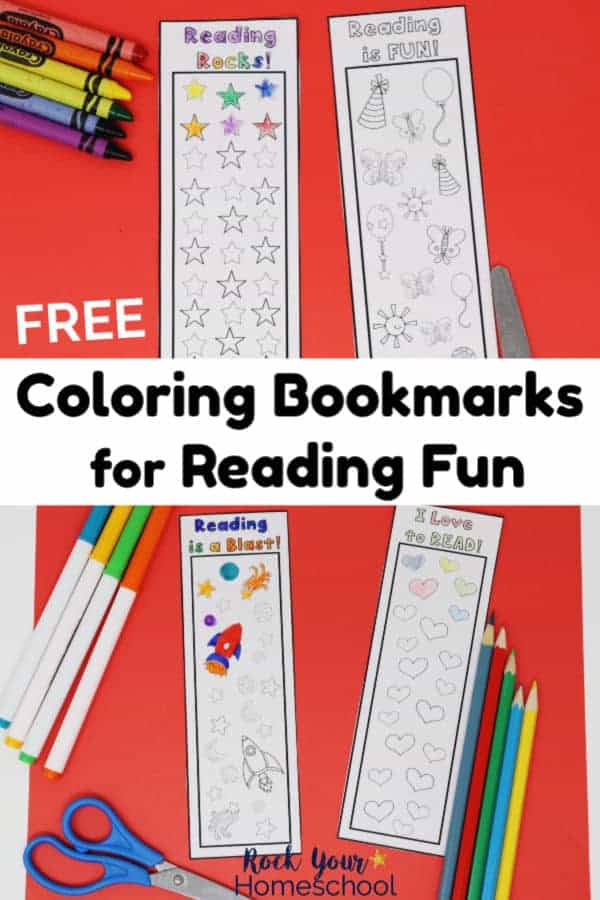 Cool Ideas & Tips for Using These Coloring Bookmarks as Reading Logs
Here are my tips for getting the most of using these coloring bookmarks for reading logs:
Set clear expectations with your kids before using these coloring bookmarks. Determine how many minutes (or books) must be read before marking a slot.
Have your child put their name on it (or you can jot it down for them!).
Keep the bookmark in the same place (book, reading basket, bookshelf).
Agree upon a reward for a complete bookmark (optional but fun!).
Decide how your kids will fill-in their coloring bookmarks. Some super ideas are crayons, color pencils, and markers.
Crayola Ultimate Crayon Collection, 152 Pieces, Coloring Supplies, Styles May Vary, Gift
Crayola Mini Twistables Crayons, 24 Classic Crayola Colors Non-Toxic Art Tools for Kids & Toddlers 3 & Up, Great for Kids Classrooms or Preschools, Self-Sharpening No-Mess Twist-Up Crayons
Crayola Silly Scents Twistables Crayons, Sweet Scented Crayons, Gift, 12 Count
Crayola 68-4012 Colored Pencils, 12-Count, Pack of 2, Assorted Colors
Crayola 100Count Colored Pencils with 16Count Color Fx Metallic & Neon, Amazon Exclusive, Great For Coloring Books, Gift (Amazon Exclusive)
Crayola Twistables Colored Pencils, Great for Coloring Books, 50 Count, Gift
Crayola 58-7726 Classic Fine Line Markers Assorted Colors 10 Count, 2 Pack
Get Your FREE Coloring Bookmarks for Reading Log for Kids
You'll find four different styles of coloring bookmarks on one printable page. These bookmarks feature:
"Reading Rocks!" with stars
"I Love to Read!" with hearts
"Reading is FUN!" with party hats, balloons, butterflies, and suns
"Reading is a Blast!" with rocket ships, stars, shooting stars, planets, and meteors
You can print out as many copies as you need. If you know someone who you think would love to use these Coloring Bookmarks for Reading Log for Kids, please share the link to this post with them 
When you join the Rock Your Homeschool community, you'll receive these printables in a PDF download in an email, along with a super-secret password that opens the vault to all RYHS freebies. In addition to your freebies, you will be a weekly email with ways to rock your homeschool plus instant downloads to all new freebies.
(Psst! Current RYHS members just need to access the Subscriber Freebies page and enter the password in your welcome email. Or get the instant download in the email the week of this post.)
Click HERE or on the image below to subscribe and get your FREE printable Coloring Bookmarks for Reading Log for Kids 🙂
What other types of reading tracker bookmarks would you like to use with your kids?
Let me know in the comments area below 🙂