Fun Ways to Use This Free Number Scavenger Hunt Printable
Number Scavenger Hunt Printable is a super fun activity for kids of all ages.
You can use these pages for your classroom, library, homeschool, and family. Check out these creative ways to use these activities for learning fun with kids and get your free printable page today!
Excellent Ideas for Having Number Scavenger Hunt Fun
There's something special about a scavenger hunt for kids! My boys love the challenge of searching for and find the items on the list. And I love providing them with these creative ways to have fun.
(Ooh! And make sure to check out our fun scavenger hunt tools for marking these printables. Your kids will love these awesome materials!)
Here are a few of the ways that my boys and I have enjoyed Number Scavenger Hunt Fun:
1. Travel Fun with Numbers
Play the Number Game in the car during a trip or even on errands. Just put the free printable found at the end of this post on a clipboard. Your child can use one of our recommended scavenger hunt tools to mark down what numbers they discover.
Younger kids can use an "X" or checkmark. Challenge older kids to write the number word. Also, your kids can practice counting with tally marks!
2. Number Scavenger Hunt Printable for Math Fun
Add a number scavenger hunt printable to your math time for marvelous fun. Your kids can search for these numbers in their math lessons, worksheets, or games.
Another fun activity is to give your kids a sales advertisement or mail-order catalog and let them search for numbers and record on their printable.
3. Indoor Fun with a Number Scavenger Hunt Printable
Is it too hot or cold outside? Or maybe you're tired of hearing "I'm bored!" and "There's nothing to do!"?
Put this free number scavenger hunt printable on a clipboard or in a binder and turn your kids loose. Encourage your kids to be creative in finding numbers in your home. Or limit which area of your house your kids can find their answers.
4. Make Screentime Challenging with Number Scavenger Hunt Fun
Boost educational videos, apps, and even T.V. shows with number scavenger hunt fun! Provide your child with one of these free printable pages to search for numbers.
5. Create a Special Number Scavenger Hunt for Kids
Write down these numbers on index cards or sticky notes. Hide them around a room, your house, or yard. Give your kids a time limit (or as long as they need) and send them on their merry way.
Or you can get fun number magnets and place them on your refrigerator or other magnetic surfaces around your home!
Melissa & Doug 37 Wooden Number Magnets in a Box
Teacher Created Resources 77280 Chalkboard Brights Numbers Magnetic Accents
Classic Magnetic Numbers
AmazonBasics Heavy Weight Ruled Index Cards, White, 3×5-Inch, 300-Count
AmazonBasics Ruled Index Cards, Assorted Neon, 3×5-Inch, 300-Count
Post-it Super Sticky Notes, Bright Neons, 2X the Sticking Power, Recyclable, 4 in. x 4 in, 6 Pads/Pack, (675-6SSMIA)
Get Your Free Number Scavenger Hunt Printable Page!
Grab your free Number Scavenger Hunt Printable! This page includes numbers in a rainbow of colors plus five boxes per letter.
Your kids can use an "X", checkmark, sticker, stamp, or another fun way to share their discoveries. (I think a smiley face is super cool 🙂 )
You can print out as many copies as you need. If you have a friend or co-worker who you think would enjoy this learning fun activity with kids, please share the link to this post with them
When you click on the image below to subscribe and join the Rock Your Homeschool community, you'll receive this printable page in a PDF download in an email, along with a super secret password that opens the library to all RYHS freebies.
In addition to your freebies, you'll be added to our email list and I'll update you with ways to have easy fun with kids plus instant downloads to all new freebies.
(Psst! Current RYHS members just need to access the Subscriber Freebies page and enter the password in your welcome email. Or get the instant download in the email the week of this post)
Click HERE or on the image below to subscribe and get this Number Scavenger Hunt Fun Activity for Kids!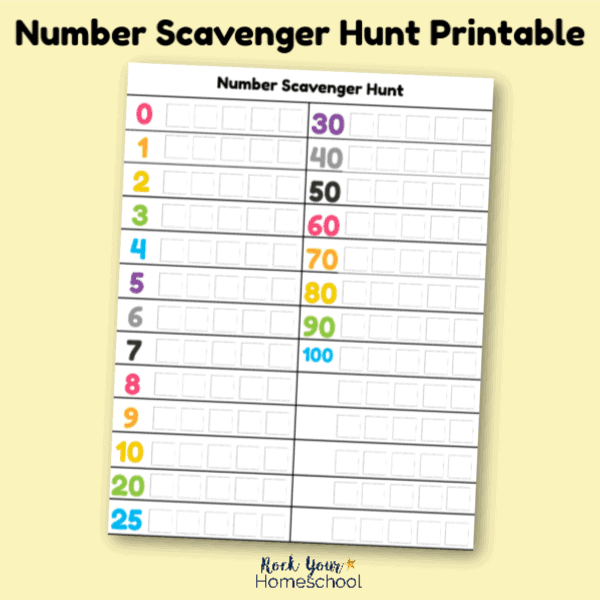 I'd love to read your creative & fun ideas for using this free Number Scavenger Hunt Printable!
Please share your ideas in the comments area below 🙂