Paper House Templates: How to Make & Enjoy These 3D Crafts (Free)
These free printable paper house templates make it easy to create and enjoy these 3D crafts.
Get incredible ideas for using these 9 styles of customizable paper houses with your kids for creative play, rainy day fun, holidays, and more.
Paper House Templates Are Perfect for Frugal Fun
If you're looking for easy and creative ways to enjoy frugal fun with your kids, you'll love these 3D paper houses!
My younger boys were so excited when I printed out and showed them these paper house templates. They were bursting with ideas on how to make and use these templates to make a little house for creative play. And I had a blast brainstorming with them, too. Such a great way to spark conversations about how to incorporate these simple paper houses into their learning fun!
Paper houses (like the ones shared here) are DIY 3D crafts. You can use them in so many different ways. Here are a few of the ways that we plan on enjoying them:
Creative play: My boys went straight to their collection of mini-cars and toys. They made villages with houses, stores, and other buildings.
Stop animation movies: After setting up their paper houses, the boys also brought about Lego mini-figures and small props. They used their old hand-me-down iPod to record scenes for a fun stop animation movie.
Indoor AND outdoor fun: We think it will be super cool to use these DIY paper houses both inside and outside in all sorts of weather. The boys are already thinking outside the box for creative ways to protect the houses when it's wet outside or we have snow. Oh, and they think it will be fun to use a house on an ice puddle for an ice skating shelter and ice fishing hole!
Creative writing prompts: One of my first ideas is to incorporate these paper houses into some of our homeschool writing fun. A few prompts could be:

Who lives in these homes?
How were the houses built?
Why is this house significant?
How old is the house? Does it need repairs?
Holiday and fun day celebrations: These paper house templates are customizable. You can easily decorate them to reflect holiday AND fun day themes. For example, you can turn your paper home into a Halloween haunted house. Or make a donut shop as part of your Donut Day celebration.
Learn More About These Free Printable Paper House Templates
This free printable set of paper house templates includes 9 pages.
All 9 pages are in black-and-white (which make them easy on your printer!).
You'll find a range of different designs of house styles with both single and multiple stories. Also, the houses all have a variety of simple decor (with space to add your own unique details).
Oh, and you'll find a simple design that is blank. You can use this page to create and decorate your own house!
If you like these printable templates for making easy paper house crafts, you'll also love our free pack for making gingerbread houses!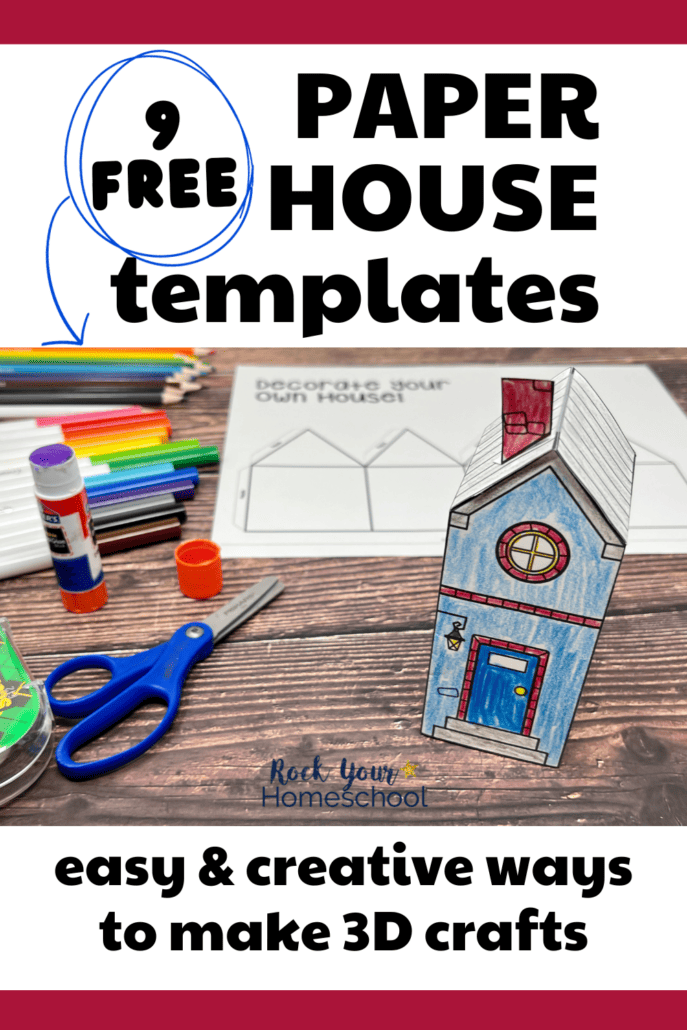 How to Make These 3D Crafts of Paper Houses
These 3D paper houses are simple to make. I suggest printing these templates on white cardstock. This step makes the crafts more durable and easy to work with.
You can use these fun crafts with kids of all ages. Younger kids can color (under supervision, if necessary). Older kids and adults can help cut out the paper houses and assemble. Also, you can use this craft time to teach scissor safety to your kids.
I recommend having these supplies available as you work on your paper house templates:
white cardstock
scissors
glue (or glue stick)
clear tape (to reinforce seams)
coloring tools

crayons
color pencils
fine-tip markers

optional:

glitter
washi tape
small stickers
You can turn these tiny houses into:
beautiful paper houses
doll house
Christmas village (and add a 3D paper Christmas tree!)
fairy houses
seasonal decor
How to make these paper houses:
Print out paper house templates.
Select a paper house to create.
Color and decorate 3D paper house.
Cut out paper house (including dotted lines along the tabs).
Fold down paste tabs.
Fold along solid fold lines (also known as score lines) of houses and gently form home.
Apply glue (or glue stick) to paste tabs.
Firmly press paste tabs to make sure house sticks together.
Optional: Reinforce seams with clear tape (or outside or inside of house).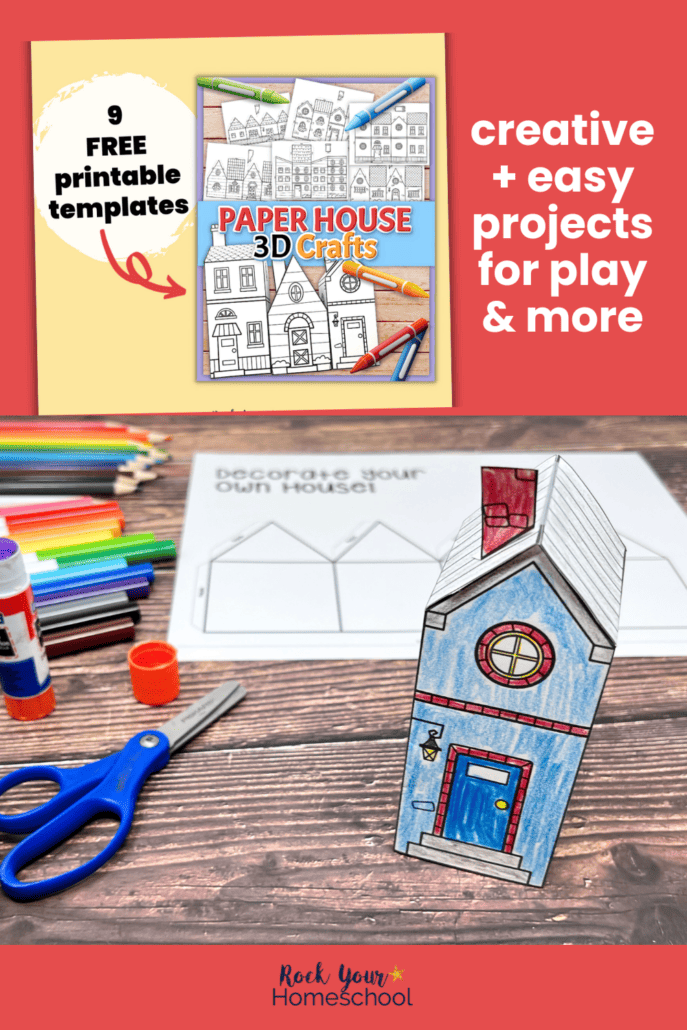 Get Your Free Printable Paper House Templates Pack
YES! You'll be having a blast with these fantastic ways to enjoy frugal fun with your kids.
This free printable pack of 3D paper house templates includes 9 pages.
You can print as many copies of this pack as you need to enjoy for personal use with your homeschool, classroom, or co-op. If you have co-workers or friends who may like to use these free printables, please share this post. Thanks so much for your cooperation and sharing!
To get this FREE printable pack of paper house templates, subscribe to Rock Your Homeschool with your email address.
⭐️ You'll receive an email with a PDF file plus a password to open the VIP Resource Library to all RYHS freebies. Email Amy at rockyourhomeschool@gmail.com if you have any problems!
Oh, and you'll also get emails with ideas, resources, and encouragement to make life and learning fun 🙂
(Hey hey! Current RYHS members just need to access the VIP Resource Library page and enter the password in your welcome email.)
Get your Free Printable Pack of 3D Paper House Templates by tapping here or on the image below.
Do you have any questions about using and enjoying these DIY paper house crafts? If so, please let me know in the comments area at the bottom of this post.
Wishing you tons of creative fun with your kids!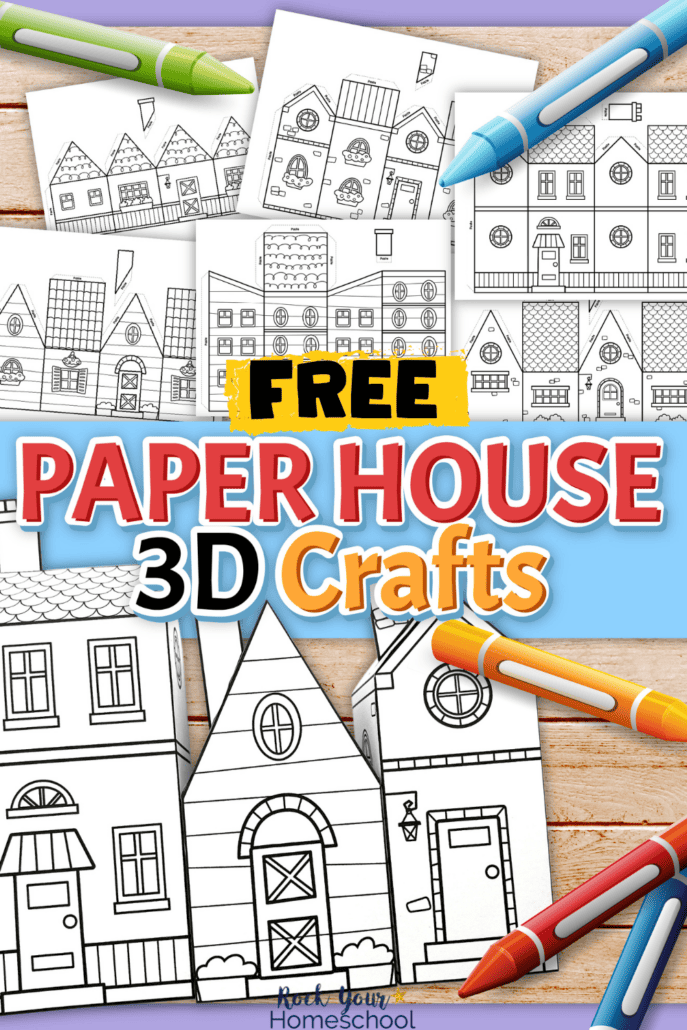 More Fun and Free Printable Activities for Kids