Printable 3D Paper Christmas Tree Template: DIY Holiday Fun (2 Free)
This free printable 3D paper Christmas tree template pack (with 2 styles) makes it easy to enjoy delightful holiday fun with your kids.
Create special Christmas decor. Share custom creations. And help your kids feel fantastic about the holidays with these free Christmas printable activities.
Find out more about these Christmas tree templates (with awesome 3D features) and how you can get them today to make your holiday season shine!
A DIY Way to Take Holiday Fun to the Next level
Over the years, I've learned (often the hard way) a very important lesson about keeping the holiday season fun with kids.
I won't hold you in suspense 😉 That lesson is this: The simpler, the better.
And another lesson on top of that: DIY beats expensive and fancy!
Why does simple and DIY win out among our children? According to my boys, it's because when we keep it simple and DIY, it means that I'm spending quality time with my kids. And creating precious memories that last for many years.
I find that refreshing – and relieving because that means that I don't have to spend a ton of money. But, that does mean that I need to find (or create) DIY ways to enjoy holiday fun with my kids.
This year, I'm adding a few DIY craft activities to our holiday fun collection. My boys and I are looking forward to making these super cute hot cocoa mugs (get your free printable pack here!), as well as this color/build-your-own gingerbread house activity.
Oh, and this printable 3D Christmas Tree Template pack (with 2 styles) is top of our holiday fun list!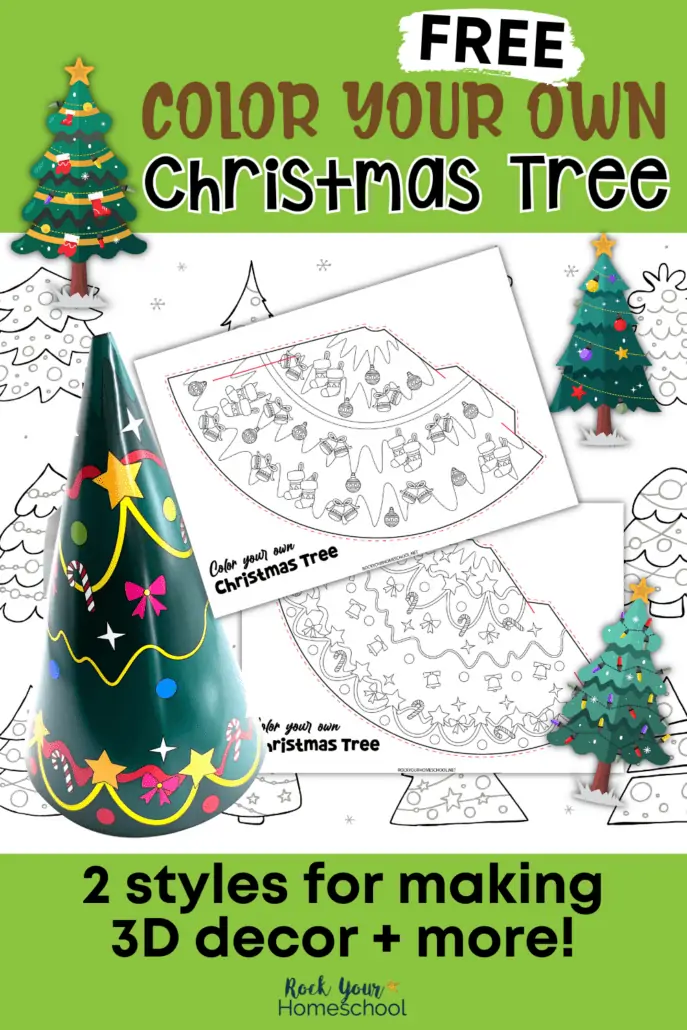 Learn More About This Free Printable 3D Christmas Tree Template Pack
This free Printable 3D Christmas Tree Template Pack has two pages.
The PDF (printable) set has red guidelines for cutting. You can choose to print with color printer OR print in black-and-white. I've found the black-and-white version blends in better to the background (plus is cheaper to print!).
One 3D Christmas tree template features:
Garland
Stars
Candy canes
Bows
Bells
Ornaments
The other 3D Christmas tree template features:
Decorative bells
Stockings
Detailed ornaments
Here's how to work on and assemble your printable 3D paper Christmas tree craft :
Print out the 3D Christmas tree templates (coloring pages) on white cardstock.
Use coloring tool to customize
Optional: Add special holiday message to blank side of tree.
Use scissors to cut out Christmas tree template along the dotted lines.
Cut slit along solid line.
Insert tab into slit.
Optional: Use glue or tape to reinforce.
Simple Ways to Boost the Creativity with These 3D Paper Crafts
Take it from me – you'll want a variety of coloring tools for your kids to pick from, like crayons, color pencils, and fine-tip markers. These different tools creative fantastic textures and results.
You may even want to include some glue and glitter for a special touch!
Also, I suggest printing these 3D Christmas trees on white cardstock. Regular printer paper works fine. Cardstock adds durability (which can be helpful around the holidays, especially with all the excitement!).
Please print out as many of these Christmas trees as you need to enjoy with your kids, class, or co-op.
Before your kids create their 3D Christmas tree, they can add a special holiday message. Simply use a pencil, pen, or fine-tip marker on the blank side of the tree.
Neenah Paper Exact Index, 110-Pounds, 8.5 x 11 Inches, 250 Sheets, White, 94 Brightness (WAU40411)
Crayola Ultra Clean Washable Color Max Crayons, Standard Size, Set of 48
Crayola Ultimate Crayon Collection, Portable Coloring Set, Assorted Colors, 152 Count, Gift for Kids Age 3 Plus
Deli 36 Pack Colored Pencils with Built-in Sharpener in Tube Cap, Vibrant Color Presharpened Pencils for School Kids Teachers, Soft Core Art Drawing Pencils for Coloring, Sketching, and Painting
Crayola Erasable Colored Pencils, Kids At Home Activities, 24 Count, Assorted., Long
Crayola Super Tips Marker Set (100 Count), Washable Markers, Kids Gifts for Girls & Boys
Elmer's All Purpose School Glue Sticks, Clear, Washable, 4 Pack, 0.24-ounce sticks
Stickles Ranger Glitter Glue Bundles – Six .5 fl oz Bottles in (Deck The Halls)
Tips & Tricks for Enjoying These 3D Holiday Crafts with Your Kids
With a bit of preparation, your children will have a blast making these simple holiday crafts.
Gather all of the suggested materials prior to starting the craft. It's so much easier and less stressful that way!
Prepare your work area. In our house, that means clearing off any unnecessary items (usually Legos, puzzle pieces, and books).
Look at your schedule and pick a day when you'll have plenty of time to enjoy this type of 3D craft.
Also, take it slow. There's no need to rush! Enjoy this time with your kids.
I find it extremely helpful to go over our "fun activity rules and expectations" with my boys.
My #1 tip: Keep it relaxed and fun! There is no perfect or mistakes. You can transform your Christmas trees into special creations no matter what 😊
Get Your Free 3D Christmas Tree Template Pack
Congratulations! You'll have a blast with this simple yet special DIY craft time with your kids as you create holiday memories!
This free pack of printable 3 D paper Christmas template includes 2 printable (PDF) pages.
Please print as many of these activities as you need for your personal use, family, class, homeschool co-op, or community event. If you have a friend or co-worker who'd enjoy to have this type of holiday fun, I ask that you please share this post with them. Thanks so much for your cooperation!
To get this free printable Christmas tree templates (3D in 2 styles), simply subscribe to Rock Your Homeschool.
You'll receive an email with a PDF file, along with a password to open the Subscriber's Library to all RYHS freebies.
Plus, you'll get emails with ideas, resources, and encouragement to make life and learning fun 🙂
(Psst! Current RYHS members just need to access the Subscriber Freebies page and enter the password in your welcome email. If you have any problems or questions, please email Amy at [email protected])
Get your FREE Printable 3D Christmas Tree Template Pack by tapping HERE or on the image below.
Wishing you happy holidays with this fun Christmas craft!!
More Fun & Free Christmas Crafts for Kids