How to Make Creative Writing Fun with Comic Strips
Comic strips are awesome ways to enjoy creative writing fun with kids. Pairing drawing with writing, this activity provides kids with opportunities to tap their imagination and practice sequencing and more. Find out how my boys use these printable comic strip resources and get your free pack today!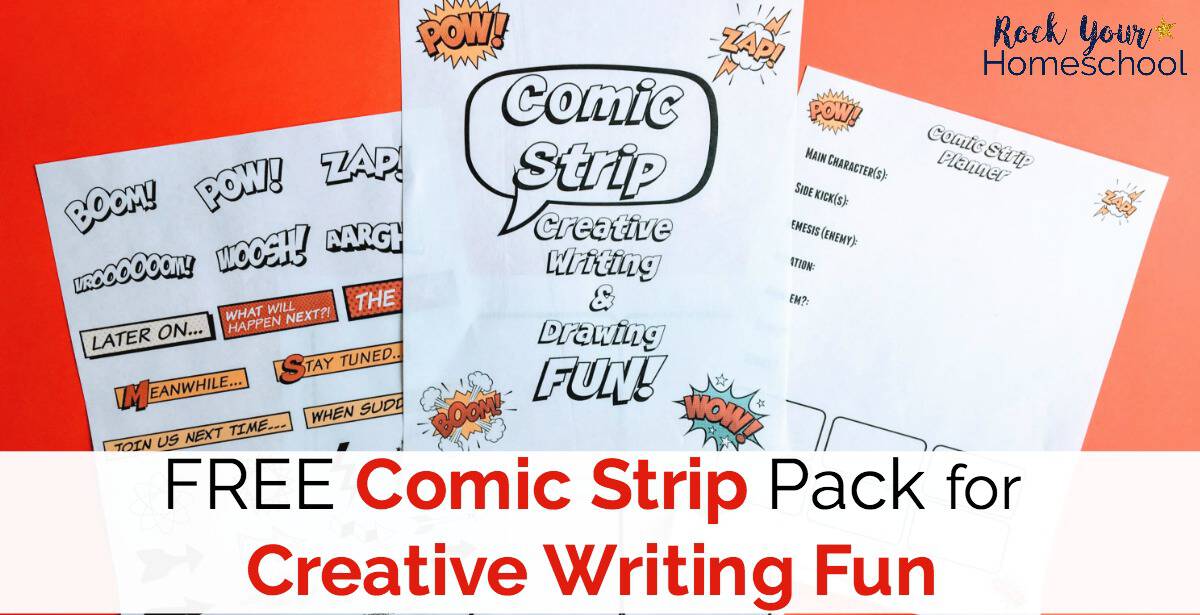 Why We Love Comic Strips for Creative Writing Fun
When I announce that our homeschool creative writing time is about to begin, I often hear moans and groans. My boys do not like to write, even a list or a fun story. This frustrated momma (who adores writing) struggles with finding new ways to encourage her boys to put pencil to paper for writing time.
Over the years, I tried everything that I can think of to get my boys interested in writing. I was reluctant to start a formal writing program. My idea was to engage the boys in topics and methods of writing that would spur a lifelong passion (or at least not toppling over into a fetal position at the mere word). Despite all of my efforts, I had a hard time making creative writing fun!
We tried daily writing in notebook journals to record thoughts, feelings, and ideas. I would set a timer and let them go. These episodes would often end in tears of frustration with shrieks of, "But, I can't think of anything to write!"
Not one to throw in the towel quickly, I came up with journal prompts. Initially, the boys fussed a bit less over these prompts but the whining ensued shortly thereafter.
We tried workbooks, too. Nothing seemed to stick. I started to worry. What if I couldn't find a writing curriculum that would work?
Creative Writing Fun for Kids Using Comic Strips
I wanted a writing activity that all of my boys could participate in some way. Comic strips seemed like a logical solution. Even my youngest can pick up a pencil and doodle a picture.
I knew this activity would be perfect for Smiley, an enthusiastic artist often found doodling away the day. He also is a talented storyteller, weaving stories filled with adventure and intrigue (well, at least to his mom!).
When Bear heard me tell Smiley about these comic strips for homeschool creative writing fun, he wanted in. Bear is doing well with reading but still at a beginner writer level. Comic strip writing would be an excellent way for him to practice writing and his love of drawing, too.
How Comic Strips Boost Creative Writing
Comic strips require a good bit of thought and planning. Different abilities and skills are tapped as your child draws, colors, and writes. Kids also benefit from:
planning a story with its characters, scenery, and plot
sequencing
punctuation
imagination
art
My boys and I also love to celebrate fun holidays in our homeschool. These DIY comic strip resources are fabulous for May 5, Cartoonists Day!
I created this printable pack that includes a Comic Strip Planner to spark Homeschool Creative Writing Fun. It has been a huge hit! All of my boys have spent hours creating comic strips to share with our family and friends. I even got in on the act:
[bctt tweet="Comic Strips for Homeschool Creative Writing Fun + Printable Pack. Add a boost to your #homeschool day! #ihsnet"]
This printable pack includes 4 pages of Comic Strips Fun plus a comic strip planner to help you and your kids plan out individual comic strips or a series.
You can print out as many copies as you need. If you have a friend or co-worker who you think would enjoy this free printable activity, please share the link to this post with them
When you click on the image below to subscribe and join the Rock Your Homeschool community, you'll receive this printable pack in a PDF download in an email, along with a super secret password that opens the library to all RYHS freebies.
In addition to your freebies, you'll be added to our email list and I'll update you with ways to have easy fun with kids plus instant downloads to all new freebies.
(Psst! Current RYHS members just need to access the Subscriber Freebies page and enter the password in your welcome email. Or get the instant download in the email the week of this post)
Click HERE or on the image below to subscribe and get started with these free printable pack for Comic Strips for Creating Writing Fun!
Let the writing fun begin!
This post is part of a fantastic link up at iHomeschool Network of FREE PRINTABLES.