Water Cycle Worksheets: Free Printable Pack of Science Fun Activities for Kids
These free water cycle worksheets are great for boosting your science fun!
Your kids will have a blast with this assortment of activities in this printable pack.
Get creative ideas for enjoying these activities and how you can get your free set of water cycle worksheets today.
Learning About The Water Cycle CAN Be Fun!
Sometimes science subjects can feel a bit tedious, but learning about the cycle that water goes through is so fascinating!
It's incredible how water can change forms and go through such a range of processes.
Water is actually the only substance on Earth that can exist as a solid, liquid, and gas! Cool huh?
Kids will love seeing the change in water as it goes through each process.
Your students will learn about evaporation, condensation, precipitation, the formation of clouds, and many other processes that make up the water cycle.
There are so many fun ways to teach your children about the parts of the water cycle – and here are some great free printable worksheets that will really help you make that happen.
If you'd like to enrich your science curriculum with some enjoyable and engaging learning activities about the water cycle, give this free printable pack a try!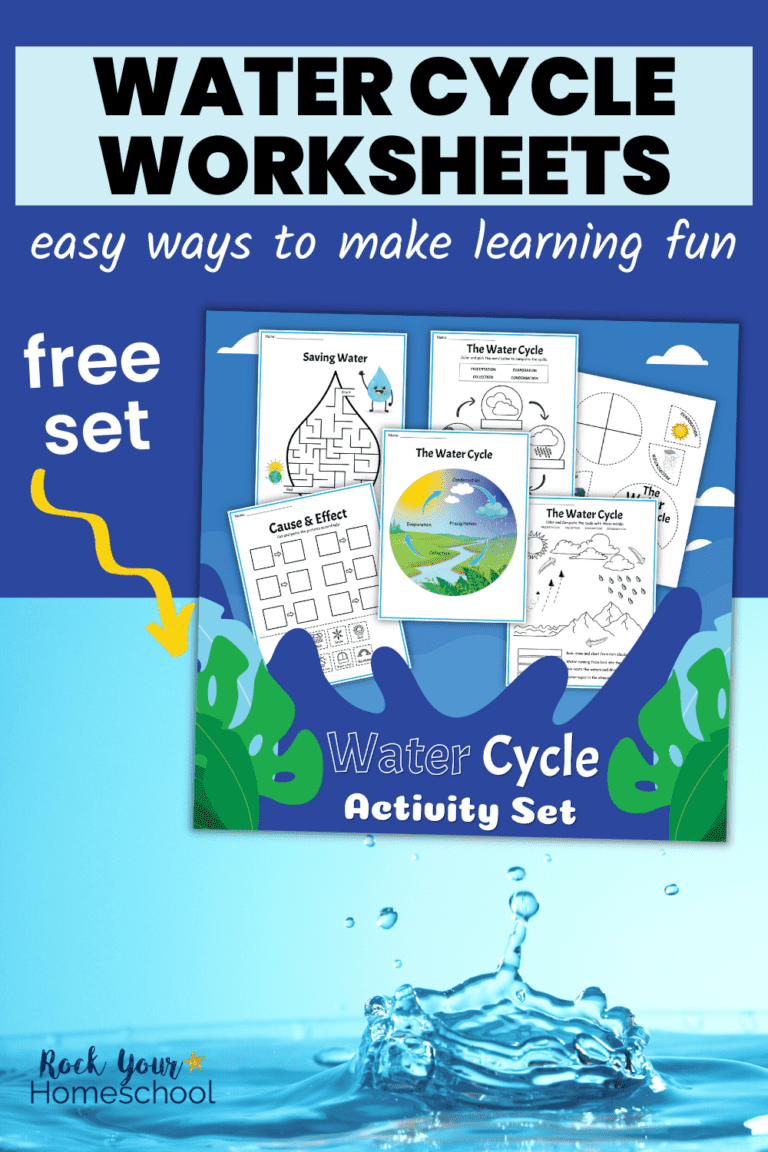 What's In This Water Cycle Worksheets Pack?
Let's take a peek at what's inside this water cycle activities pack that includes 6 pages:
Water Cycle Coloring and Identification Sheet: This activity allows your kids to complete the cycle of water by filling in the blanks and coloring the water cycle process.
The Water Cycle Spinner Chart: This printable worksheet will allow your students to cut out the different stages of the water cycle and pin them to a base. Then, they can "spin" the chart to see the separate stages come to life.
The Water Cycle Coloring and Flow Chart: This activity will give your kids the opportunity to identify each water cycle stage by filling in the blanks and coloring each.
Colorful Water Cycle Diagram: This illustrated printable will be so nice to print off to be used as a poster or diagram in your homeschool or classroom – and as a reference page in your student's binder.
Saving Water Maze: This printable page is so much fun because your kids will get to enjoy finding their way to the end of the water drop!
Cause & Effect Cut & Paste Worksheet: This printable activity is awesome because it offers your students the opportunity to color the water cycle pictures, cut them out, and paste them into the correct places.
National Geographic Readers: Water
The Water Cycle at Work (Water In Our World)
Water Is Water: A Book About the Water Cycle
All the Water in the World
Great Ways to Use These Water Cycle Worksheets
Read books about the water cycle. If you don't already have some at home you can search your local library, Thriftbooks (or other used book site), or Amazon.
Watch videos that explain the water cycle with your kids. You can find quite a few helpful resources on YouTube.
Research examples of how the water cycle is used for filtering and freezing water with your kids via the internet or your local library.
If you can, do your own water cycle science experiments at home so that you can experience the water cycle in person.
As your students work on these science worksheets, chat about the descriptions. Encourage your kids to make their own observations.
When these water cycle worksheets are finished, add them to your student's binder or set them aside for your homeschool portfolio.
Make extra copies of these worksheets, especially Colorful Water Cycle Diagram. You can revisit this activity throughout the year by watching and collecting rain and snow and enjoying other outdoor activities.
To the boost fun with these free worksheets about the water cycle, gather some creative supplies. A few materials to make available are:
Crayons
Markers
Color pencils
Scissors
Glue
Get Your Free Water Cycle Worksheets for Science Fun
WooHoo! You're on your way to easily enjoying simple science fun with your kids using these free water cycle worksheets.
This freebie printable pack includes 6 pages.
Want to make or need extra copies? Absolutely! Print as many worksheets as you need to enjoy with your homeschool, classroom, co-op, or other special event.
If you have a friend or co-worker who might like a fun way to boost science fun with rock cycle worksheets with their students, please share this post. Thanks so much for your cooperation!
To get this FREE Printable Water Cycle Worksheet Pack, all you need to do is subscribe to Rock Your Homeschool.
(Psst! Current RYHS members just need to access the Subscriber Freebies page and enter the password in your welcome email. You can contact Amy at rockyourhomeschool@gmail.com with any questions.)
Get your FREE set of water cycle worksheets by tapping HERE or on the image below.
What other types of science worksheets would you like to use with your students? And how will you use this water cycle printable pack with your kids? Let me know in the comments area below 😊
More Fun (& Free) Science Worksheets for Kids