Free Microscope Worksheets for Simple Science Fun for Your Students
These free microscope worksheets are simple ways to make science fun for your kids.
In this free pack, you'll find educational yet exciting activities to learn all about microscopes.
Check out these microscope activities and how you can get your free set of science worksheets today!
Learning About Microscopes? Add Science Worksheets!
Microscopes are amazing hands-on science tools for learning.
These tools are available for different levels of learning.
Older students can explore microscopic worlds with higher-level devices and resources. Younger students can use simpler versions for a great start to learning about microscopes.
Although microscopes are hands-on, you can boost your kids' learning experiences with worksheets.
Science worksheets are perfect for:
Using the microscope worksheets, you can reinforce science lessons without causing your kids to feel frustrated or upset.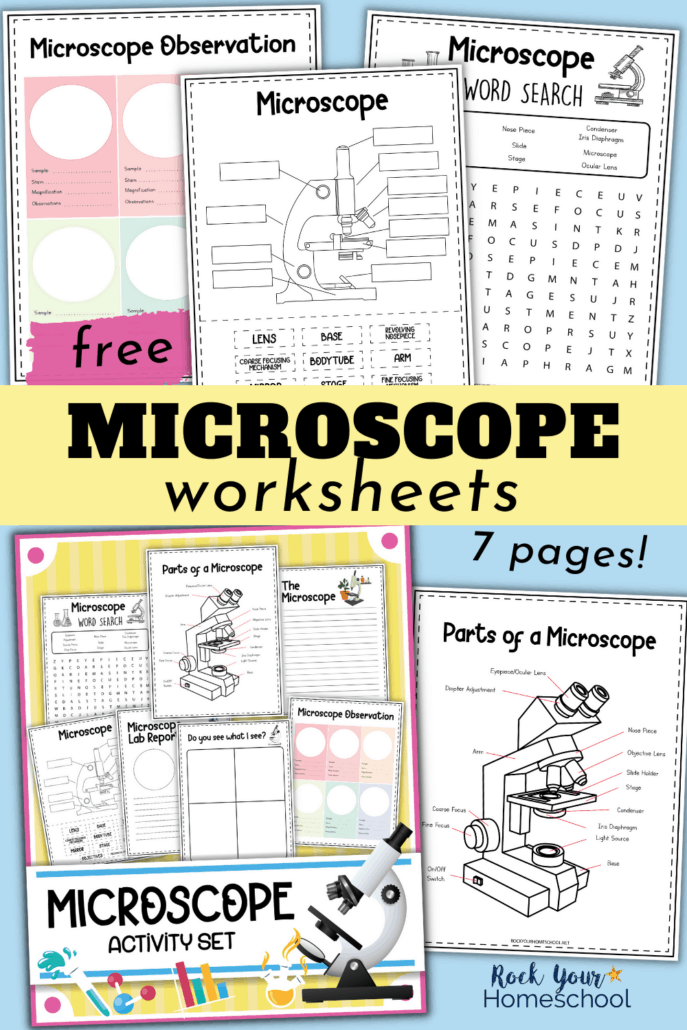 Why Science Activities Are Awesome for Kids
Science is such a cool subject for kids! It provides an explanation of how and why things work. Plus, science is a wonderful way to spark curiosity and explore interests.
Science has important information that applies to life:
It provides your students with information on plants, mammals, and other living things. Science explores the universe, from outer space to microscopic. Your students get to learn the how, why, where, and what of the world around them.
Science is fun:
With the right resources, science can be so much fun.
A mix of hands-on activities, books, and worksheets can be the perfect combination for learning fun.
Science is relatable:
Science is everywhere.
Children will experience different things related to science throughout their lives, even into adulthood.
Teaching Children About Microscopes
A microscope is a valuable tool used by scientists to examine different materials.
The Microscope Book
The Usborne Complete Book of the Microscope: Internet-Linked
You can easily put together a cool science lesson (or unit study) about microscopes with related books, videos, and these science worksheets.
1. Parts of a Microscope
The first worksheet labels the different parts of a microscope, including the base, slide holder, and condenser.
If you have a microscope, compare and contrast this worksheet to it. Also, your kids can color this microscope diagram in and read the words to each part of the microscope.
Then, you can have your children study the words and later have a fun quiz.
2. Microscope Word Search
In this free pack, you'll find a fun word search for your students to complete. This word puzzle has microscope-related terms that you can also use for science vocabulary and spelling.
3. Microscope Cut-and-Paste Activity
Here's a fun hands-on worksheet featuring a microscope!
With just a pair of scissors and glue, your kids can put their new knowledge to the test.
After cutting out the words, your kids can arrange in the correct boxes to label the parts. Once your kids are certain about their decisions, they can glue onto the area.
This worksheet activity is a great way to quickly and easily test what your kids have learned about microscopes while helping them improve their fine motor skills.
4. Fun Microscope Observations
You can use this science worksheet whether you have a microscope or not.
If you have a microscope, you can:
Make observations – Before using the microscope, consider heading out on an adventure to get some exercise while looking for different items to bring back home with you. Let your kids choose the various items they'd like to put under the microscope, such as leaves, twigs, flower petals, and more.
Learning with a microscope – Once you get home with the kids, you can pull out the microscope and let them place their objects on it to get the best possible view. When seeing some of these objects up close, your kids will be amazed.
Your kids may even want to go back out and find more items to place under the microscope because they think it's that much fun.
If you do NOT have a microscope, no worries! – You can watch videos like this one from Sci-Inspi on YouTube.
Write about the observations –
After making the observations, children can write about those observations on the worksheets (Do you see what I see? and Microscope Observation).
The worksheets offer plenty of space for children to list several items and the observations they made from them after using the microscope.
5. Writing About Microscopes
This free set includes 2 pages to encourage your kids to write about what they've learned about microscopes.
The Microscope includes a colorful drawing of a microscope and lines to add observations and such.
Microscope Lab Report includes colorful drawings of a microscope, test tubes, and slides. It also has 2 circles (to draw observations) and lines for writing.
Get Your Free Set of Microscope Worksheets!
YES! You're on your way to having science fun featuring microscopes with your kids!
This FREE pack includes 7 pages:
Parts of a Microscope (coloring page and/or poster)
Microscope Word Search
Microscope Cut-and-Paste Activity
Microscope Observation (with 6 sections to draw observations and record details)
Do you see what I see? (4-square draw and record observations)
The Microscope (notebooking page)
Microscope Lab Report (drawing and notebooking page)
You may print as many copies of these microscope worksheets that you'll need for science fun with your kids, class, co-op, or community event. If you have a friend or co-worker who may like to use these free printable activities with their kids, I ask that you please share the link to this post. Thanks so much for sharing!
To get these 7 FREE microscope worksheets for super science fun, all you need to do is subscribe to Rock Your Homeschool.
(Psst! Current RYHS members just need to access the Subscriber Freebies page and enter the password in your welcome email. If you have any questions or problems, please email rockyourhomeschool@gmail.com)
Get your FREE microscope worksheets set by tapping HERE or on the image below.
Wishing you tons of science fun with microscopes! How will you be using these free printable activities with your kids?
If you like these microscope activity sheets, you'll love our other free science printables: