How to Teach Spanish to Kids: The 5 Best Apps to Learn Spanish at Home
Looking for the best app to learn Spanish at home?
I've been researching options for my youngest boy and found some great picks for Spanish apps for kids that I'm happy to share with you.
Find out what we chose and why we think this app is awesome for teaching Spanish to kids!
Disclaimer: I received this product for free and was compensated for my time. As always, I'm sharing my honest opinions and was not required to provide a positive review.
Discover why I'm using FabuLingua, the best app to learn Spanish for kids, with my youngest boy in our homeschool AND why I think it's a wonderful option for other homeschoolers, too 😊
Understanding the Basics of Second Language Acquisition
What foreign language did you take in middle school and/or high school? And how effective were those courses?
I took 4 years of French classes. My teacher was fluent in French and we enjoyed lovely conversation practice in our classroom. I loved studying the language and got all As.
Guess how much I remember from my high school French learning experience? Very little – basic vocabulary, counting, and a smidge of sentences.
For the longest time, I blamed myself for not keeping up with those studies. But, college, grad school, work, and then life as a homeschool mom of 5 didn't leave a lot of time for that 😉
Now that two of my boys have graduated from our homeschool high school and the other three are studying foreign languages, I've discovered something that makes me feel better about why I find it so hard to remember French. I learned it in a more traditional sense – not in a way that sticks.
After some research, I found that it's important to understand that the traditional way of teaching a language is not really effective at helping us acquire a language so we can have conversations. So, the first step is to become a bit familiar with the basics science of second language acquisition.
Here are a few of the things that I discovered about the most effective ways to learn a second language:
Stephen Krashen, a noted linguist, emphasizes the importance of language acquisition. His work describes language acquisition as more of a subconscious experience, like having a natural understanding after repeated exposure.
Language learning is more of a conscious experience. The focus with language learning is more on grammar and rules.
With traditional second language learning, the focus is on output (vocabulary, grammar, and phrases).
Learning acquisition emphasizes input – being exposed to the language in a way that can be understood. You get the idea of what's being said, even if you don't know exactly what each word means.
Learning something new, like a secondary language, can feel overwhelming. And that overwhelm can make you zone out, often due to stress or boredom.
It's like your brain just kind of shuts down or like when I hear a commercial for a scary movie come on and I stick my fingers in my ears and hum "la la la" so I don't get scared (my boys think it's hysterical lol!).
I'm reminded of my French II class and how that teacher would drone on and on. She'd say a French word or phrase and then "Répétez après moi" (repeat after me) again and again and again… This approach seemed to work okay for quizzes but only good for short-term results.
How do kids of all ages learn best? With stories!
My oldest (20) can recall countless books that I read to him when he was little. He remembers so much about those books because they connected with him.
Acquiring a second language can be made so much easier by using stories to make it accessible to kids.
Have you heard about "The Silent Period" when it comes to acquiring a second language? This idea is new to me and I find it fascinating!
My understanding of this approach is that it's important to give kids time to actively listen to the language and let their brain catch up (by making all those cool new neural pathways).
5. Don't focus on grammar in the first few years
This concept goes back to language acquisition vs. language learning. To me, it means don't stress about the details. In other words, progress over perfection!
​I don't even start grammar lessons with my boys until they're older. So, I see why it's a good reason to wait with a second language!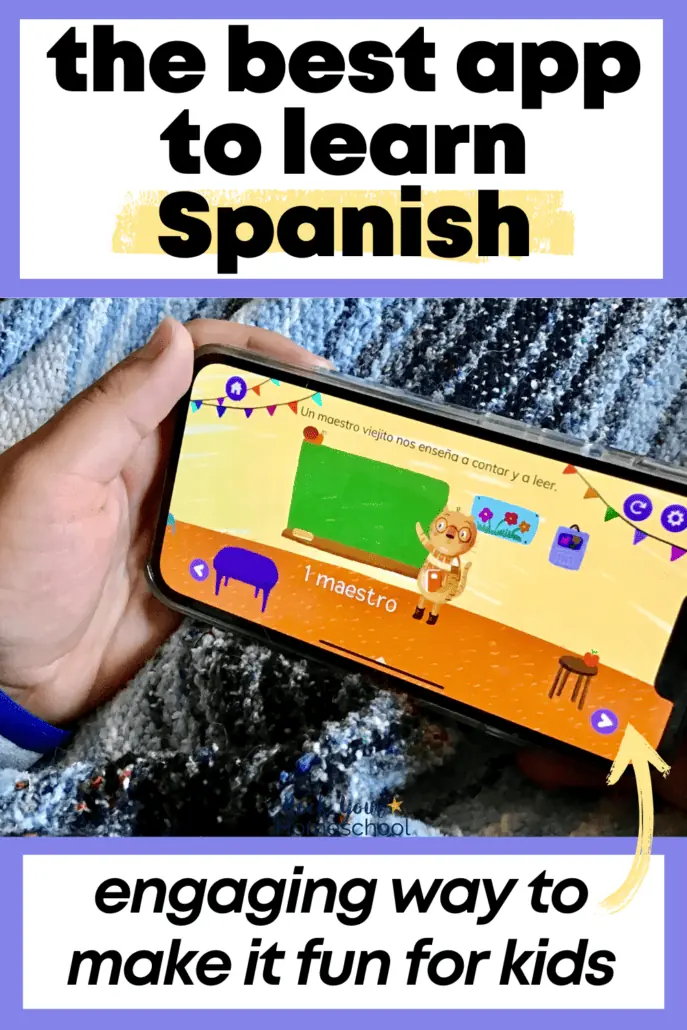 How to Teach Spanish to Kids at Home
So, you'd like to teach Spanish to your kids but not sure how to get started?
Or maybe you're like me and you're not even familiar with the language?
When my youngest (Xman – age 9) saw his older brothers learning foreign languages, he wanted to it, too. And while I was okay with that type of educational jumping-on-the-band-wagon thing, I really wasn't sure how to go about it.
When Xman was younger, he had experience with another resource (The Cultured Kid) where I learned the value of starting to learn a second language at a young age. Since he showed so much interest, I knew that I wanted a plan to help us get started and for him to enjoy success.
I decided to focus on:
1. Establishing a daily routine for language learning
One of the most important things that I've discovered after 12+ years of homeschooling is having a routine. By that, I don't mean a strict schedule. I mean a flexible routine that works for your family.
Our learning fun flows so well and is more effective with a routine. My boys know what to expect and how that time will proceed. Naturally, I want to recreate that positivity with Xman's Spanish experiences.
2. Reading and listening to Spanish stories together
I can't believe my baby is 9 – and I have two homeschool graduates!
I want to make the most of the homeschool learning fun that I have the privilege of sharing with my boys. Read-aloud time (and listening to audiobooks) has been some of the most precious and memorable moments with my kids. I believe this approach will boost our Spanish fun, too.
3. Including exposure to native speakers
I think there's something special about being exposed to native Spanish speakers. It's a great way for new language learners to get a true feel and understanding of how the Spanish words flow.
4. Showcasing it as screen time
Like many kids, Xman enjoys his screen time 😉
I don't mind allowing him a bit of extra time on screens if it's something with educational value.
5. Using an open-and-go resource
With an erratic homeschool schedule and getting a big brother ready to start college this fall, we need something that's easy-to-use and simple.
Based on my research and our needs, Xman and I decided to go for FabuLingua – and we're both so happy that we did 😊
The 5 Best Spanish Apps for Kids
I narrowed down my search to these 5 best Spanish learning apps. I think these great apps are some of the best ways to learn enjoy Spanish lessons, build language skills, and more.
1. FabuLingua
My biggest takeaway from Xman's experience: FabuLingua is not just an app. It's a mobile game with deep linguistic expertise that has a patent based on modern language learning science.
With FabuLingua, your child becomes an explorer on a journey across FabuLingua Island. As your kid masters stories and levels up, they'll unlock fantastical new locations to explore.
Your child will go from playing with a frog family of fun characters in the Playful Pond, to fluttering with colorful fairies at Fairy Falls, and dancing with Unicorns at the Musical Mountains.
Along the way, they'll meet brand new characters who want to share their stories. Your kid collect keys to enticing treasure chests that contain playing cards for a Pokemon-styled Card Battler, stickers, and avatar accessories.
The best part: Your child will be learning Spanish without even noticing it!
FabuLingua has truly delivered the best app to learn Spanish that I've ever tried with my boys. It has all of the advantages that other Spanish language apps have PLUS it's a platform that transforms children's stories into comprehensible input (which the science of second language acquisition says is the most important element in acquiring a second language).
Many of the other Spanish Learning Apps for kids may be fun, provide repetition and convenience, and have an attractive price point. But, no other App is a well-developed mobile game that's based on comprehensible input.
FabuLingua is not just a fun game. There's a ton of science under the hood. And it has a patented method based on modern language learning science.
So yes, it's a fun game. But, it's also incredibly effective. I love it even more that it's affordable (at $69.99 for an annual subscription that gives you 6 profiles, it's a steal).
Fun + Effective + Affordable = FabuLingua, the best App to learn Spanish!
*I have not personally used the Spanish language apps for kids mentioned below. I'm sharing what I've found in my research and from what friends have told me 😊
Another great Spanish app for kids is DuoLingo. This app actually has several different languages (almost 40) to choose. It includes bite-sized lessons that are fun.
DuoLingo has a free version and is available on iOS and Android. There's also Super DuoLingo that's a premium subscription for an ad-free experience.
My older boys had some fun with DuoLingo learning new vocabulary and simple phrases in German, Greek, and Klingon.
3. Spanish School Bus
This Spanish learning app for kids is also available on iOS and Android. It's based on the Montessori method and includes cool games and music. Spanish School Bus has a more language learning approach, focusing on the basics with words, counting, and verbs.
With free access, you get numbers, colors, and shapes, as well as some songs. The paid version is $4.99 and includes access to all 300 words and 60 levels.
This mobile app is also language learning-based, teaching basic Spanish vocabulary like colors, animals, and numbers. Gus on the Go is available for Spanish and 29 other languages and available on iOS and Android.
The game-like lessons are interactive and fun. A great thing about it is that you can introduce your kids to a foreign language, especially if you'd like them to choose which one to study.
This language learning app has a lot of promise. Gus on the Go Stories is also story-based. Free access (for separate downloads of Spanish, French, Greek or Hebrew) gives you 2 stories on iOS and Android. Additional stories are $1.99 each (so could be an issue if you're working with a smaller budget).
Take Your Spanish Learning Fun to the Next Level with FabuLingua
If you'd like a simple yet effective way to help your child acquire a second language, I highly encourage you to try FabuLingua, the best app to learn Spanish (in our opinion).
FabuLingua is an engaging AND affordable option that sets up your child for Spanish learning success. And I love that your child can work at their own pace with these short stories and interactive exercises. It feels so rewarding when you can find a homeschool resource that best suits your kids.
If you have any questions about FabuLingua, please let me know in the comments area at the bottom of this post.
Wishing you and your child tons of Spanish learning fun!