School Perler Bead Crafts: Cool Ways for Kids to Have Fun (Free)
School perler bead crafts are super cool ways to help kids get excited about learning.
This free printable set of fuse bead templates are perfect for back to school (and back to homeschool) and any time of year.
Find out more about these cute perler bead patterns with school themes and get your free set today!
Creative Ways to Get Kids Excited About School
When I was a kid, I used to get so excited about going back to school. It definitely helped that I was the type of student to thrive in a public school setting. I loved getting new school supplies – all those pencils and notebooks held so many learning possibilities!
Although I'm a year-round homeschooler now, I still get excited about back to school time. My boys and I enjoy relaxed learning over the summer, taking deep dives and going down rabbit trails as we explore enrichment activities and learning opportunities based on our interests. We take more local field trips and soak up as much sun with outdoor experiences (like our nature walk scavenger hunts) as we can.
We typically pick a back to homeschool start date in mid-August. It just feels like the right time for us 😊
As I plan and prepare for another fun year of homeschooling, I knew that I wanted to include some new activities that my boys and I could enjoy together. My younger boys have been having a blast with their perler bead crafts so I thought let's do some school-themed ones!
Learn More About These School Perler Bead Crafts
This free printable pack of school-themed perler bead patterns features 8 symbols on 1 page.
These patterns were created to be made on a perler bead pegboard size 29×29 using 5mm beads. You don't have to use that exact recommendation. Use the perler bead pegboard that you have. If it's a smaller pegboard, just work on one teacher-themed perler bead craft at a time 😊
The school-themed symbols with perler bead patterns included in this set are:
School bus
Eraser
Science lab beaker
Notebook
Triangle ruler (set square)
Apple
Blue crayon
Pencil
How to Make These School-Themed Fuse Bead Crafts
Perler bead craft time with your kids can be so much fun when you use these tips and tricks. You'll quickly find that it makes it much easier to create all of these cool crafts.
I recommend that you have ALL of your supplies ready and organized. There's nothing worse than starting a craft project only to realize that you're missing something or have to go looking all around your home for it!
I got a big canister of perler beads (also known as hama beads, melty beads, and fuse beads) and perler bead peg boards that attach (in case the boys want to create larger crafts). Also, I bought a plastic craft organizer so the boys could sort the perler beads by colors. I think this perler beads kit looks amazing and comes with everything!
Some kids like to have perler beads tweezer tools. These types of tools are totally optional – my boys prefer using their fingers.
Perler 17000 Assorted Bulk Fuse Beads Set with Storage Jar for Arts and Crafts, Multicolor, 22000 pcs
Perler Fuse Activity Bucket for Arts and Crafts, 8500 Beads, One Size, Multicolor
Quefe 25000 Mini Fuse Beads Kit, 2.6mm Beads, Tiny Melty Beads in 48 Colors for Kids and Adults with 4 Pegboards, 3 Tweezers, 3 Ironing Paper for Arts, Crafts & Gifts
Fuse Beads Boards 5mm Large Clear Plastic Pegboards for Kids Craft Beads 4 PCS
Perler Beads Ironing Paper Roll
Sowaka 5 Pcs Beads Tweezers Plastic Colorful for Beading Project Craft DIY Handmade Jewelry Making Kids School Project Classroom School Creative Game Tools (Blue Green Yellow White Red)
When your perler bead craft is done on the pegboard, place it on a flat surface.
The set of perler bead pegboards that I bought includes reusable ironing paper. I've discovered that you can also use parchment paper or waxed paper. This type of paper is placed over your creation for the next step.
You will need an iron to fuse your perler beads. I set the temperature of my iron to a medium heat. When your iron is ready, press firmly on the ironing paper and slowly move around. I check on the perler bead craft about every 30 seconds to see how well the beads are melting together.
When using these school-themed perler bead templates, I suggest going through each template and having your child pick out a favorite one for their first craft.
If you don't have the exact colors, absolutely no problem. Use what colors you have and enjoy your unique designs for your own perler bead art. In fact, it would be totally cool for you to customize your fuse bead crafts!
Oh, and you might find a better system for making your fuse bead crafts. If so, go for it the next time!
Cool Ideas for Enjoying These Perler Bead Crafts
After looking over your kids these school craft templates, talk about their ideas for these perler bead art activities. Brainstorm ways to enjoy and share your perler bead crafts, too.
You can make and attach these perler bead crafts to a homemade (or store-bought) card to give a new teacher, school bus driver, or other school worker. Homeschool co-op teachers might get a kick out of these crafts, too. I recommend using glue dots or double-sided tape.
Oh, and another idea is to leave a space or hole near the top of your perler bead craft. You can add a key chain ring or loose binder ring. You can place inside a card or on a gift bag.
Your children can add these cuties to (or start) a collection of perler bead crafts. My boys like to put their crafts in their bedrooms, as well as decorate our shelves and bookcases with them. They have quite a growing collection at this point with our free Pokemon, Minecraft, Easter, Earth Day, and Super Mario packs.
Your kids can also create their own designs and perler bead pattern with school themes. (You can find more school-themed perler bead templates in our DIY Teacher Appreciation Perler Bead set!)
Get Your Free School Perler Bead Patterns
WooHoo! You're so close to enjoying hands-on activities with these perler bead crafts for school fun and more!
This free printable pack of school-themed perler bead patterns includes 1 page of 8 school themes and a terms of use page.
And you can print as many copies of these school perler bead patterns as you need to enjoy with your homeschool, classroom, or co-op. If you have co-workers or friends who'd enjoy these free printables, please share this post. Thank you for sharing – I appreciate your cooperation!
To get these FREE printable patterns of school perler beads crafts, simply subscribe to Rock Your Homeschool.
You'll receive an email with a PDF file, along with a password to open the Subscriber's Library to all RYHS freebies.
AND you'll get emails with ideas, resources, and encouragement to make life and learning fun 🙂
(Hey there! If you're a current RYHS member, you can access the Subscriber Freebies page and enter the password in your welcome email. Please contact Amy at rockyourhomeschool@gmail.com with any questions or problems!)
Get your Free School Perler Bead Patterns Pack by tapping here or on the image below.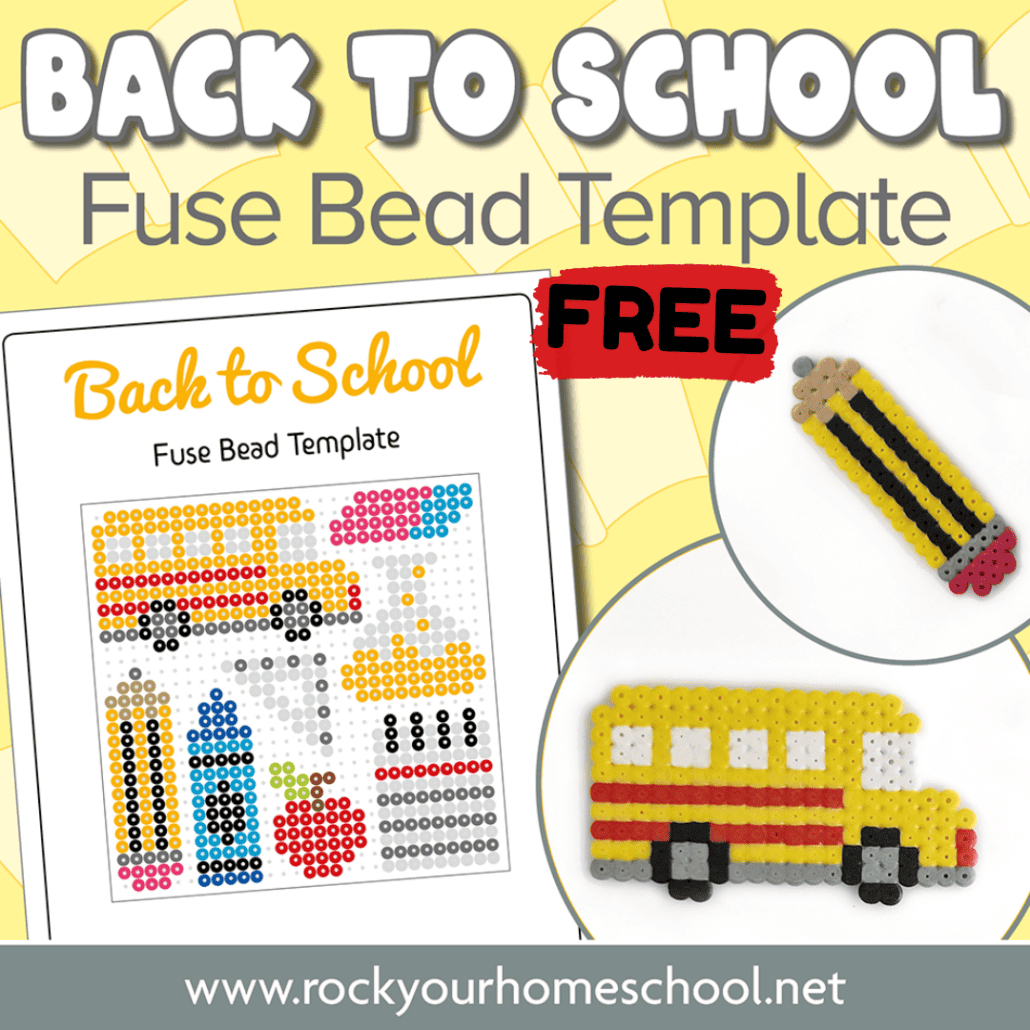 How will you be using these school perler bead crafts with your kids? Please share your ideas in the comments area at the bottom of this post 💖
More Fun & Free Perler Bead Crafts for Kids