Free Christmas Math Activities for Wonderful Holiday Learning Fun
These free printable Christmas math activities are awesome ways to engage your kids in holiday learning fun.
Designed for elementary-level students, get ideas on how to easily modify these printables with different ages and how to get your set today!
Dealing with Holiday Distractions Using Christmas Math Activities
Getting kids to do school work during the holidays can be a struggle. Like, fighting an uphill battle.
So much energy and excitement to fight! Distractions from decorations steal attention spans faster than Grinch snapping up presents in Whoville on Christmas Eve.
Chitter-chatter about special upcoming events, like parties and family visits, and far-off gazes thinking about all the Christmas fun make it seem like kids' ears are full of cotton or tinsel.
And my boys are no exception! Even though we homeschool.
When we first started homeschooling, I thought the holidays would be a breeze. In public school, December would bring this whirlwind of holiday excitement that overshadowed lessons. Between movies, parties, and half-days, "school" really didn't seem to happen.
Homeschooling would surely be different, right? 
Well, I discovered that there are a lot of other types of distractions at home during the holidays. Like, staring at our Christmas tree to baking a bunch of cookies to shopping for and wrapping presents. Because when you homeschool, life keeps going on and you still have to cram in all the regular stuff.
And I wanted, nay needed, to keep homeschooling through the holidays. My boys become mini-versions of Buddy the Elf in the month of December. Routine and a bit of structure help channel all that energy and allow me to maintain a tad of sanity.
But, my boys weren't having it. Pretty much every question or comment would revert back to a Christmas theme.
Tired of trying to get my boys to focus on their regular homeschool lessons, I tried something different. Desperation and a to-do list to rival Santa's Naughty or Nice list will do that to a mama 😉
I got creative and added Christmas themes to our homeschool. For every subject.
If you can't beat 'em, join 'em!
That first homeschool holiday season happened seven years ago. And I continue to add to my arsenal of easy holiday learning fun with my boys. This free printable Christmas math activities set is another way I meet my boys where they are and preserve the love of learning in our family 🙂
Get Your Free Printable Christmas Math Activities for Holiday Learning Fun!
This free printable pack includes four different activities plus a sheet with answers to cut out and use like manipulatives.
These Christmas math activities are recommended for elementary-level students. Fractions, patterns, and multiplication are presented.
To modify the Christmas tree and gifts activities with younger kids, simply white out (or washi tape over) the problems/answers.
You can add your own to work on letter recognition, number recognition, basic math facts, and sight words. To cover up the ornaments or gifts, use pompoms, jingle bells, or playdough.
You can use these free printable math activities with your classroom, homeschool, and family.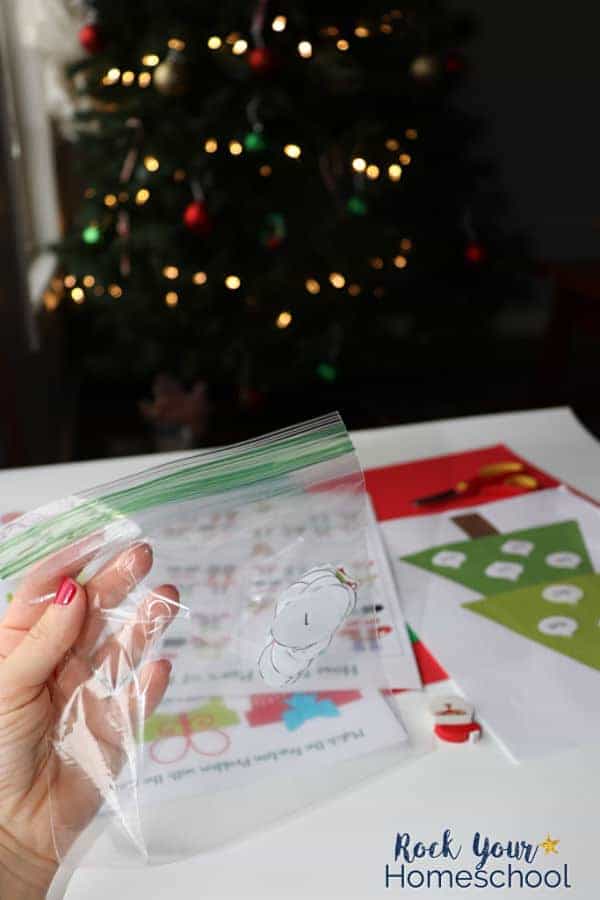 When you join the Rock Your Homeschool community, you'll receive this printable pack in a PDF download in an email, along with a secret password that opens the library to all RYHS freebies.
In addition to your freebies, you'll receive emails with ways to make life and learning fun.
(Psst! Current RYHS members just need to access the Subscriber Freebies page and enter the password in your welcome email. Or get the instant download in the email the week of this post)
Click HERE or on the image below to subscribe and get started with these free Christmas math activities!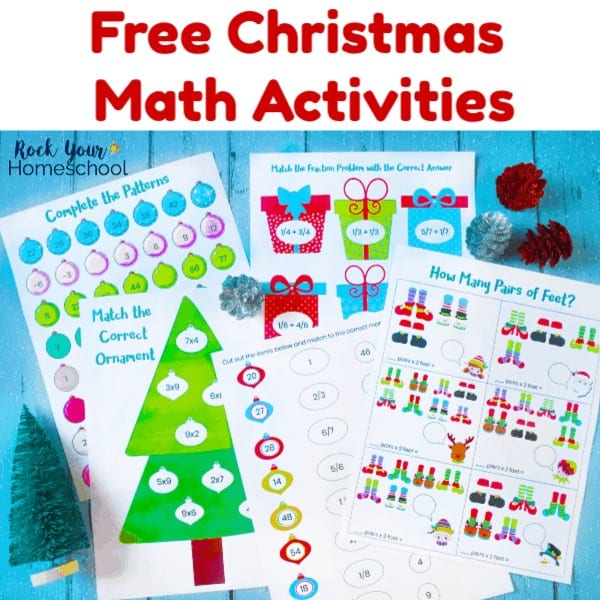 What subject do you find hardest to teach during the holidays?