Cursive Alphabet Chart Printable Pack: Simple Ways to Improve Handwriting (4 Free)
This cursive alphabet chart printable pack is such a simple yet fun way to help your kids improve handwriting.
You can use these cursive alphabet printable worksheets in a variety of ways. These resources are fantastic for reminders and hands-on practice.
Find creative ideas for enjoying these free cursive alphabet activities and get your free set today!
What Type of Cursive Student Do You Have?
If you have kids who are learning how to write in cursive, you might be getting one of these responses.
Some children think that learning cursive handwriting is super cool. These kids are excited and ready to take on the challenge.
Other kids might be indifferent. They might shrug their shoulders and just go with it.
And then you have the resistant kids. You might be fielding questions like, "But, why do I have to learn to write like that? Can't I just print?" and "This is boring! And I don't care if my writing doesn't look like that!".
I've had experience with all of these types with my 5 boys. My oldest boy couldn't wait to be able to write in cursive. He felt like a grown up using "all these fancy letters".
My 3rd and 4th boys were indifferent. They're pretty easy going and did what was expected of them.
My 2nd son (Professor) despised cursive handwriting – at first. He's left-handed and I had a difficult time teaching how to write. Once he figured out the different cursive strokes and how smoothly the letters could flow, he discovered a new-found appreciation for cursive handwrting.
Xman (my youngest) is another resistant kid. He has large hands and is going through another growth spurt. Xman is finding it hard to coordinate his large hands and pencil with the cursive strokes. He hasn't put up much of a fight – thank goodness! To thwart a meltdown, I'm preparing a variety of resources to help make cursive writing tolerable (even enjoyable).
I made this free cursive alphabet chart printable set so he can have something to refer to when learning and practicing his handwriting.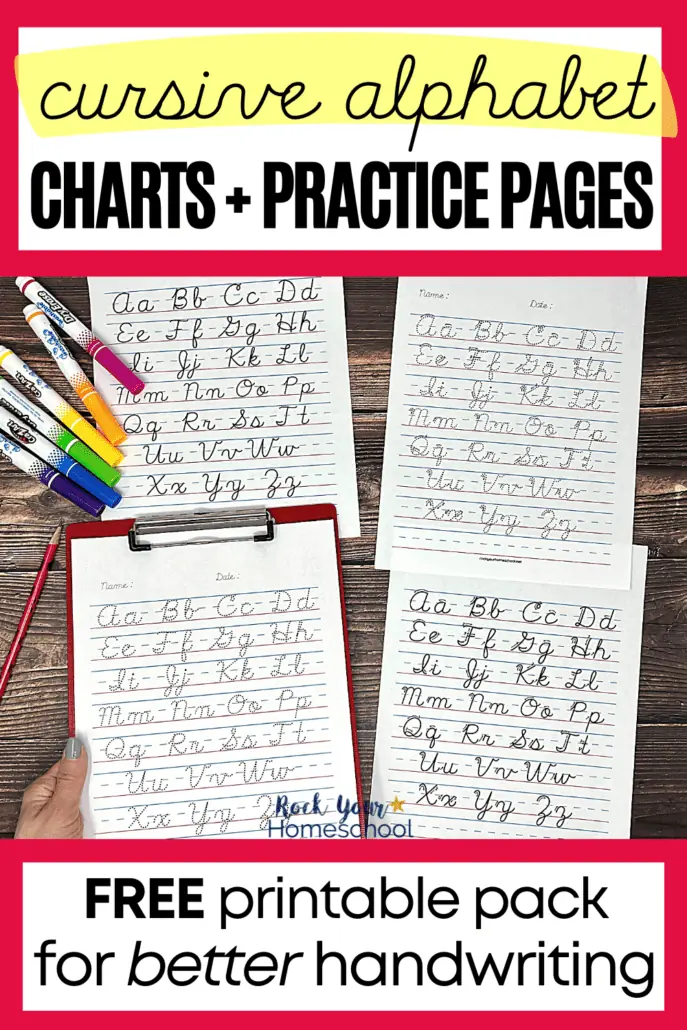 Learn More About This Cursive Alphabet Chart Printable Set
This free cursive alphabet chart printable pack includes 5 pages:
Cursive alphabet chart with letters that have solid lines
Practice page of cursive alphabet with letters that have dotted lines (and areas for name and date at the top of the page)
Cursive alphabet chart with letters that have solid lines AND arrows to show students direction to make strokes
Practice page of cursive alphabet with letters that have dotted lines AND arrows (plus areas for name and date)
BONUS blank practice page (with areas for name and date at the top of the page)
Creative Ideas for Using These Cursive Alphabet Chart Printable Pages
I encourage you to print extra copies of these cursive handwriting pages. You may want to print the chart-specific pages on white cardstock for durability (especially if you choose to hang on a wall as a reference poster).
You can put these cursive alphabet pages in dry erase sleeve pockets (or laminate). Use again and again with dry erase markers. Great ways for your students to get as much extra practice as they need!
Your kids might find it helpful if you adhere the cursive alphabet chart printable pages to their desk or table top. Another awesome idea is to place the charts in a 3-ring binder (in clear cover or inside).
Use a variety of writing tools for cursive practice, like:
Pencils (especially fun pencils)
Color pencils
Erasable pens
Erasable fine-tip markers
Ticonderoga My First Tri-Write Wood-Cased Pencils, Neon Colors, 12 Count (X13012)
Dixon Ticonderoga No.2 Pencils, Assorted Neon, 10-Pack (4-Pack)
Ticonderoga Noir Black Wood-Cased #2 Pencils, Holographic Design, 12 Count
ThEast 30 Pieces Rainbow Colored Pencils, 4 Color in 1 Rainbow Pencils for Kids, Assorted Colors for Drawing Coloring Sketching Pencils For Drawing Stationery, Kids Gifts, Bulk, Pre-sharpened
Qyyiguf 40 Pcs 7 Inch Flexible Pencils,Soft Novelty Pencil,Multi Colored Striped Soft Pencil with Eraser for Valentine's Day,Children Kids Gift School Fun Equipment
Color Changing Mood Metallic Glitter Pencil with Eraser Wooden Pencils Heat Activated Color Changing Pencils Thermochromic Pencils for Students Easter Birthday Pencils Party Favors (30 Pieces)
Crayola Colored Pencils, Coloring Supplies, 24 Count
Deli 36 Pack Colored Pencils with Built-in Sharpener in Tube Cap, Vibrant Color Presharpened Pencils for School Kids Teachers, Soft Core Art Drawing Pencils for Coloring, Sketching, and Painting
Crayola Erasable Colored Pencils, 10 Count, School Supplies
Pilot Frixion ColorSticks Erasable Gel Ink Pens, Fine Point (0.7mm), Assorted, 10 Count (32454)
Pilot Frixion Clicker Erasable Gel Pen, Assorted Ink, 3 per Pack (31467), Black/Blue/Red
PILOT Pen 11452 FriXion Fineliner Erasable Marker Pens, Fine Point, Assorted Color Inks, 12 Count-Pack
Tips and Tricks for Making the Most of Cursive Handwriting Practice
Start simple and allow progress to unfold. You can begin with simple cursive letter strokes.
Look at the cursive alphabet chart printable set with your students. Chat about the letters and compare the cursive letters to print. Talk about the letter formations and cursive strokes. Use our pack of free alphabet cursive worksheets for additional practice.
Trace the cursive letters with your fingers on the paper and in the air.
Use a pencil (or other writing tool) to trace the letters with arrows and dotted lines (page 4).
Next, use a pencil to trace the letters with just dotted lines (page 2).
Finally, use the blank page to practice as many cursive letters as you'd like!
Get Your Free Cursive Alphabet Chart Printable Pack
High five! You're on your way to super cursive handwriting practice ✍️
This free printable set includes 5 pages featuring cursive alphabet charts and practice activities.
You may print as many of these activities as you need for your personal use, family, class, homeschool co-op, or community event. If you have a friend or co-worker who'd enjoy these types of cursive handwriting activity with kids, I ask that you please share this post with them. Thanks so much for your cooperation!
To get this free cursive alphabet chart printable pack, simply subscribe to Rock Your Homeschool with your email address.
You'll receive an email with a PDF file, along with a password to open the Subscriber's Library to all Rock Your Homeschool freebies.
Plus, you'll get emails with ideas, resources, and encouragement to make life and learning fun 🙂
(If you're a current RYHS member, you just need to access the Subscriber Freebies page and enter the password in your welcome email. If you have any problems or questions, please email Amy at [email protected])
Get your FREE cursive alphabet chart printable pack by tapping HERE or on the image below.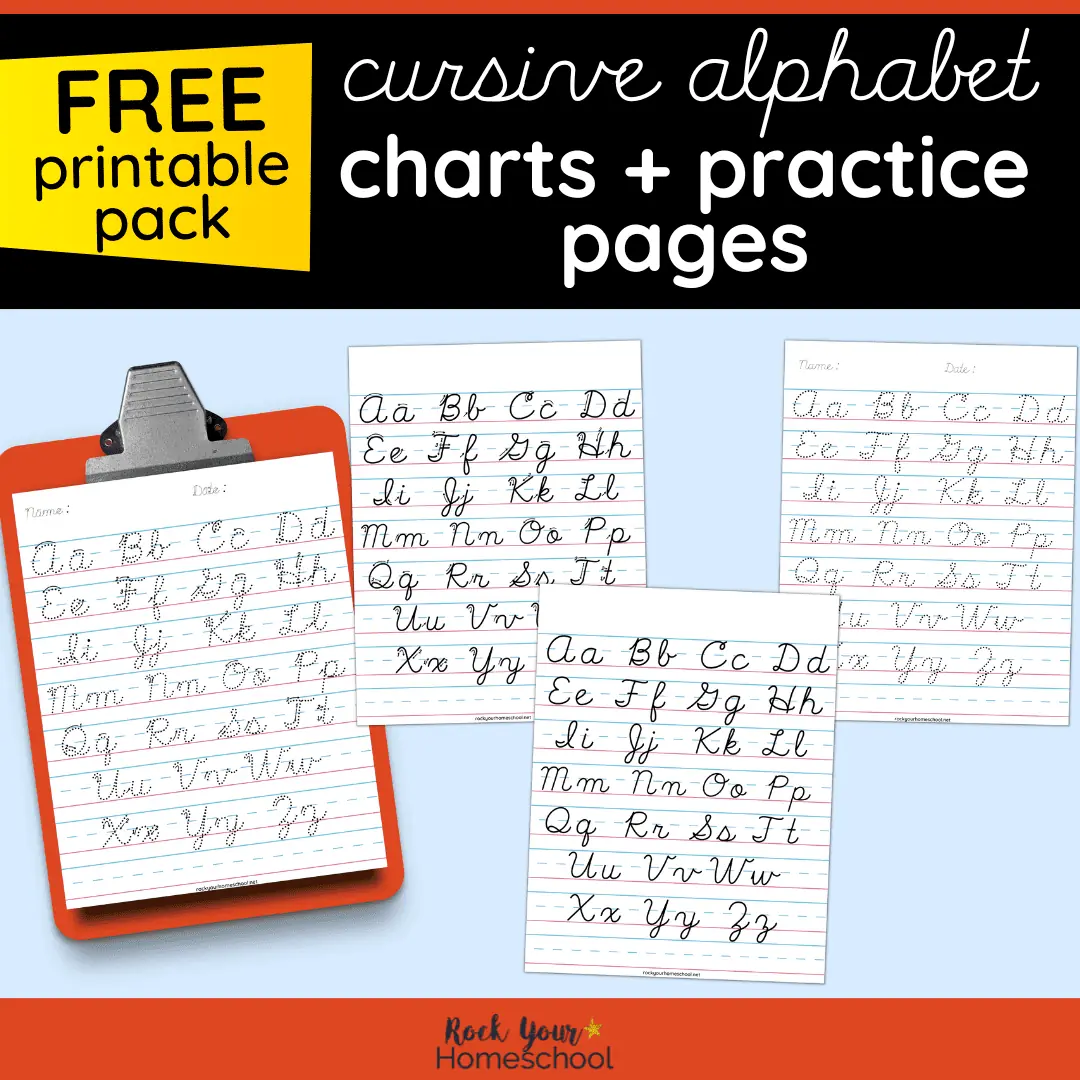 Wishing you tons of cursive handwriting fun with your kids!
And please let me know if you have any questions by sharing in the comments area at the bottom of this post 😊
More Fun Ways to Enjoy Handwriting Practice