Free June Conversation Starters for Fun Chats with Kids
Enjoy fun chats with your kids using these June Conversation Starters!
These free printable prompts are excellent ways to break the ice and get your kids to share their thoughts and feelings. Excellent ways to build relationships and relax with your kids 🙂
Conversation Starters = Fun Chats with Kids!
You know that summer is a perfect time for special moments with your kids. But, maybe you feel like a deer in headlights?
What in the world are you supposed to talk about that will keep both your kids' attention and not have you drooling from boredom in 2.3 seconds?
Never fear! June Conversation Starters are here!
These free printable conversation (and/or writing) prompts are awesome ways to get your kids talking and you listening. Use these prompts to spark casual talks about the season and fun holidays based in June.
Best of all, help your kids open up as they work on developing their conversational and imaginative skills!
June Conversation Starters for the WIN!
Keeping the communication line open with your kids can make you feel like a rock star! There's so much competition with screens, friends, and activities. In our modern age, it's essential to find ways to keep the conversation going with your kids.
One of the best ways that I've found to help my boys feel comfortable talking with me is casual conversation.
Silly or fun topics help my boys feel safe and more likely to open up about their thoughts and feelings. Once they feel okay breaking the ice over talking about their favorite thing to do on a sunny day or the best ice cream toppings ever, my boys are much more likely to share how they're doing with their homeschool work or soccer or just dealing with life.
Our monthly conversation starters have been wonderful additions to our homeschool morning gathering and brain breaks. Life gets busy and sometimes it feels like before I know it, it's bedtime and I haven't had the chance to sit for just five minutes with one of my boys. Luckily, these conversation starters give me the chance to sit down and engage with each boy. Those shared moments are priceless!

Get Your FREE June Conversation Starters for Fun Chats with Kids
These free June Conversation Starters include seasonal and fun holiday themes. You can keep it simple with these conversation prompts that your family will have a blast talking about and giggling over.
Print the 4 pages and use as is or you can cut into strips. Some conversation starters do coincide with homeschool fun days. You can adapt the conversation starters to best fit the ages and stages of your homeschool, classroom, or family.
There are 7 conversation starters per page with each page divided into 4 weeks (28 total conversation starters).
Mix it up or follow the order in which they are presented. Customize to optimize your experience!
To get your free printable pack of June Conversation Starters, simply subscribe to Rock Your Homeschool. You will receive these printables in a PDF download in an email, along with a super secret password that opens the vault to all RYHS freebies. In addition to your freebies, you will be a weekly email with ways to rock your homeschool plus instant downloads to all new freebies.
(Psst! Current RYHS members just need to access the Subscriber Freebies page and enter the password in your welcome email. Or get the instant download in the email the week of this post)
Click HERE or on the image below to subscribe and get started on rockin' your homeschool with June Conversation Starters!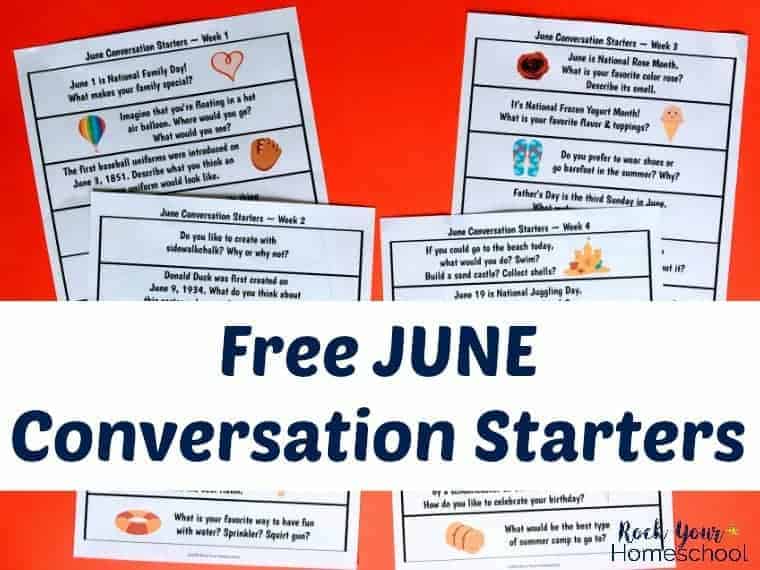 How will these conversation starters help you enjoy fun chats with your kids?