Life of Fred Apples Additional Activities
Would you like a way to extend the learning fun with Life of Fred Apples? Find out how these lesson extensions can provide you with awesome hands-on learning activities to supplement the fun with Fred and Kingie?
We are a Life of Fred family! My boys and I enjoy joining Fred and Kingie on their learning adventures. My boys love the storyline and silly situations Fred and his beloved doll, Kingie, often find themselves in. I love that my boys have become engaged and interested in learning math and more!

What is Life of Fred Apples?
Life of Fred Apples is recommended for grades K-1. I had my older boys start with this first book to review concepts and for a better understanding of the storyline. They moved through the early books quickly yet thoroughly enjoyed and benefited reading the complete Life of Fred Elementary Math series.
When my older two boys (Captain and Professor) started the elementary math series with Life of Fred Apples, I saw great potential for additional activities for each chapter.
Smiley expressed interest in Life of Fred math last year. He absolutely loves his Life of Fred Early Readers. He wanted more and we were lucky to have these math books to reuse. These books are non-consumable so completely awesme for big families!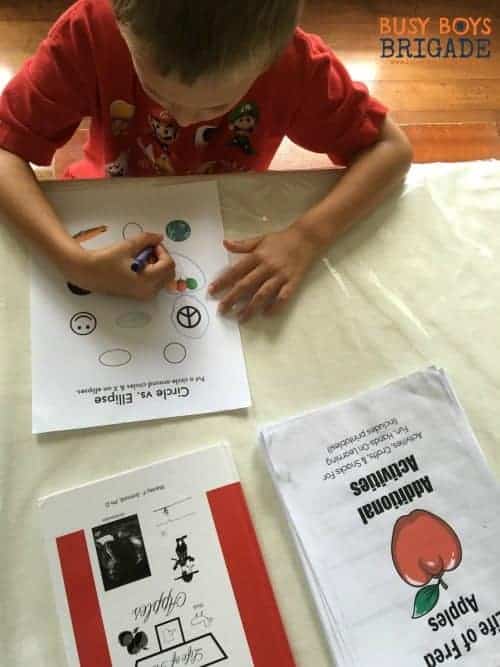 We read Life of Fred Apples and moved on to Life of Fred Butterflies. My little creative twitch started up and I felt called to create lesson extensions for each chapter.
Bear asked to learn math with Fred this year. Smiley generously agreed to help his little brother with his lessons. When I pulled out Life of Fred Apples, that creative twitch began!
My boys, particularly my younger ones, benefit from hands-on learning activities. They like to touch, feel, and manipulate to get a better understanding of a concept. Whenever possible, I try to incorporate these fun and effective approaches to their lessons.
These lesson extensions were created to help me plan and prepare for learning fun with my boys. Homeschooling five boys keeps me on my toes and learning fun like this only happens if mama is organized and ready!
Hence, the development of Life of Fred Apples Additional Activities. I am in the process of creating additional activities for Butterflies (yes, it will be complete!), Cats, and Dogs. As we progress through Life of Fred Elementary Math, I will be creating and sharing similar lesson extensions appropriate to age and stage.
Life of Fred Apples Additional Activities
The goals of these additional activities are to be effective, easy to implement, and affordable.  I also wanted you to have the option to complete all three activities in one day or spread over the course of a few days.
I will always advise you to take your time and follow your child's lead. If your child is able to do a chapter a day, go for it! If a chapter needs a bit more attention and review of concepts, slow it down. Remember Aesop's The Tortoise & The Hare? There are no bonus points for rushing through!
If your child has a desire to learn with Life of Fred but still working on reading skills, help them out! Take turns reading words, sentences, or pages.
Another way I have helped my younger readers with Life of Fred Math is to have them dictate their answers. I write them down and they copy into their notebooks. Gradually, they're able to independently complete the process and learn valuable lessons along the way.
For each chapter of Life of Fred Apples, you will receive:
Hands-On Activity
Hands-On Craft
Hands-On Snack
Also, every chapter includes at least one printable activity. All three hands-on activities, crafts, and snacks reinforce a concept presented or reviewed in that chapter. A list of Concepts and Facts To Practice is also presented for each chapter.
Some of the hands-on fun includes:
creating bacon & egg faces to practice addition & subtraction (brace yourself for the giggles!)
notebooking pages on Archimedes & the Titanic
elephant ellipses
snack ideas using apples & more to practice math concepts
This printable pack with 40 pages of activity plans and printables is now available to purchase! For only $6 (33 cents a chapter!), you can provide your child with hands-on activities, crafts, and snacks. Super fun ways to excite your child's love for learning! Click image below to buy Life of Fred Apples Additional Activities & let the learning fun start now!
---
You can find Life of Fred Apples and the other 9 books in this elementary math series over at Educents! These affordable and non-consumable books are an excellent way to teach a variety of learning styles. You can find out more about Life of Fred math and get the book now!.
I will be creating more lesson extensions for each of the books in the Life of Fred Elementary series (and beyond!)  I hope you join our family on our learning journey with Fred 🙂