Let's Chat About Homeschool Planners
Oh my goodness! Homeschool planners are one of my favorite topics to talk about. I love chatting about all types of planners but these types combine two of my passions-homeschooling and planning!
I thought we would wrap up this tremendously fun and helpful series on Let's Chat About…Homeschool Curriculum with a discussion on homeschool planners. Paper or digital, fancy or functional, all homeschoolers that I know of do some type of planning and record keeping. There are so many options out there! I hope this chat helps you learn about ways other homeschoolers plan and inspires you in your planning adventures.
Before I present what Periscope viewers and Rock Your Homeschool! Facebook group members, I must share my homeschool planner for our upcoming year. I am so excited to use my Big Happy Planner "Tori" (Yes, she has a name thanks to my girl, Sarita! We have so much fun over at Planner Squad, a site dedicated to all things planners. Hope to see you over there!)
Isn't she a beauty? I used cardstock and a bit of washi tape to create a custom cover. I have sections for our Homeschool Morning Time and learning songs. In the back, I have a section for each boy's course of study, reading log, and field trips.
I organized our entire homeschool year using Kristi Clover's Ultimate Homeschool Organization Course. Captain (13) and Professor (11) have their weekly plans in a manila folder. Smiley (7) and Bear (5) do as well but I need a space to write down more detailed plans. Smiley, Bear, and Xman (2) each get a box in my Big Happy Planner for me to jot down activities and reminders.
You may be wondering how I have time to decorate this planners (as well as my three other planners!). I block out special mommy time every weekend. Planning has become a fabulous creative outlet for me, as well as way to stay on top of all that needs done around our home, homeschool, and blogs. I am a very functional planner who usually throws on a bit of washi tape (my motto is washi tape makes the world go 'round!" and gets out my Frixion pens (erasable colored pens that rock and make color coding super simple!).
My homeschool planner makes me smile-and I hope yours does, too! If not, maybe you would be interested in one like mine or something like one of these recommendations.
Let's Chat About Homeschool Planners
Click here to watch the scope where we chat about homeschool planners.
A few homeschoolers said that they are using the standard size Happy Planner for their upcoming homeschool years.
A Simple Plan (Homeschool Student Planner): These 12-month planners look like excellent ways to help your students learn to plan and organize. Available in Shabby Chic and Pixels themes.
Well-Planned Gal: Melissa of Well-Planned Gal is using this beautiful planner with one of her beautiful daughters this year. Looks amazing!
Bullet Journal: Dawn of Lady Dusk has used a bujo (bullet journal). She will be using Pam Barnhill's Plan Your Year for 2017.
Donna Young: This resource is now a subscription site. It is filled with a variety of awesome planning pages including homeschool.
Mrs. Hutchinson's Lesson Planner: These homeschool planning pages are gorgeous! I encourage you to head over to Alicia's site and check them out for yourself. There are pages for mission statement planning, library, unit studies, and more!
The Relaxed Mom Homeschool Planner: Tauna of Proverbial Homemaker has created a beautiful homeschool planner and ecourse. I am very excited about this planning course because I tend to be an overplanner. You can find out more about this ecourse and planner by clicking below. Oh, sale on bundle ends 8/16 so you will want to act quickly (and get ready for a fabulous homeschool year!)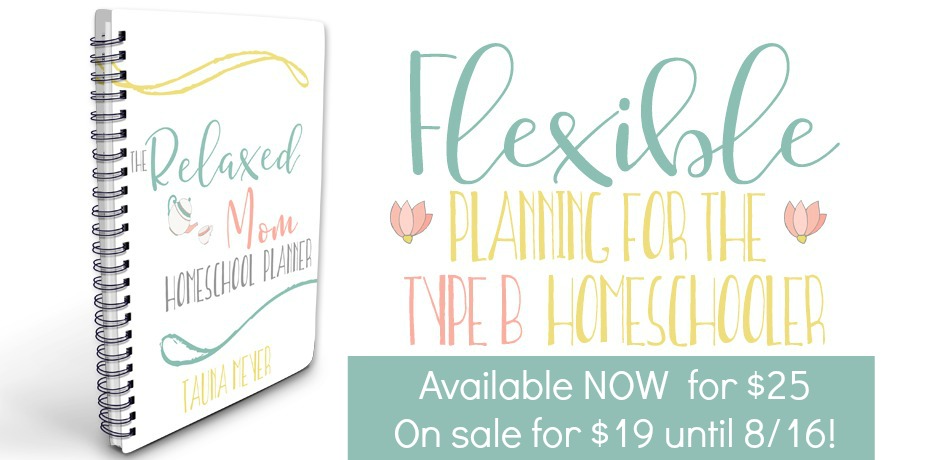 ---
Well, homeschool friends, Let's Chat About Homeschool Planners is the last in our summer Periscope & blog series dedicated to homeschoolers helping homeschoolers with recommendations on resources. As our homeschool year progresses, I may find the occasional homeschool curriculum topic to discuss.
I have enjoyed chatting with all of you about a variety of homeschool subjects. You can visit (and revisit) these related posts to find out more:
Homeschool Curriculum Help For All In New Series
Let's Chat About Homeschool History
Let's Chat About Homeschool Reading
Let's Chat About Homeschool Music
Let's Chat About Homeschool Science
Let's Chat About Homeschool Math
Let's Chat About Homeschool Art
Let's Chat About Homeschool Writing Curriculum
Let's Chat About Homeschool Foreign Languages Curriculum
Let's Chat About Homeschool Character Education & Life Skills