Free October Conversation Starters for Fun Chats with Kids
Want a special way to connect with your kids this Fall?
These October Conversation Starters are the way to go!
Find out how I use these printables in different ways for creative and fun chats with my boys and how you can get started today.
Great Ways to Use October Conversation Starters with Your Kids
Why would you want to use these conversation starters with your kids? These printable prompts are excellent for:
Breaking the ice with your kids. Sometimes, you want to chat but your mind goes blank. Don't feel like a deer in headlights! Take out your prompts for a fun chat.
Talking about fun holidays and seasonal themes.
Your morning time routine. Start your day with a fun conversation about the best candy treat ever or how you can make a difference today.
Helping your kids work on self-expression and conversation skills.
My boys and I usually use our conversation starters during our homeschool morning time or in the car when we're homeschooling on-the-go. We also love to use conversation starters for writing prompts for homeschool fun activities.
Get Your Free October Conversations Starters
To get the most out of these October Conversation Starters, here are a few tips on using and best practices:
Keep it simple. And build on your conversational successes.
You can use the October Conversation Starters in any order you'd like!
Print the 4 pages and use as is or you can cut into strips. Some conversation starters coincide with homeschool fun days.
You can change up the conversation starters to best fit the ages and stages of your homeschool, classroom, or family.
There are 7 conversation starters per page with each page divided into 4 weeks (28 total conversation starters). Customize to optimize your experience!
When you join the Rock Your Homeschool community, you'll receive these printables in a PDF download in an email, along with a secret password that opens the vault to all RYHS freebies.
In addition to your freebies, you will get emails with creative and easy ways to make life and learning fun 🙂
(Psst! Current RYHS members just need to access the Subscriber Freebies page and enter the password in your welcome email. Or get the instant download in the email the week of this post)
Click HERE or on the image below to subscribe and get started on rockin' your homeschool with October Conversation Starters.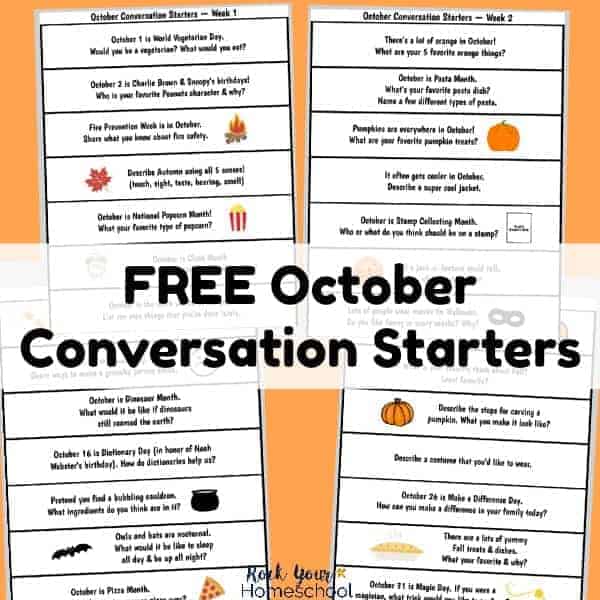 Have you tried conversation starters with your kids? What has your experience been like?