Enjoy some awesome learning fun with pirates! These free printable activities are excellent ways to celebrate Talk Like a Pirate Day or any time you'd like to add some pirate-themed fun to your learning adventures.
Check out all the ways you can use these pirate printables with your kids and get started today!
Arr, me matey!  Are ye looking for some learning fun activities to help you celebrate pirates?  Get ready with this free printable pack and pirate resources.
As I was getting the September Homeschool Fun Calendar, Brain Breaks, and Conversation Starters ready, I noticed that Talk Like a Pirate Day is 9/19.  I knew that my boys would love to have special activities to help us celebrate.
But, you don't have to wait until Talk Like a Pirate Day to use these free printables!  Consider using this pack whenever you want to add fun to your homeschool and family life.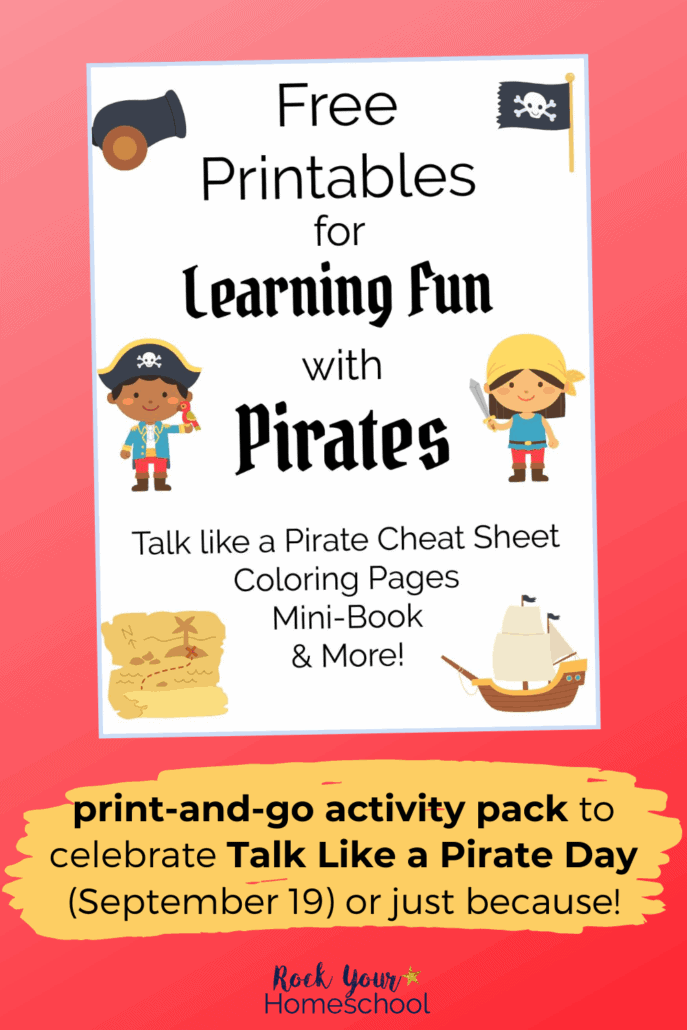 Get Ready for Some Pirate Learning Fun
To help you prepare for some awesome learning fun with pirates, make sure to check out these sites for more information about pirate terms and parts of a pirate ship:
Here are a few fun videos with songs about pirates:
Free Printables for Learning Fun with Pirates
This free printable pack has these super cool activities in 19 PDF pages:
Talk Like a Pirate Cheat Sheet
Pirate Fun! Mini-Book for coloring (7 pages to cut down to half-sheet for a mini-book total of 14 pages)
18 Pirate Fun memory cards (print two copies) OR cut out and glue to popsicle sticks for story props
6 Pirate playdough mats (laminate and enjoy) OR use as coloring sheets
Tracing Fun with Pirates
Practice Cutting Skills with Pirates
3 Color by Number pirate-themed printables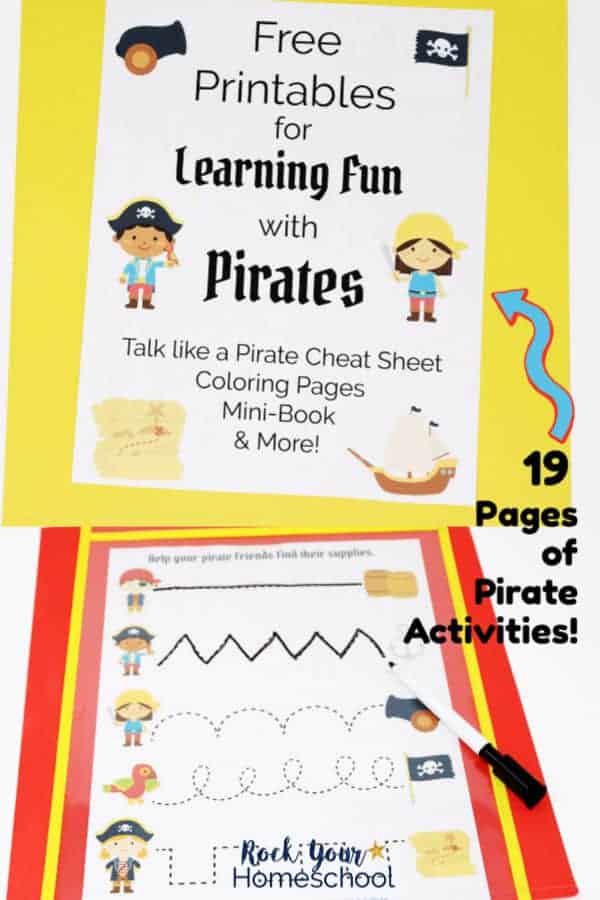 You can print out as many copies as you need. If you know someone who you think would love these Learning Fun with Pirates for kids, please share the link to this post with them 
When you join the Rock Your Homeschool community, you'll receive these printables in a PDF download in an email, along with a super-secret password that opens the vault to all RYHS freebies.  In addition to your freebies, you will be a weekly email with ways to rock your homeschool plus instant downloads to all new freebies.
(Psst!  Current RYHS members just need to access the Subscriber Freebies page and enter the password in your welcome email.  Or get the instant download in the email the week of this post)
Click HERE or on the image below to subscribe and get started with Learning Fun with Pirates!
Do your kids love pirates? How will you celebrate Talk Like a Pirate Day in your homeschool and family?