Number Playdough Mats for Creative Learning Fun (Free Printable Pack)
Number playdough mats are fantastic ways to provide your kids with fun learning activities.
Your young learners will have a blast with these creative ways to enjoy hands-on learning and more.
Find out more about these free printable playdough mats featuring numbers, ten frames, and cute themes. And get ideas and inspiration to boost the learning fun with these activities!
Playdough Mats Are Simple Yet Fun Ways to Boost Learning
If you're looking for a fun way to get your young children engaged and excited about learning, you've got to try playdough mats!
Wait – hear me out! I know that playdough gets a bad rap (getting stuck in carpet, drying up, and overall mess).
But, I've got some tips and ideas to make it as mess-free and stress-free as possible. And after enjoying playdough activities with all 5 of my boys, I've learned a thing or two over the years on different ways to help younger children think math is so much fun 😉
Your kids will be thrilled to get the chance to learn through play with playdough numbers 😊
Plus, you can totally use these free playdough mats for math centers, small group use, and more!
With a few rules and expectations, you'll be able to relax as your kids use these free printable number playdough mats for hands-on learning fun.
These types of free printables of play dough number mats are awesome for:
Number recognition
Number formation
Early math skills
Number words
Math activities
Counting mats (with play dough balls, counters, or stickers)
Classroom use
At-home learning fun
Early math concepts
What You'll Find In This Free Printable Pack of Number Playdough Mats
This free printable pack of number playdough mats features the numbers 1 – 10. You'll find cute themes, ten frames, and open font numbers (meaning there's a space in the middle of each for your kids to shape playdough into).
Each number playdough mat has a colorful border of circles. Cute themes include:
One: unicorn
Two: bee
Three: shamrock
Four: butterfly
Five: caterpillar
Six: squid
Seven: rainbow
Eight: spider
Nine: sun
Ten: fish
The themes are in black-and-white and include some dotted lines. Your young learners can trace these lines and color the theme if they'd like.
Creative Ideas for Enjoying These Hands-On Activities for Kids
Curious about those tips and ideas to keep the mess to a minimum and enjoy a fun math activity? Here are my ideas for enjoying these free playdough number mats:
Laminate OR place the printed number playdough mat into a dry erase sleeve pocket or page protector
Use a playdough tray
Demonstrate how to complete the playdough mats – go step-by-step and give directions on how to place the playdough on the correct number, including how to make playdough balls and use on the tens frame portion
Purchase playdough or use yoru favorite playdough recipe
Show your kids how to clean up the playdough and properly put away
Pair this hands-on fun with a number tracing printable activity pack
Have your kids use dry erase markers to trace and color – if using this idea, you can use pom poms or mini-erasers for the ten-frames activity
Play-Doh Modeling Compound 24-Pack Case of Colors, Non-Toxic, Multi-Color, 3-Ounce Cans, Ages 2 and up (Amazon Exclusive)
Play-Doh Modeling Compound 10-Pack Case of Colors, Non-Toxic, Assorted, 2 oz. Cans, Ages 2 and up, Multicolor (Amazon Exclusive)
Scotch Self-Seal Laminating Pouches, 25 Pack, Letter Size (LS854-25G-WM)
Gamenote Dry Erase Pockets Sleeves 6 Pack with Ring – Oversized Reusable Plastic Sleeves Ticket Holders Clear Plastic Sheet Protectors Teacher Supplies for Classroom Organization (Black)
6 Pack Dry Erase Pockets Sleeves, 10 x 13 inches, Assorted Colors
WOT I Dry Erase Pockets 20 Packs, Oversized 10 x 14 Inches Dry Erase Sleeves, Reused Plastic Sheet Protectors with 20 Markers / 4 Erasers / 1 Ring, Assort Colors Teacher Students Supplies for Class
100 Pcs Pom Poms Craft Making Assorted Sizes & Colors High-Elastic Pom Poms Creative Craft DIY Material
110 Pieces Cute Mini Erasers for Kids Bulk,Smiley Face, Fruits, Food and Animal Erasers Assorted, Desk Pets for Kids Classroom, Homework Rewards, Gift Filling
Get Your Free Pack of Number Playdough Mats
High five! You're on your way to helping your kids enjoy special hands-on learning fun! These printable worksheets are fantastic for preschoolers, Kindergarten, and other ages that would like to work on fine motor skills.
These free printable number play dough mats includes 10 pages.
Print as many of these playdough mats as you need for your personal use, family, class, homeschool co-op, or community event. If you have a friend, co-worker, or other homeschoolers who'd enjoy to have this sort of hands-on learning fun for kids, I ask that you please share this post with them. Thank you so much!
To get this free pack of printable number playdough mats, simply subscribe to Rock Your Homeschool.
You'll receive an email with this PDF file, along with a password to open the Subscriber's Library to all RYHS freebies.
AND you'll get emails with ideas, resources, and encouragement to make life and learning fun 🙂
(Ooh! Current RYHS members just need to access the Subscriber Freebies page and enter the password in your welcome email. If you have any problems or questions, please email Amy at rockyourhomeschool@gmail.com)
Get your FREE printable set of number play dough mats by tapping HERE or on the image below.
Do you have a great way to enjoy these printable mats with young kids (or older children)? I'd love to hear your ideas at the bottom of the post for enjoying these playdough mats with your kids. Wishing you tons of learning fun with these play dough activities!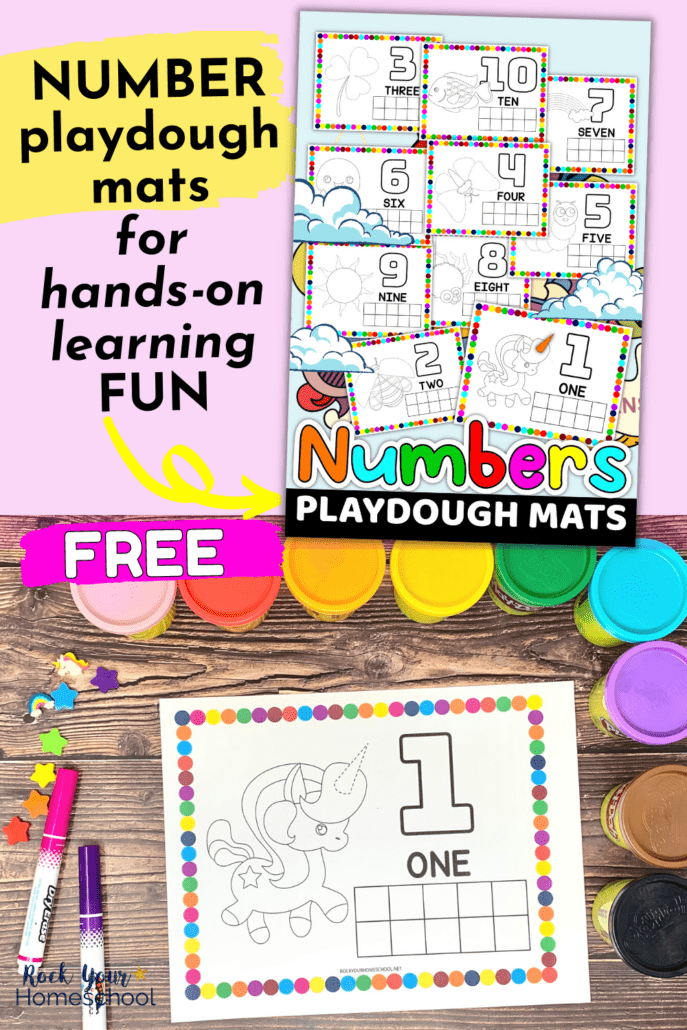 More Fun (& Free) Ways to Boost Learning for Your Kids