Free Shapes Scavenger Hunt Printables for Simple Math Fun
These free shapes scavenger hunt printables are excellent ways to enjoy simple math fun.
Your kids will have a blast looking for a variety of shapes in your home, outdoors, and on-the-go.
These scavenger hunt activities for kids include two versions-2D and 3D!
Give Your Kids Fun Math Challenges with Scavenger Hunt Activities
Want to easily add a bit of excitement to your math lessons? Try a shape scavenger hunt!
When my boys started learning or reviewing shapes as part of their homeschool math lessons, I thought it would be cool to give them some hands-on activities that got them up and moving.
If your kids are like mine, they don't care for sitting still for too long. (Honestly, I don't like sitting still!)
That's why we use brain breaks and fun days to keep our learning adventures interesting.
Scavenger hunts are other awesome ways to get kids interested in a topic. My boys tell me that our color, letter, and number scavenger hunts have been fantastic fun 🙂
When I surprised my boys with these shapes scavenger hunts, they immediately wanted to get started. After explaining the basic "rules", they jumped right in and had fun exploring the shapes in our world.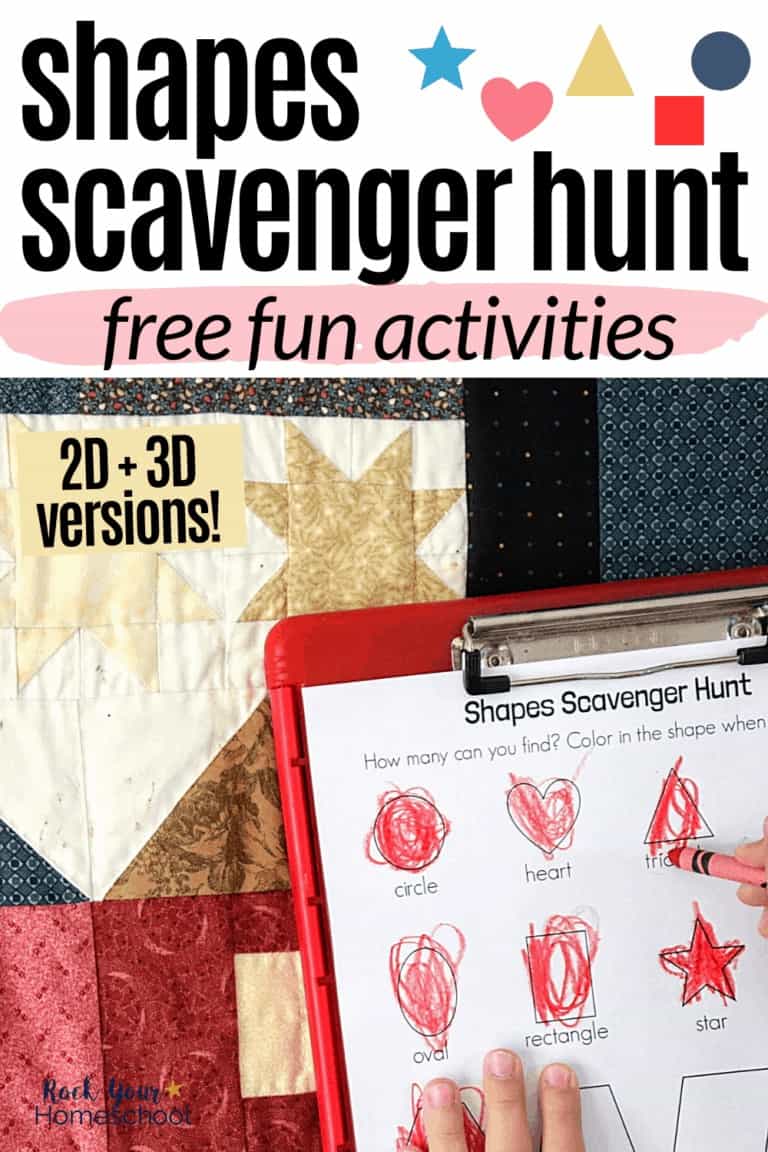 Creative Ways to Boost Learning Fun with These Shape Scavenger Hunts
You can certainly use these shapes scavenger hunts in any way you like.
Here are a few ideas and tips:
Print out enough copies of each shape scavenger hunt for your kids. You might want to have a few extra copies on hand in case they ask to do more!
There are two sizes of each scavenger hunt. One size is a full page. The other has two of the same scavenger hunt on one full page (two half-sheets). Younger kids might prefer to use the full page version for coloring in larger shapes.
Give your kids crayons, color pencils, or markers to fill in shape when they find it.
Challenge your kids to identify the shape before coloring. You can encourage your kids to describe the shape and what makes it unique.
Older kids can be challenged with spelling the name of the shape.
For a bit of extra fun, let your kids use stickers or stamps to fill in the shapes as they go.
Sntieecr 1000 Pieces Assorted Colors Foam Geometry Stickers Mini Self-Adhesive EVA Foam Stickers with a Drawing Pencil and Scissors for Children DIY Arts and Crafts (Circle, Square, Triangle)
Sticker Forms Self Adhesive Stickers-Geometric Shapes 105/Pkg
Chenille Kraft Wonderfoam Assorted Shape Decorative Foam Shape, Assorted Size, Assorted Color, 0.5 lb Tub, Pack of 3000
Trend Enterprises Inc. Basic Shapes superShapes Stickers, 800 ct
Kuqqi 12pcs Assorted EVA Sponge Painting Stamper Foam Sponge Brush Painting Tools for Painting Drawing Crafts and DIY
LGEGE 10 Pcs Paper Punch Handmade Hole Puncher Paper Craft Card Scrapbooking Many Shapes Great Childeren's Gifts
If you want to lengthen a Shapes Scavenger Hunt, challenge your kids to find more than one of each shape. They can use tally marks to record their findings.
Another awesome way to extend the fun with these scavenger hunt activities is to laminate the printables. Give your kids dry erase markers to complete then wipe off and use again 🙂
Check out these videos about shapes in our world:
Get Your Free Set of Shapes Scavenger Hunt Printables
Ready for some simple math fun with Shapes Scavenger Hunts?
This free printable set includes 4 PDF (printable) pages.
Two pages include 2D shapes with one full page and one page of 2 scavenger hunts on half-sheets.
Two pages include 3D shapes with one full page and another page of half-sheets.
Please print as many copies as you need of these shapes scavenger hunt activities. If you have a friend or co-worker who you think would enjoy this type of simple math fun with kids, please share the link to this post. I truly appreciate your sharing 🙂
To get this free printable pack of Shapes Scavenger Hunts for Simple Math Fun, all you need to do is subscribe to Rock Your Homeschool. You'll receive an email with a PDF download, along with a password to open the Subscriber's Library to all RYHS freebies.
Plus, you'll get emails with ideas, resources, and encouragement to make life and learning fun.
(Psst! Current RYHS members just need to access the Subscriber Freebies page and enter the password in your welcome email. Or get the instant download in the email the week of this post.)
Get your FREE Shapes Scavenger Hunts for Simple Math Fun by clicking HERE or on the image below.
What other ways can you think of to enjoy scavenger hunts for learning fun with kids? Share your ideas in the comments area below 🙂