Free Winnie the Pooh-Inspired Activity Cube to Get Up & Move

This free printable Winnie the Pooh-Inspired Activity Cube is an awesome way to get your kids up and moving. Have interactive fun as you help your kids burn energy as they follow the prompts on this printable cube.
You'll find step-by-step instructions on how to quickly and easily make this activity cube.
Grab your printable paper cube and follow the tutorial for tons of Winnie the Pooh-Inspired fun with your kids 🙂
Are you reading the delightful stories Winnie the Pooh stories with your family or class?
Or maybe you have kids who love Winnie the Pooh and his friends? Then, you'll want to get this printable activity to enjoy 🙂
Enjoy Creative & Interactive Winnie the Pooh Fun!
While I was preparing for our Winnie the Pooh celebration in our homeschool for this January 18 (also the birthday of A.A. Milne, the creator of Winnie the Pooh), I started jotting down fun ways to enjoy this day with my boys. I knew that I wanted some printable activities to add to my arsenal of homeschool fun.
I've found that easy-to-use printable activities are fabulous to have on hand to give to my boys to keep busy yet focused when we're transitioning between fun activities.
So, I created a fun activity pack of Winnie the Pooh-Inspired printables to have in my homeschool fun mom toolbox.
And, I whipped up this Winnie the Pooh-Inspired Activity Cube!!
Ideas for Using this Winnie the Pooh-Inspired Activity Cube with Kids
I know the importance of homeschool brain breaks to keep our day flowing. Brain break activities allow my boys to burn off energy after sitting for a spell. And brain breaks provide me with a chance to catch my breath.
Now, this activity cube has been added to our list of easy homeschool fun activities. So excited to include some of our favorite characters from this children's classic to our brain breaks rotation 🙂
This Activity Cube featuring Winne the Pooh & Friends is also fantastic for:
Birthday Party Fun
Classroom Fun
Fun events at your library
Family Fun
My friend, Susan, shares more amazing ideas at Homeschool Disney for fun ways to enjoy Winnie the Pooh with kids.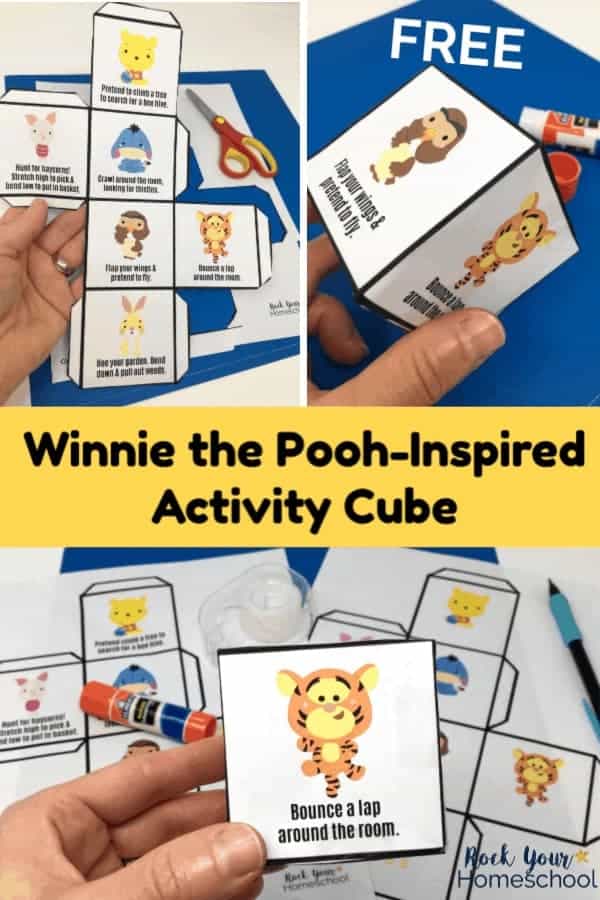 Get Your FREE Winnie the Pooh-Inspired Activity Cube for Interactive Fun
An activity cube is so much fun!
This printable pack includes two pages: one Winnie the Pooh-Inspired Activity Cube with characters and prompts and another page with just the characters (in case you want to make your own fun prompts!).
Friends of Winnie the Pooh featured on this activity cube include:
Piglet
Eeyore
Tigger
Owl
Rabbit
Winnie the Pooh
All you need to do is print and cut out the cube along the edges.
I use a glue stick and tape to adhere the tabs and create the activity cube. (A reader emailed me and said rubber cement and washi tape work well, too!)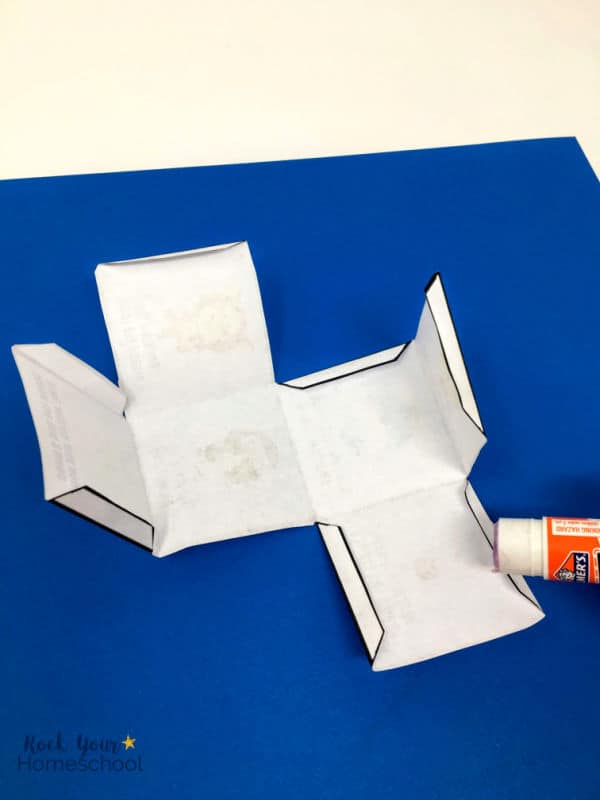 Then, give the Activity Cube featuring Winnie the Pooh & Friends to your kids. Take turns rolling the cube and performing the prompts. Simple yet effective fun!
When you join the Rock Your Homeschool community, you'll receive this printable pack in a PDF file in an email, along with a password that opens the library to all RYHS freebies.
In addition to your freebies, you'll be added to our email list and I'll update you with creative and easy ways to make life and learning fun.
(Psst! Current RYHS members just need to access the Subscriber Freebies page and enter the password in your welcome email. If you have any questions or problems, please email Amy at rockyourhomeschool@gmail.com)
TAP HERE or on the image below to subscribe and get started with these free Winnie the Pooh-Inspired Activity Cube!!
How will you use this Winnie the Pooh-Inspired Activity Cube with your kids?
For brain breaks or in a classroom or birthday party fun? Share your ideas in the comments care below!