Camping Word Search for a Cool Activity for Kids (Free Printable)
This camping word search printable is an incredible way to help your kids get excited about this activity.
This print-and-go word puzzle is an amazing way to prepare for a camping trip or just enjoy a fun challenge.
Learn more and get your free printable word search for kids for camping fun.
Easily Boost Your Camping Experience with Kids
If you're looking for a print-and-go way to enjoy a camping-themed activity with your kids, this free word search is a fantastic choice. It's an easy and excellent way to boost your learning fun.
In the past, I thought that fun with kids involved spending money, time, and lots of energy. After homeschooling 5 boys and maintaining an erratic schedule that's still filled with fun activities, I've learned a thing or two 😉
In fact, I've discovered that the best way to enjoy fun times with kids is to keep it simple. Adults often overcomplicate the process, especially when it comes to celebrating new seasons and experiences.
And, as much as I love to add hands-on activities and experiences to our learning adventures, it's not always possible to get that type of fun going in our homeschool with 5 boys. When our schedule is overflowing or I need to help a few boys with a lesson, I must have easy, open-and-go activities to give the others to keep them focused and engaged.
Word puzzles have been one of the printable activities that I've been using with my boys to celebrate a season or experience AND have learning fun.
As my boys and I get ready to enjoy our fire safety and camping unit study, I thought this free printable camping word search would be a perfect addition 🏕
Learn More About This Camping Word Search Activity
This free printable camping word search includes 3 pages. The first page in the pack is the word search activity and the middle page is the answer key. The last page contains terms of use.
The list of words (20) with camping themes that your kids will search for include:
Flashlight
Adventure
Kindling
Backpack
Wildlife
Lantern
Hammock
Canteen
Fishing
Compass
Bonfire
Trail
Cabin
Canoe
Boots
Kayak
Hike
Tent
Gear
Map
Fun Ideas for Enjoying This Word Search for Kids
Do you think these free word search printables look boring? Well, good news! You can boost the learning fun of these camping activities with these ideas:
Provide a variety of writing tools for your kids to use to complete this camping worksheet. Erasable pens, highlighters, and color pencils are big hits in our home.
Enjoy camping-themed spelling fun! Use the 20 words as spelling words for the week.
While you're having all that spelling fun, your kids can use a dictionary and get in some vocabulary practice by writing down the definitions, too.
Flip over the word search and use the back of the printable page to write sentences, doodle, and other DIY challenges (like crack the code, trivia, and more).
Oh, and you can also use the back of the paper to add different words that are part of camping vocabulary words. A few ideas include bug spray, sleeping bag, and fishing pole.
Consider enjoying a camping unit study soon!
Use for rainy day fun, end of the year theme day, and other educational activities.
Cool Ways to Learn About Camping with Your Kids
Take your camping learning fun to the next level with books and videos.
You may want to use these resources before or after using your word search. Do they like to have an activity to get them excited for more learning? Or do they prefer reading and watching a video before doing an activity?
If you're not sure, no worries! Choose one way and just go for it. Then, learn from those experiences and apply it to your next printable activity fun 😉
Here are a few books with camping themes that are fun with kids:
Get Your Free Camping Word Search for Kids
WooHoo! Your kids will have a blast this camping fun activity!
This free printable camping word search puzzle includes 3 pages (activity, answer key, and terms of use page) in PDF format.
You can print as many of these worksheets as you need for your personal use, family, class, homeschool co-op, or community event. If you have a friend or co-worker who might like to use this sort of camping activity with kids, I merely ask that you please share this post with them. Thanks so much!
To get this free printable camping word search worksheet, subscribe to Rock Your Homeschool with your email address.
You'll receive an email with a PDF file, along with a password to open the Subscriber's Library to all Rock Your Homeschool freebies.
Plus, you'll get emails with ideas, resources, and encouragement to make life and learning fun 🙂
(Hey there! If you're a current RYHS member, you just need to access the Subscriber Freebies page and enter the password in your welcome email. If you have any problems or questions, please email Amy at rockyourhomeschool@gmail.com)
Get your FREE Camping Word Search by tapping HERE or on the image below.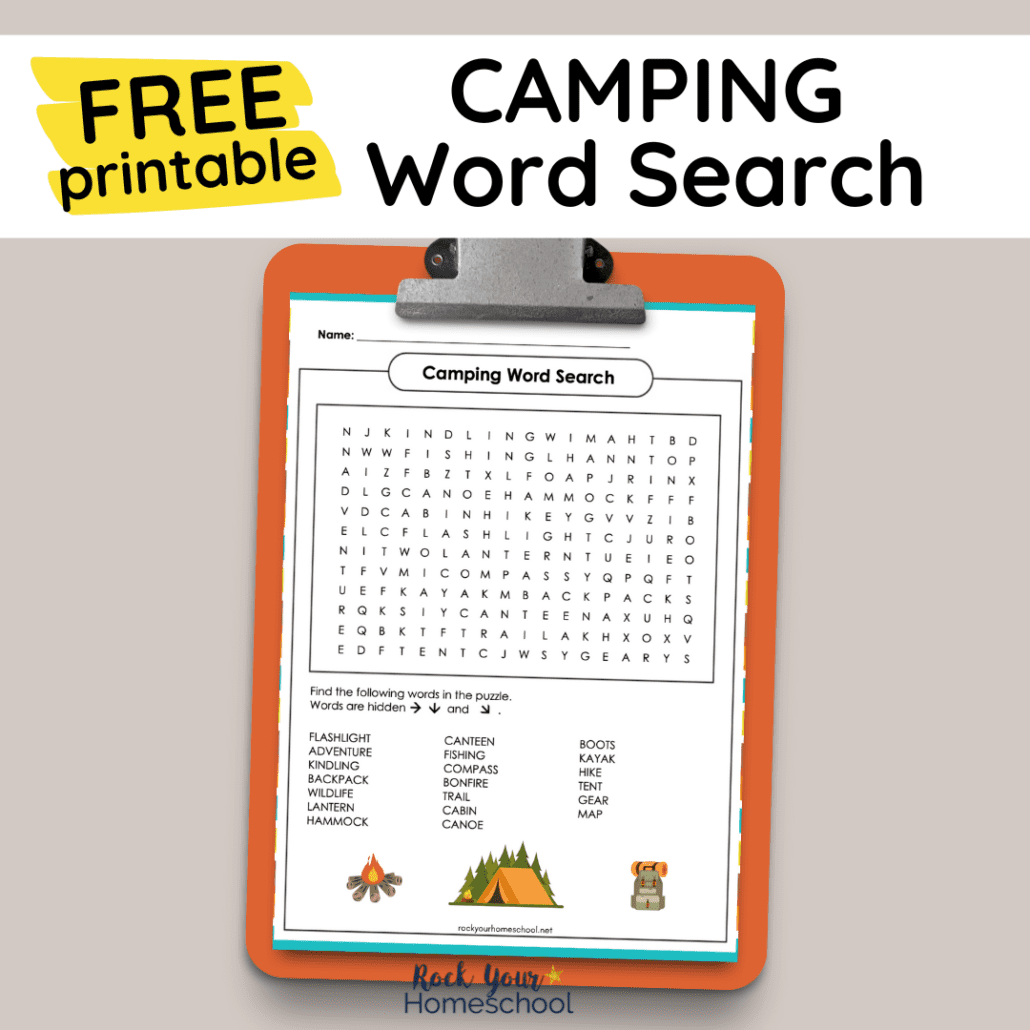 Love camping? This fun word search is a great way to help you kids enjoy this type of themed activity!
More Fun & Free Word Searches for Kids