Free Fall Fun Word Search for Easy Activity with Kids
Looking for an easy yet fun seasonal activity to enjoy with kids?
This free Fall Fun Word Search printable is an excellent challenge with Autumn-themes.
Find out more about this free word search for kids and how you can get your activity today!
Enjoy Word Search Fun with Kids!
Do you or your kids enjoy word search activities?
I've always been a big fan of all types of word puzzles. Crossword, word scramble, and break the code. Word search puzzles were my gateway into these other awesome challenges.
Now, all five of my boys are word puzzle lovers! My older boys love to work on these puzzles while they eat snacks or as fun brain breaks.
My younger boys join me in solving a puzzle. I've found these special times to be great ways to connect as my boys learn and grow 🙂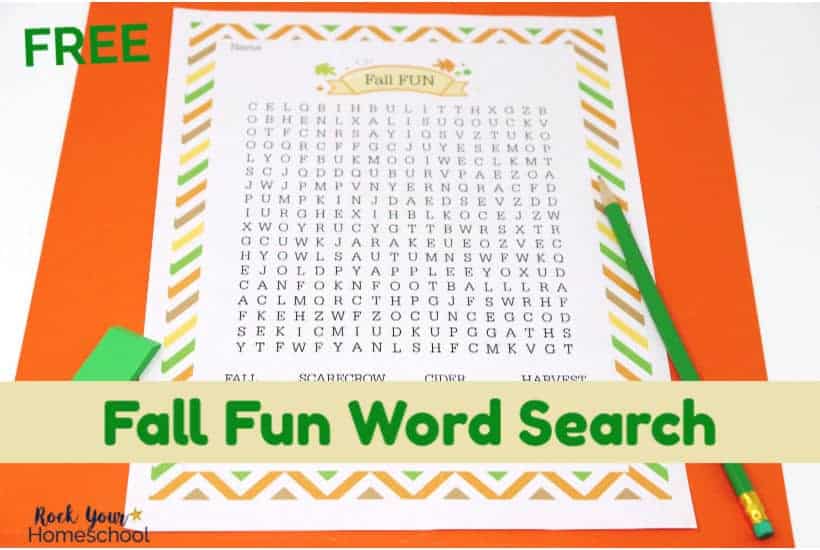 Why Word Searches Are Fantastic Activities for Kids
There are several benefits of word puzzles for kids. Here are a few of my favorite reasons for encouraging my boys to enjoy this type of learning fun:
Challenge: Word puzzles make you pause and think. Often, puzzles take some time to complete. While kids are working on puzzles, they're practicing growth mindset skills like perseverance, self-control, and self-esteem.
Screen-free activity: These printable puzzles are fun ways to get kids off screens.
Improve spelling skills: As kids study the word list and search for letters, they're thinking about the spelling of the word. An excellent way to practice spelling all types of words!
Brain breaks: Word puzzles are fantastic ways to take a break between lessons. We've found that activities like word puzzles give the boys a nice change of pace to their homeschool day without letting them get completely off track 😉
Independent or small group work: Kids can work on these activities independently or in small groups or teams. My younger boys love to be buddied up with an older brother or mom. The older participant serves as a model and demonstrates different strategies for completing the puzzle. The younger participant benefits from learning these strategies and building self-confidence.
Morning warm-up: Word puzzles are simple ways to help your kids' brains get going in the morning. Also, these activities can be sanity savers if you're not quite ready to start the day and you need to keep your kids busy!
Learn More About This Fall Word Search Activity
This free printable fall word search is on one printable page (plus terms of use page).
Featuring themes for this wonderful season, you'll search for fall words like:
Fall
Hay
Pie
Owl
Autumn
Scarecrow
Gourd
Squirrel
Apple
Leaves
Cider
Jacket
Pumpkin
Acorn
Football
Harvest
Corn
Sunflower
Rake
Colorful
Creative Ideas for Boosting the Fun with This Autumn Word Search Puzzle
Think this free fall word search printable look boring? Well, no worries! A great way to boost the learning fun of these activities is to use these ideas:
Make fun writing tools available for your kids to use to complete this fall worksheet. Erasable pens, highlighters, and color pencils are big hits in our home.
Have some holiday-themed spelling fun! Use the 20 words as spelling words for the week.
While your kids are having all that spelling fun, they can also use a dictionary and get in some vocabulary practice by writing down the definitions, too.
Turn over the word search and use the back of the printable page to write sentences, doodle, and other DIY challenges (like crack the code, trivia, and more).
You can also use the back of the paper to add different words that are part of fall-themed vocabulary words.
Older kids can translate the list of words into the foreign language that they're studying.
Enjoy other free fall fun, like our fall photo challenge, fall walk scavenger hunt, and fall mindfulness activities.
Get Your Free Fall Fun Word Search Printable
Want to enjoy this amazing Fall Fun Word Search printable activity with your kids?
You'll receive one page of Fall Fun Word Search. Simple Fall-themed decor provide a nice touch.
You can print out as many copies of this word search activity as you need for your personal use, classroom, homeschool, co-op, or library. If you have a co-worker, friend, or family member who you think might like to include this activity in their seasonal celebration, please share the link to this post 🙂
When you join the Rock Your Homeschool community, you'll receive this printable page of a fall word search puzzle in a PDF in an email, along with a super-secret password that opens the vault to all RYHS freebies.
In addition to your freebies, you will get emails with easy ways to make life and learning fun 🙂
(Psst! Current RYHS members just need to access the Subscriber Freebies page and enter the password in your welcome email. Please email Amy at rockyourhomeschool@gmail.com with any questions!
Tap on the image below to subscribe and get your free printable Fall Fun Word Search activity!
How will this Fall Fun Word Search activity boost your seasonal celebration? What other fall-themed words (like apple pie, pumpkin pies, pine cone, and hay bale) would you add to this list? Share your ideas in the comments area at the bottom of this post!