Summer Playdough Mats: Enjoy Hands-On Fun Activities for Kids (12 Free)
Summer playdough mats are super cool ways to provide your kids with creative, hands-on activities to celebrate the season.
Add these free printable playdough mats to your summer fun for kids collection.
These printable activities are perfect ways to boost summer learning fun, especially when you need something simple to keep kids busy when the weather is too hot to go outside.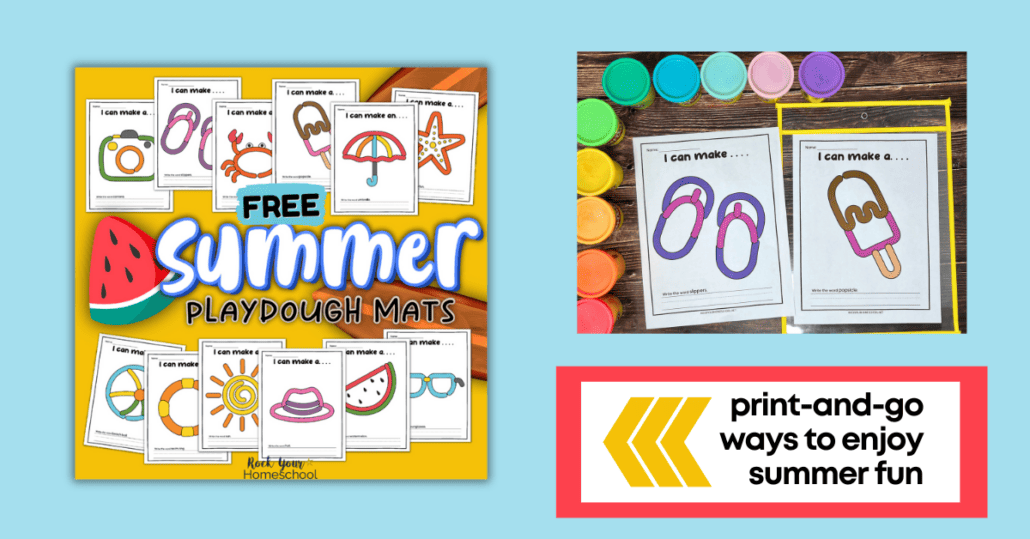 Simple Ways to Add Creativity & Color to Summer Fun Activities
Depending on where you live, the summer months can be rough.
Blistering heat and humidity can make it nearly impossible to go outside for play or nature study.
If you have kids and live in this type of area where summer can be brutal, you know how important it is to have a variety of fun indoor activities and boredom busters to enjoy 😊
Here in western Pennsylvania, the summer weather isn't too bad. But, my friends in the South of the United States have told me how rough it can be to enjoy outdoor time in the summer.
I still plan and prepare simple activities to keep my boys busy. All of us can only take the heat and sun for so long. And I try to provide as many screen-free activities (like our Super Mario perler bead pattern pack) as I can!
My younger boys have thoroughly enjoyed our playdough mats with holiday themes (like our free Christmas and Cinco de Mayo playdough mats). I decided to make a set with seasonal themes to celebrate summer (and keep them busy when we need a cool indoor activity). Such a great way to have tons of fun while working on fine motor skills and more!
Learn More About This Free Set of Playdough Mats
This free printable pack of summer playdough mats includes 24 pages (12 color and 12 black-and-white).
Your kids will be able to get awesome hands-on practice (especially fine motor skills) with summer themes. Each page includes:
Name
I can make a…
Summer item
Write the word ______ (the featured summer item) with dotted line
The summer items included in this printable pack are:
Sun
Flip flops
Popsicle
Watermelon
Sunglasses
Beach ball
Umbrella
Camera
Lifesaver
Sun hat
Crab
Starfish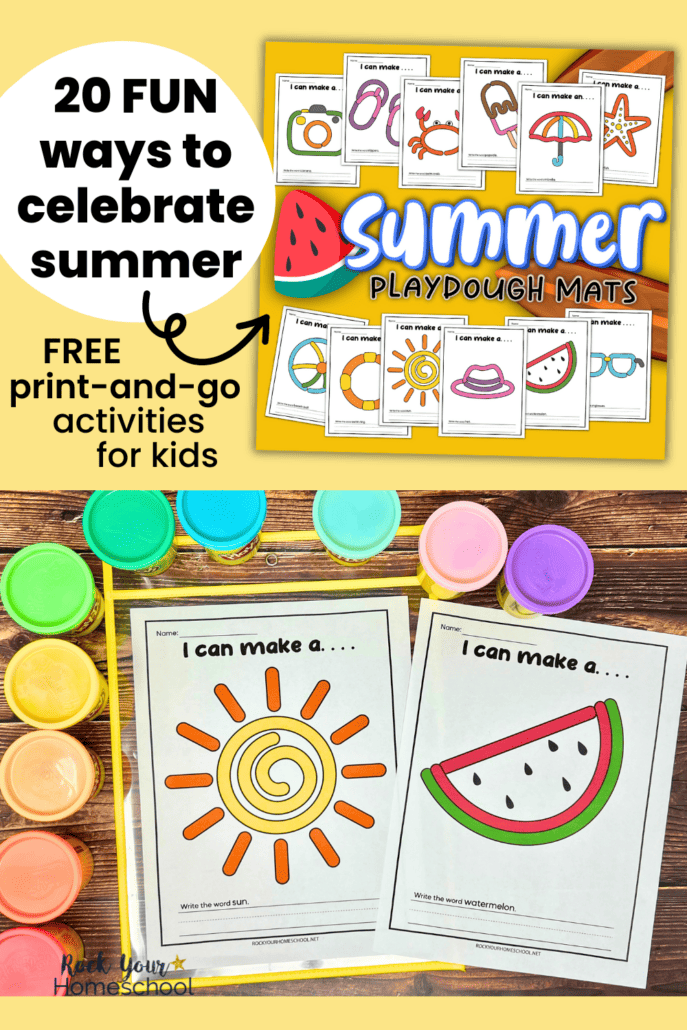 Tips for Making the Most of Your Fun with Playdough Mats
With this free pack of 24 free playdough face mats featuring summer items, I suggest that you take these steps to extend how long you can use and enjoy them.
One idea is to laminate your printables OR use dry erase pockets (or page protector) so your kids can use these activities again and again!
Also, consider printing on white cardstock.
Use dry erase markers to customize the black-and-white playdough mats.
Use those dry erase markers to practice copying summer theme words.
Challenge your kids to think of other summer items – and create their own on the back of the pages.
Print out multiple copies of each summer playdough mat. Your kids can also use these printable pages for fun coloring activities. You can also use these printable sheets for painting or tracing templates.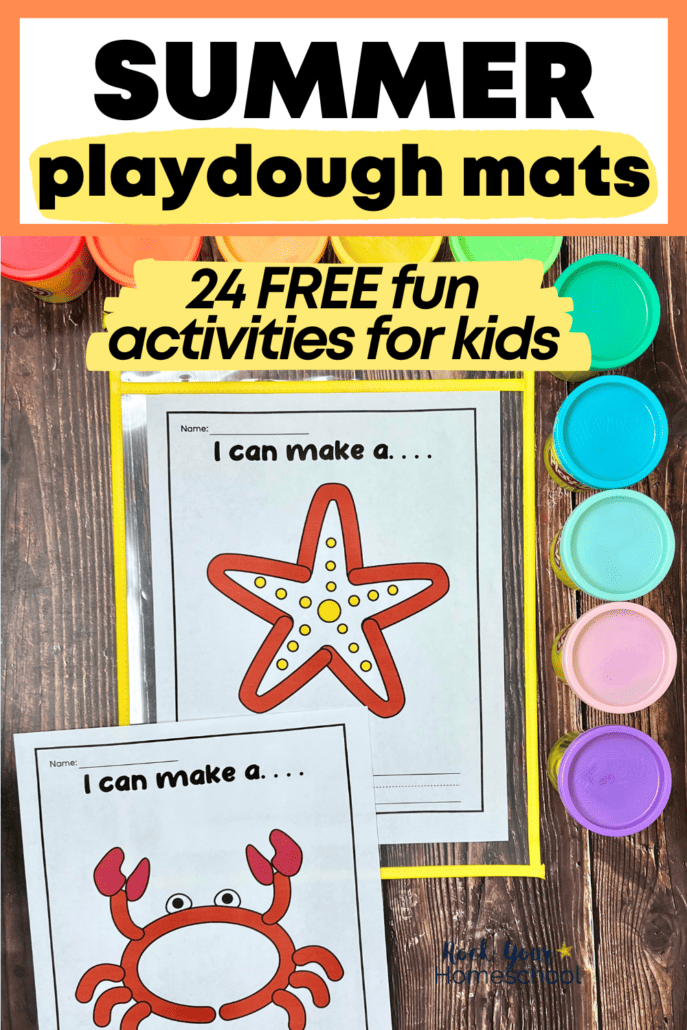 Sensational Ideas for Using These Summer Playdough Mats
You can use these free printable playdough mats in so many ways for helping your kids enjoy hands-on activities this summer!
With the mats in color, you can try to match your playdough to the colors on the summer items. Or get creative and use what you like or have.
With the black-and-white mats, feel free to use your imagination. Pick a variety of colors. Create a rainbow of playdough (my boys have a blast with this idea!) and add.
You can also put the playdough in your hands and roll back and forth to make "snakes" (that's what we've always called them). Or roll small balls.
Another idea is to place a large amount of playdough on the mat and use a rolling pin to flatten. Then, use a dull knife or other tool to "cut out" the pieces. It's a fun way for little hands to make these summer themes!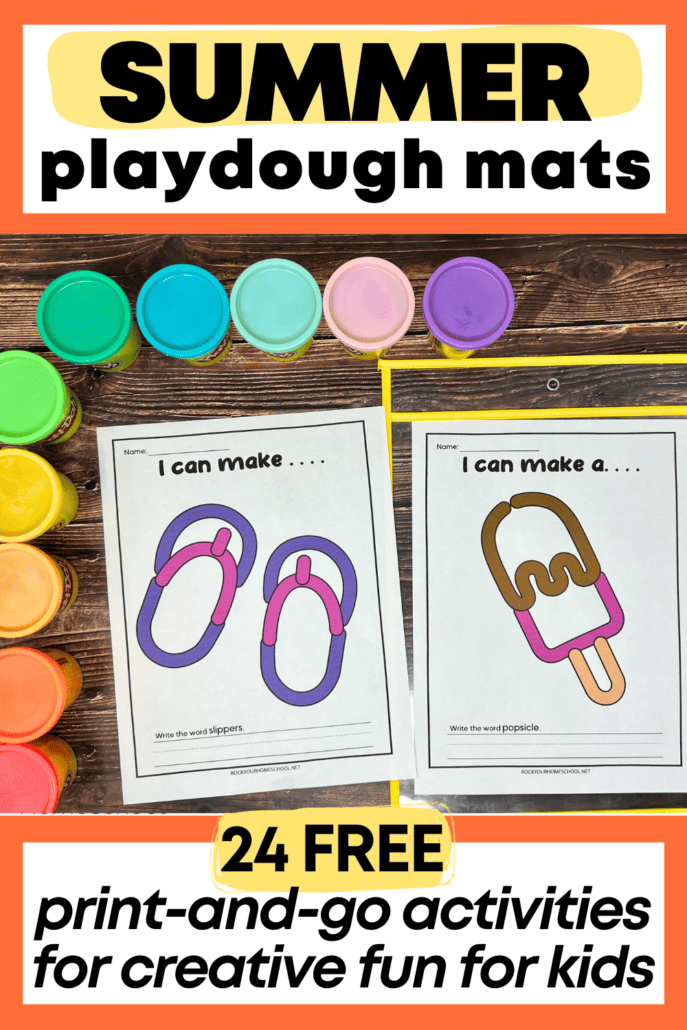 Get Your Free Summer Playdough Mats for Creative Fun
Hurray! These fun playdough mats will be super summer activities for your kids.
This free PDF (printable) pack includes 24 pages (12 color and 12 black-and-white) of summer-themed playdough mats.
I'd love it if you share this activity with your friends, family, or co-workers. If you do, I ask that you please give them the link to this post. Thanks in advance for your cooperation and sharing!
To get this free set of Summer Playdough Mats, simply subscribe to Rock Your Homeschool.
You'll receive an email with a PDF file, along with a password to open the Subscriber's Library to all RYHS freebies.
Plus, you'll get emails with ideas, resources, and encouragement to make life and learning fun 🙂
(Hey there! Current RYHS members can access the Subscriber Freebies page and enter the password in your welcome email. If you have any questions or problems, just email Amy at rockyourhomeschool@gmail.com)
Get your FREE Summer Playdough Mats by tapping HERE or on the image below.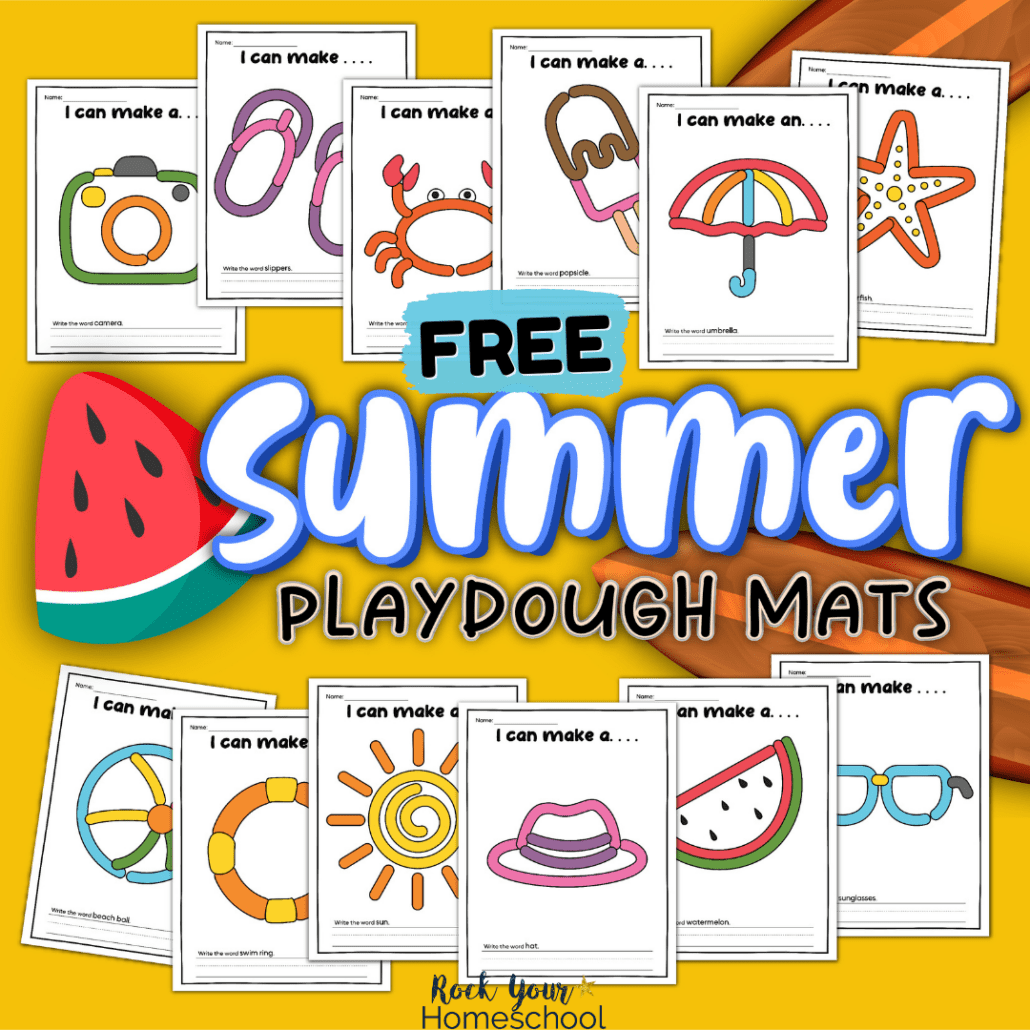 More Fun & Free Playdough Mat Activities for Kids