Christmas Party Poppers: How to Make These Holiday Crackers
Christmas party poppers are super simple yet fun ways to surprise kids with special holiday treats.
Kids will be thrilled to get these easy-to-make Christmas treats (that are also affordable!).
Find out how to make these DIY Christmas treats for kids and get creative ideas for sharing, too.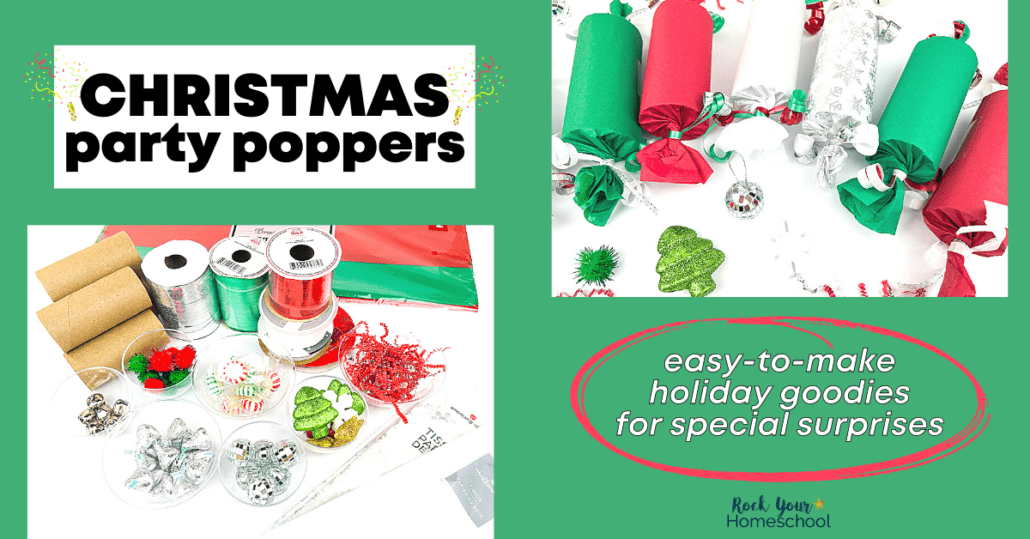 Easily Add a Creative Twist to Your Christmas Celebration
Looking for ways to make this Christmas extra special for your kids? Try Christmas poppers (a.k.a. Christmas crackers).
These frugal treats (and party favors) are simple to make, adorable, and totally customizable. Plus, each party popper can be filled with a variety of Christmas treats.
As my boys get older, I find myself looking for new and creative ways to make our holidays rock. And I love to add special touches to our homeschool Christmas celebration!
These Christmas party poppers will be such a hit with my boys. I'm just about bursting to surprise them with these holiday goodies as we make our own Christmas crackers.
The best part is that these party poppers are affordable ways to take our holiday celebration to the next level. I'll be using candy and little treats that I'd already be giving them. These Christmas party popper ideas will add a special touch and bit of mystery 😊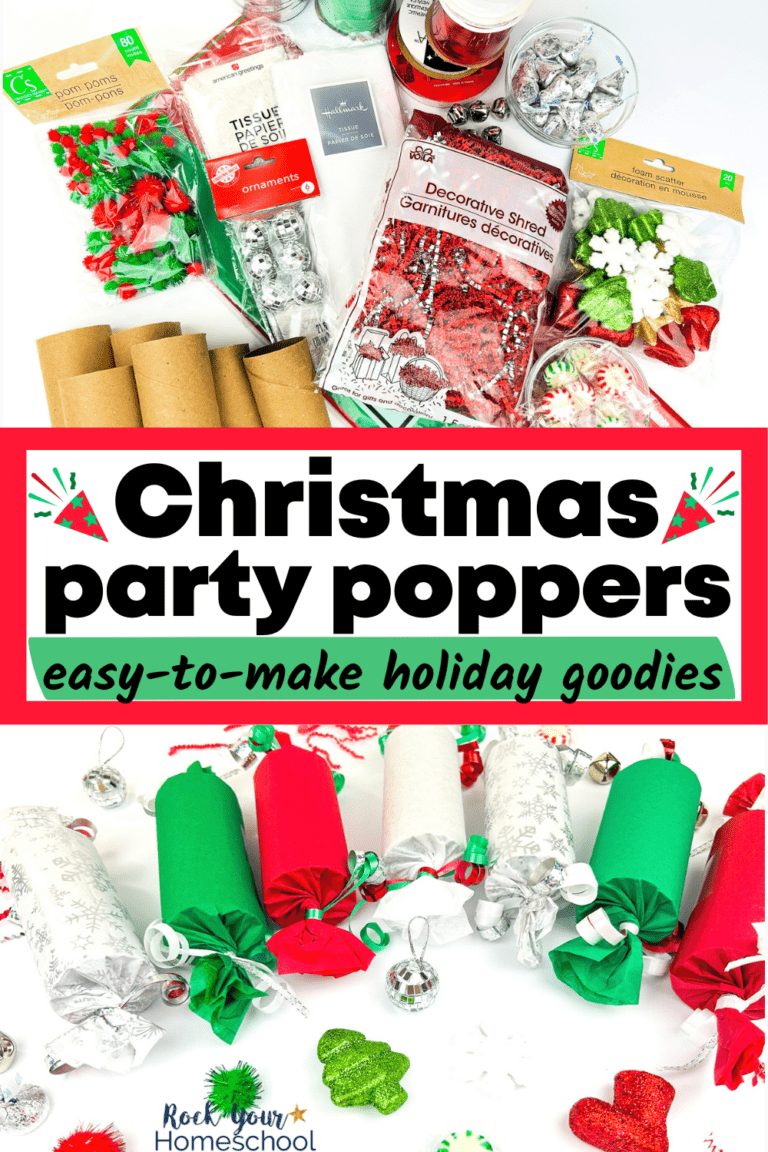 Terrific Supplies for Your Surprising Christmas Treats
To make the Christmas party poppers, you only need a few materials. And you probably have most of these supplies already in your home.
Christmas party poppers
Suggested Supplies:
Tissue paper (red, green, white, snowflake, or other holiday themes)
Toilet paper rolls
Small toys or favors
Candy
Ribbon
Scissors
Pom poms
Tape
How to Make Your Christmas Party Poppers
Making these holiday party poppers is rather easy. You can follow the directions below. And feel free to customize how you make them. Get creative and use supplies that you have!
Cut the tissue paper down to fit the toilet paper roll, leaving about an inch or more on each side.
Place Christmas candy, toys, and/or paper shred into each toilet paper roll.
Roll the toilet paper roll up in the tissue paper.
Twist the edges on the side and tie together with a piece of ribbon (or string, yarn, or pipe cleaner) until it's closed well.
Repeat this process to create the number of party poppers you'd like to give.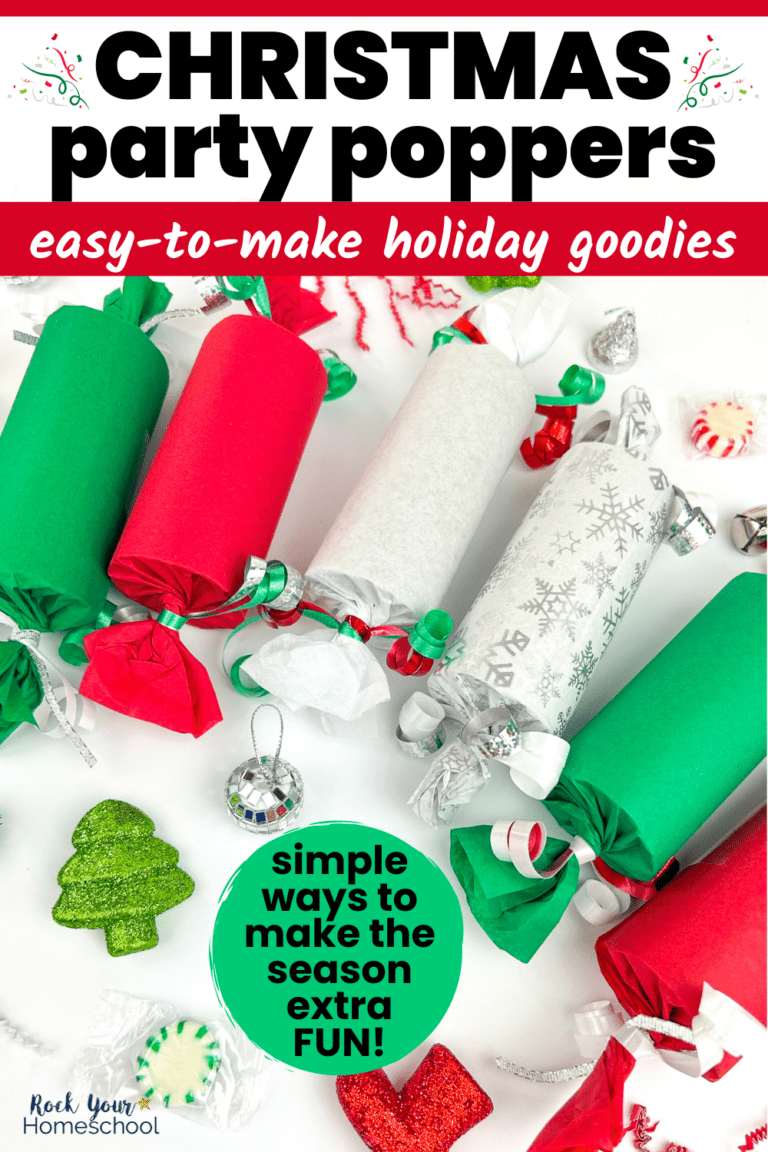 FAQs on Making Christmas Party Poppers
Are empty toilet paper rolls necessary? Can I use something else?
I recommend using empty toilet paper rolls to help your party poppers retain their shape AND make the treats inside a surprise. If you'd like a bigger treat (for example, have Christmas pencils to add), you could use empty paper towel rolls.
What are some fun treats to add to our Christmas party poppers?
Awesome question! A few ideas include candy pieces, lollipops, stickers, stamps, mini-erasers, coins, small toys, and anything else fun that fits.
I want to add a name and special message to the party poppers. What are some fun ideas?
You can use a permanent marker to add the name and message. Another idea is to make a small gift tag out of cardstock or paper and attach to one of the tied ends. Or write the name and message on a blank sticker label and adhere to the party popper.
Creative Ways to Use These Cool Christmas Treats
Christmas party poppers are, of course, perfect for parties.
Put out these party poppers at your holiday gathering, party, or event. These DIY Christmas treats are also perfect for stocking stuffers and decor.
OH! And you can easily use these Christmas party poppers as daily surprises leading up to the big day! Simply use a permanent marker to write a number (depending on how many days you decide to do prior to the holiday) and have your kids open for fun treats.
If you prefer to go candy-free (or sugar-free), you can customize these party poppers with small toys and other treasures.
I'm going to hide these party poppers around our homeschool area for my boys to find. Then, I'll assign each boy a color and they will get to search for their own. Since my boys love all types of scavenger hunts, I think this activity is going to be a huge hit.
Make This Christmas Extra Special with Party Poppers!
If you're looking for an easy, affordable, and fun way to take your holiday celebration and special event to the next level, party poppers are the way to go.
You'll have a blast making these special goodies. And kids will be talking about these surprises for years to come.
Your turn: Please share your ideas on things to add to these Christmas Party poppers in the comments are below!
Wishing you very Merry Christmas and a Happy Holiday season with your kids!
More Fun & Frugal Ways to Enjoy Christmas Fun with Kids