Free Earth Day Challenge for Kids: Creative Way to Make it Fun
An Earth Day challenge can be such an excellent way to celebrate this special event with kids.
It's a fun and creative way to celebrate Earth Day this year.
This free printable challenge is packed with 22 fun ways to get kids excited about taking care of our planet. From making eco-friendly DIY projects to learning about conservation, this challenge is sure to keep kids entertained and learn something new along the way.
So why wait? Get the challenge today and start celebrating Earth Day in style!
Enjoy a Special Earth Day Challenge for Kids
Give your kids an excellent challenge this Earth Day!
They'll love this free Earth Day Challenge for Kids! You'll find 22 fun ways to get kids excited about taking care of our planet.
This challenge was created for families that want their children to have an opportunity each day during the weeks leading up to Earth Day that encourage them to be creative and learn more about our beautiful planet.
With over twenty different activities, from crafts to learning about recycling, this printable challenge is sure to pique your child's curiosity and have them excited for Earth day this year!
Although it would be great if you could do all of these ideas, don't sweat it if you can't get to all of them. Go over the ideas in this chart with your kids. Chat about and circle activities that you want to make sure to enjoy.
And, of course, you can extend the Earth Day fun by doing activities throughout the year!
Earth Day Challenge to Take Your Celebration to the Next Level
Day 1: Plant Some Seeds
Challenge your child to plant some seeds and watch them grow!
This activity is a great way to teach them about the life cycle of plants and how they grow from tiny seeds into big plants.
One idea is to place a damp paper towel and a few kidney beans in a clear sandwich bag. Tape to a window that gets moderate sunlight. Awesome way to observe sprouting seeds!
Last Spring, my boys used an organic eco egg kit from Back to the Roots to sprout seeds. Educational and fun activity 🙂
This year, we're going to try this Back to the Roots Organic Microgreens Kit.
Day 2: Turn Off The Light When You Leave The Room
Challenge your child to turn off the lights when they leave the room. This simple step is a wonderful way to save energy and help reduce your carbon footprint.
Day 3: Use a Reusable Straw
Research why the benefits of using a reusable straw instead of a disposable one. This step is a great way to reduce plastic waste and help preserve our planet.
Senneny Set of 5 Stainless Steel Straws with Silicone Flex Tips Elbows Cover, 2 Cleaning Brushes and 1 Portable Bag Included (8mm diameter, Silver)
SeaTurtle Silicone Straws – Pack of 10 Reusable Silicone Drinking Straws with Cotton Carry Bag and 2 Cleaning Brushes – Eco Friendly Straw – Extra Long Flexible Straws – Sustainable Products
ALINK 12-Pack Glitter Reusable Clear Plastic Straws, 11
Day 4: Recycle to Boost Your Earth Day Challenge
Chat about ways that your child can recycle their trash. Make a list of things to recycle. This activity is a fantastic way to teach kids about the importance of recycling and how it can help reduce our environmental impact.
Day 5: Donate Clothes You No Longer Use
Challenge your kids to donate their clothes that they no longer use to a local charity. It's a wonderful way to give to others and help reduce textile waste.
Day 6: Go For a Walk
Simply go for a walk.
Get outside and appreciate all that nature has to offer. When your kids are more aware of the value of nature, they're more likely to take better care of it.
Day 7: Pick Up Trash as Part of Your Earth Day Challenge
Brainstorm places that you can pick up trash. A few ideas include your yard, a local park, playground, or elderly neighbor's place.
Remember to wear gloves and be careful when picking up objects. Also, make sure to have a garbage can or dumpster to place what you've collected. If any items are recyclable, look for those types of containers.
Day 8: Turn Off The Water While Brushing Your Teeth
You can save about 3-4 gallons of water by turning off the water while brushing their teeth. Great way to save water and help preserve our planet!
Day 9: Start a Compost Pile as Part of Your Earth Day Challenge
Begin a compost pile with your kids. Get tips and ideas on how to get started in step 2 of 6 Excellent Environmental Homeschool Projects for a Cleaner World. Such a smart way to recycle food scraps and help reduce your environmental impact!
Day 10: Use Cloth Bags Instead of Plastic Bags
Reduce plastic waste and help preserve our planet by switching to cloth bags instead of plastic bags when grocery shopping.
Day 11: Choose a Reusable Water Bottle
Choose and use a reusable water bottle instead of disposable bottles. Your kids have so many cool options that even make drinking water fun.
Hydro Flask Wide Mouth Flex Cap Bottle – Stainless Steel Reusable Water Bottle – Vacuum Insulated, Dishwasher Safe, BPA-Free, Non-Toxic
Reduce WaterWeek Reusable Water Bottle Set, 20oz – Plastic Reusable Water Bottle Set of 5, Plus Fridge Tray – BPA-Free, Leak Proof Twist Off Cap – Bliss
Controller Gear Baby Yoda Water Bottle-Star Wars The Mandalorian The Child, Wide Mouth, Vacuum Insulated Stainless Steel Sport Water Bottle, Leak Proof, Official Disney Merch – Not Machine Specific
ZORRI Sports Water Bottle Leak Proof, BPA Free Reusable Portable Sports Bottle for Outdoors, Cycling, Camping, Hiking, Fitness, Running, Gym Bottles with Filter, One Click Flip Cap – for Kids/Adults
Nalgene Kids On The Fly Water Bottle, Leak Proof, Durable, BPA and BPS Free, Carabiner Friendly, Reusable and Sustainable, 12 Ounces
Simple Modern 14oz Disney Summit Kids Water Bottle Thermos with Straw Lid – Dishwasher Safe Vacuum Insulated Double Wall Tumbler Travel Cup 18/8 Stainless Steel – Disney: Mickey Ears
Day 12: Build a Bird Feeder for Your Earth Day Challenge
Research and build a bird feeder. Teach your kids about the importance of conservation and how they can help protect our planet's wildlife.
Day 13: Use Both Sides of The Paper When Writing
Challenge your child to use both sides of the paper when writing. You can save so much paper and help reduce your environmental influence.
Another awesome thing to do is to use the back side of worksheets and printable pages for work, doodling, and jotting down notes.
Day 14: Take a Shorter Shower
Make it fun to take a shorter shower. Use a timer and challenge your child to take a complete shower within that time limit. Chat about ways to get quicker and be more efficient in the shower.
Classroom Timers for Teachers Kids Large Magnetic Digital Timer 2 Pack
Kikkerland Penguin Kitchen Timer
Secura 60-Minute Visual Timer, Classroom Countdown Clock, Silent Timer for Kids and Adults, Time Management Tool for Teaching (Blue)
Day 15: Repurpose Old Clothing
How can you repurpose old clothing into something new? Brainstorm different ways that you can do this activity.
A few ideas include:
Day 16: Read a Book About The Earth
Pick a book or two about the Earth. You can check out a few of our favorite books with Earth themes here.
Day 17: Reduce Plastic Use
Chat about ways to reduce their plastic use. Think about how to use reusable items instead.
Day 18: Go on a Nature or Earth Day Scavenger Hunt
Enjoy a nature or Earth Day scavenger hunt. It's an excellent way to get them outdoors and teach them about the animals and plants that live in our world.
Day 19: Ride a Bike as Part of Your Earth Day Challenge
Depending on where you live, you could ride your bikes instead of taking a car. Get some exercise and decrease your carbon footprint.
Day 20: Sort Out Glass, Paper, and Plastic
Got recycling bins? I hope so!
Challenge your child to sort out glass, paper, and plastic. Amazing hands-on activity to teach your kids about recycling and how it can help to keep our planet healthy.
Day 21: Buy Local Produce
Look for a local farmer's marker. Buy produce and such to reduce food waste and help support our local farmers.
Day 22: Happy Earth Day!
Spend this day talking to your child about Earth day and why it is important to care for our home planet. Enjoy a special Earth Day celebration!
More Earth Day Ideas and Activities:
Get Your Free Printable Earth Day Challenge for Kids
High five! You're on your way to enjoying a special Earth Day with your kids.
This free printable Earth Day Challenge for Kids includes one page with chart of 22 ideas.
You can most certainly print as many of these challenge charts as you need for your personal use, family, class, homeschool co-op, or community event. If you have a friend or co-worker who might like to have this type of Earth Day fun, I ask that you please share this post with them. Thanks so much for your cooperation!
To get this free Earth Day Challenge for kids, simply subscribe to Rock Your Homeschool.
You'll receive an email with a PDF file, along with a password to open the Subscriber's Library to all RYHS freebies.
Plus, you'll get emails with ideas, resources, and encouragement to make life and learning fun 🙂
(Psst! Current RYHS members just need to access the Subscriber Freebies page and enter the password in your welcome email. If you have any problems or questions, please email Amy at rockyourhomeschool@gmail.com)
Get your FREE Earth Day Challenge by tapping HERE or on the image below.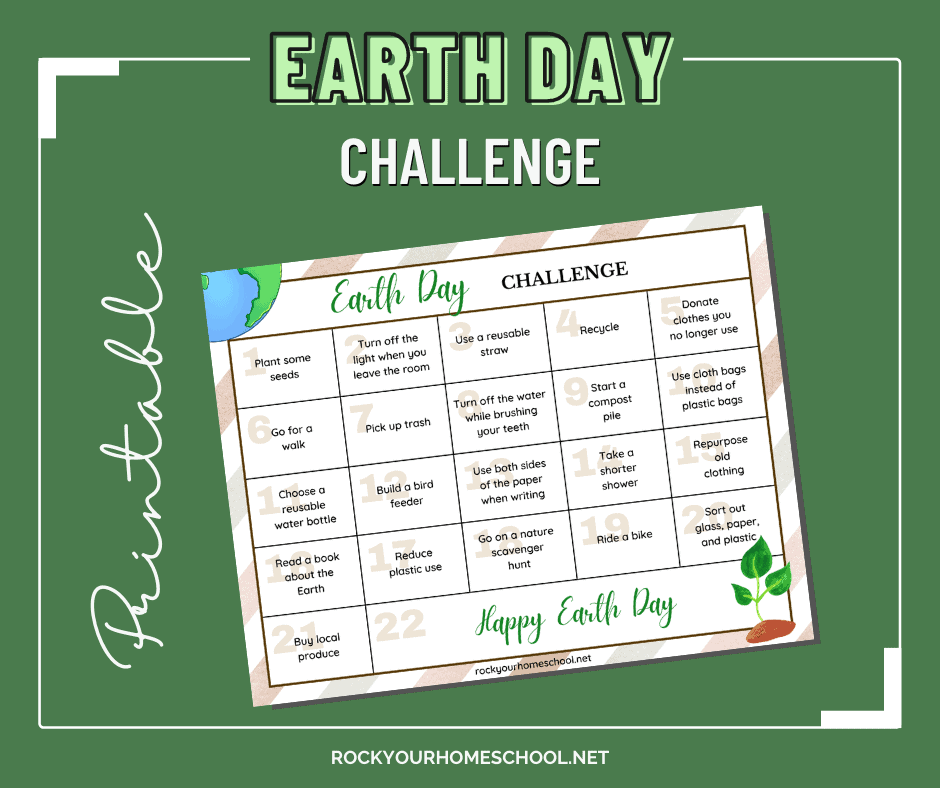 This Earth Day Challenge Makes It Educational & Fun
Earth Day is a great time to teach your children about the importance of taking care of our planet. There are many ways to reduce your environmental impact. This challenge provides fun ways for kids to learn about conservation and more.
Hope you enjoy an excellent Earth Day challenge! Remember that every little bit helps and it's truly amazing that you're doing your part to help maintain our world. Wishing you a Happy Earth Day!