Family Math Activities: 10 Amazing Ways to Enjoy Learning Fun Together
Family math activities are fantastic ways to boost learning and enjoy time together. You'll love how these simple yet engaging activities create a relaxed atmosphere for learning to take place.
Discover how these practical ideas and tips can help you and your kids make math fun!
10 Family Math Activities That Double as Fun Lessons
Do your kids have a subject that they'd rather clean toilets than do? For my boys, it's writing!
Math is an important subject that a lot of students dread. However, it doesn't have to be that way. Using real-life activities to teach math can help make the subject more relatable and enjoyable.
Additionally, the time spent together is fantastic for your child's development and for your family culture. Families that engage in regular activities together tend to be closer and have better communication.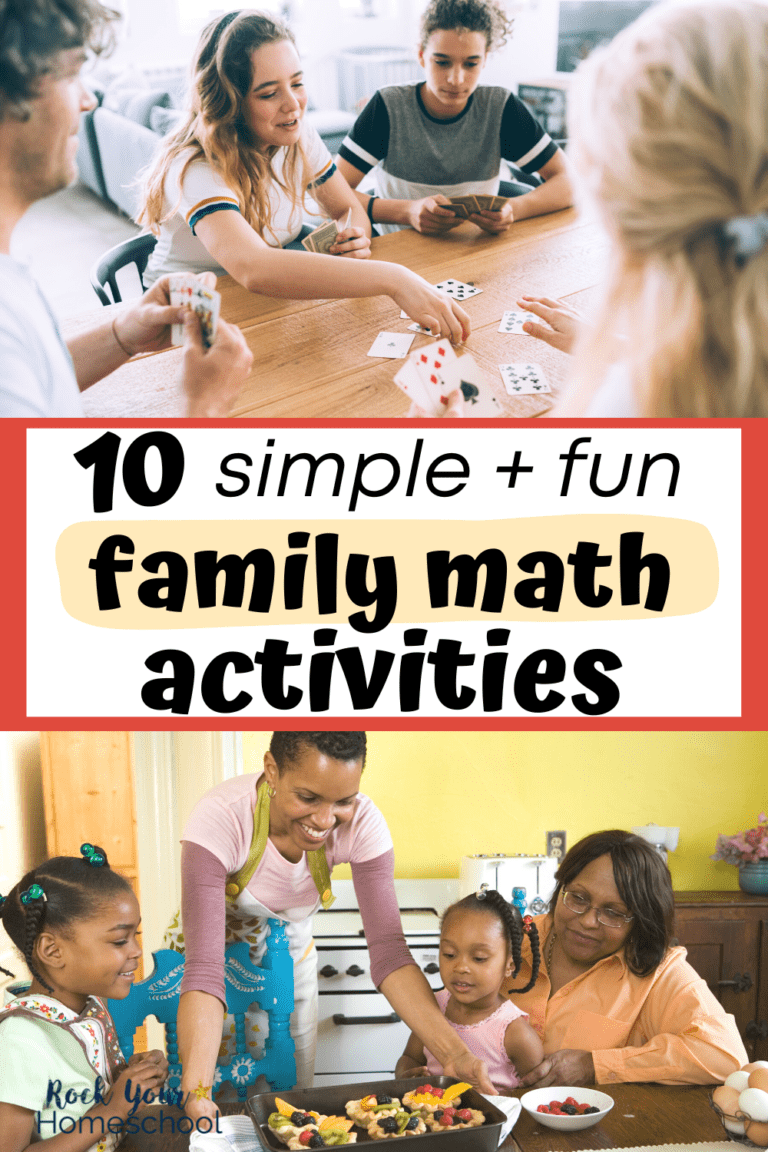 Fortunately, there are many fun and family-friendly activities that also double as math lessons. Here are ten ideas to try for math fun for all:
1. Cooking a Meal Together
Cooking is a great way to teach your child about fractions and measuring.
Have your kids help you measure out the ingredients. Then, let them help you cook the meal. This activity is a sensational way to sneak in some math learning while also spending some quality time together.
You can also start a custom kid-friendly recipe book with this free printable set!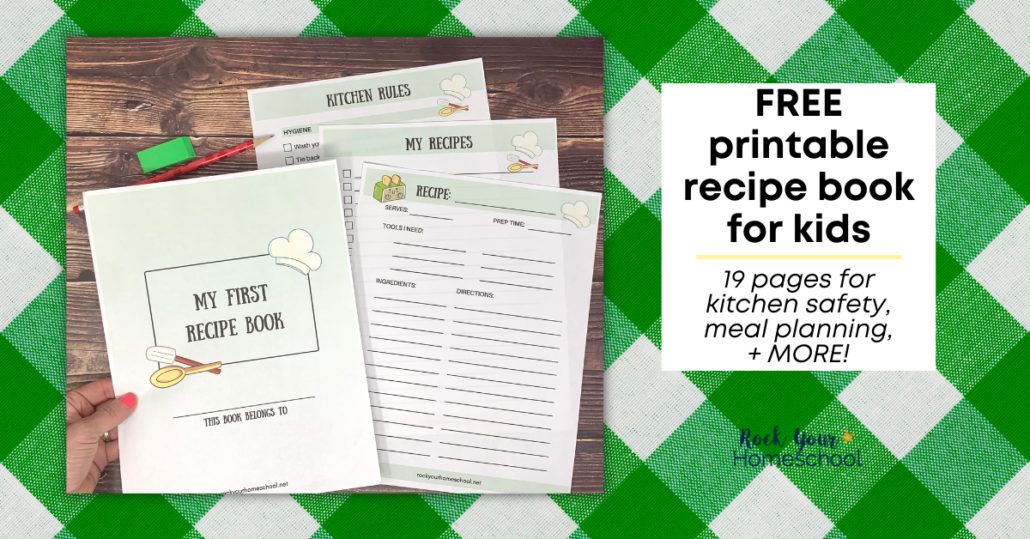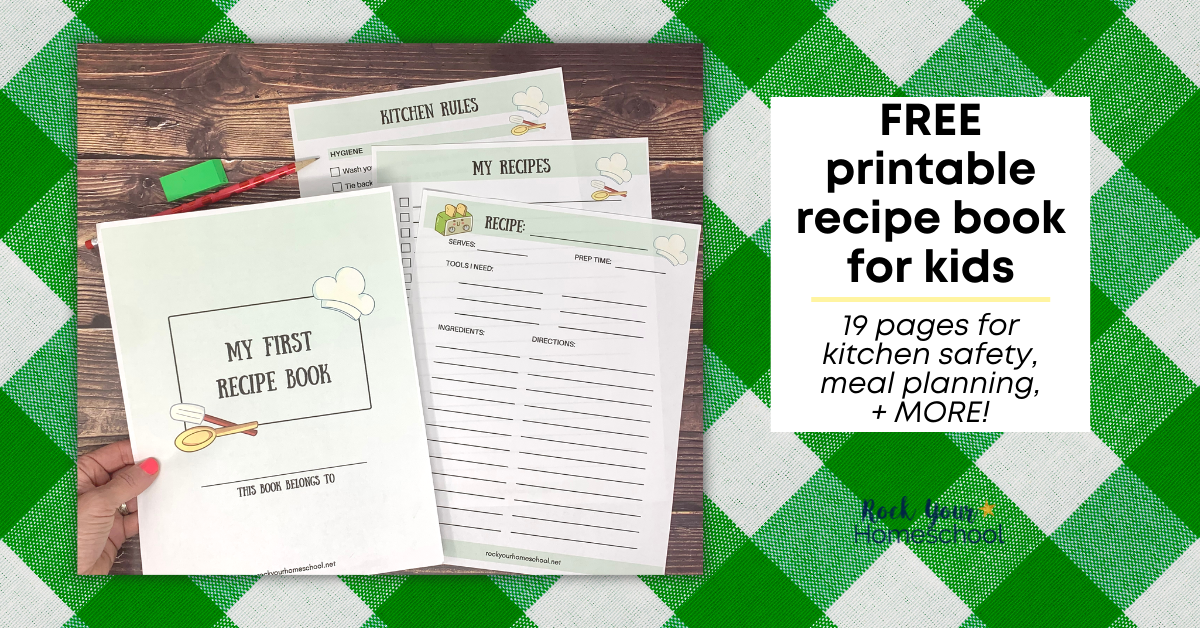 2. Planning a Road Trip
Planning a road trip is another great activity that can double as a math lesson.
Help your child map out the route and then calculate the estimated time of arrival at each stop. You can print out a map, buy one, or use an app. Amazing ways to teach your kids about using a map plus about estimating time and distance.
3. Playing Board Games for Family Math Activities
Board games are not only fun, but these resources can also be educational (and played again and again). Many board games require players to use basic math skills such as counting, adding, and subtracting.
The next time you're looking for a family-friendly activity, consider pulling out a board game. Some of the best board games for using math are Monopoly and Yahtzee. Candyland is always a good choice for younger kids who are learning to count.
4. Going Shopping
Going shopping is another great way to sneak in some math learning.
Help your child compare prices, calculate the sales tax, and figure out the final cost of the items they are buying. This activity also teaches about budgeting and using basic math skills in real-world situations. Your kids will be so glad that you helped them master these essential life skills.
Grocery Cart Math from Common Sense Press is a simple resource you can use to boost the learning fun.
5. Planting a Garden
Planting a garden is a fun activity for the whole family.
Not only is it a fun way to spend some time together, but it can also teach your child about math skills such as measuring, estimating, and calculating area. As the garden grows, you can also explore more advanced concepts like yield and growth rates.
6. Building a Fort for Fun Family Math Activities
Building a fort is another awesome activity that can double as a math lesson.
Help your child measure the materials, calculate the area of the fort, and estimate how long it will take to build. Your kids will have excellent experiences using basic math skills in practical ways. Plus, the fun of having a fort could lead your child to consider what other engineering projects they might want to pursue!
Oh, and don't forget blanket forts! These simple structures take some creative calculating, too.
7. Going on a Hike for Family Math Fun
Going on a hike or nature walk is a super cool way to get some exercise and fresh air. AND it can also be used as a math lesson.
Help your child map out the route, calculate the distance, and estimate the time it will take to complete the hike. Another wonderful way to teach them about using math skills in real-world situations!
Oh, and our free printable nature walk scavenger hunts (Spring, Summer, Fall, and Winter) can also be enjoyed for math fun with kids! Build observation skills and use tally marks to count how many of each object you find. Make a chart and comparisons, too.
8. Baking Cookies (or Other Treats)
Baking cookies is another family-friendly activity that you can weave in math skills.
Your child can measure the ingredients, calculate the baking time, and estimate how many cookies the recipe will yield. It's another great way to teach them about using math skills in practical ways.
9. Building a Sandcastle
Building a sandcastle is a fun summer activity that can double as a math lesson.
Your child can measure the sand, calculate the volume of the sandcastle, and estimate how long it will take to build.
Brainstorm other structures that you can build – and talk about the math behind it.
If you don't have sand available, consider using playdough, air dry clay, or other hands-on building material.
10. Playing Card Games for Special Family Math Fun
Playing card games is an excellent way to spend some quality time together as a family.
Your kids can count the number of cards in a deck, add up the values of the cards, and estimate the probability of certain hands being dealt. Such fun ways to enjoy math in a hands-on way!
A few games that are great for using math skills are Cribbage, War, and Crazy Eights.
Smart Ways to Enjoy Math Fun as a Family
These are just a few of the many activities that can double as math lessons. Next time you're looking for a family-friendly activity with a fun math twist, consider one of these options.
You'll have a great time bonding as a family and your child will be able to work on their math skills in an engaging way.
What are your favorite activities that double as math lessons? Share your ideas in the comments area at the bottom of this post!