Free Halloween Color by Number Printables Pack for Special Holiday Fun
These free Halloween color by number printables will keep your kids engaged and help them get excited about the holiday.
Your kids will have a blast with these Halloween-themed coloring activities!
Learn more about these 7 Halloween themes for color by number fun. Then, find out how you can get your FREE set today!
Color by Number Activities Make Holidays FUN!
Are you getting ready for a Halloween party or event?
Or maybe you're looking for simple ways to boost your homeschool, co-op, or classroom fun around the Halloween season?
These free printable Halloween color by number activities are simple yet fun ways to make the holiday special.
Why are color by number printables so much fun?
One reason is that these activities present a bit of a challenge. Your kids need to find the numbers, check the code, and then color to match.
Another reason why coloring by number activities are cool for a holiday is your kids get to see the picture unfold. Even if you think you know what the picture is, it's so cool to discover the final result.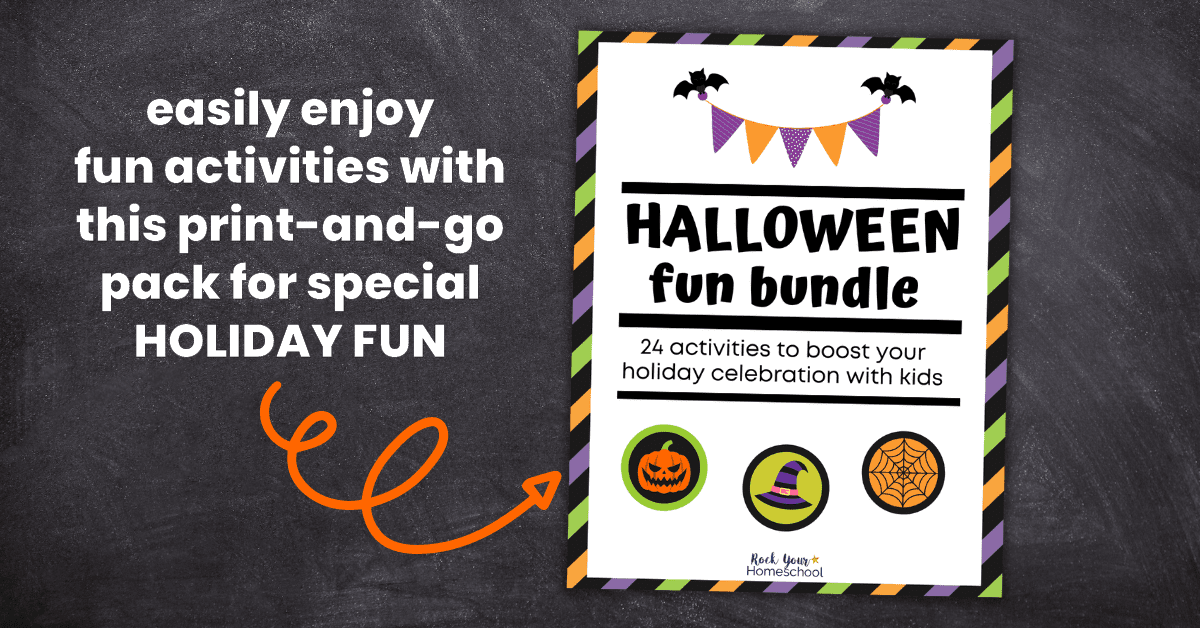 A few other reasons these Halloween color by number pages are such a fun way to celebrate are:
Shade in – Children will get to shade in images of a witch's feet, a witch's face, a vampire, pumpkin, spider, and more. Kids can see what the images will look when they've finished applying the color by following the number pattern on each worksheet.
Learning experience – When you're looking for fun Halloween activities that provide a learning experience (like identifying and matching numbers with colors plus fine motor skills with coloring), these free Halloween printables are an excellent choice.
Tip: Print out extra copies of these Halloween pages. You may just want to join in on the holiday coloring fun!
Check Out What's Inside This Halloween Color by Numbers Pack
The free printable set includes 7 Halloween-inspired color by number activities.
Each printable has sections with numbers included to guide kids on which colors to use in that area. Fun Halloween activity for practice with number recognition, color recognition, and color names!
These printables teach kids how to follow instructions, use their creativity, and have a good time while strengthening their hand muscles.
These 7 cute Halloween color by number activities have themes of:
Witch Shoes
Witch
Vampire
Spider
Jack O' Lantern and Black Cat
Haunted House and Ghost
Frankenstein
Fun Perks of Using These Halloween Color By Number Printables
Did you know that a coloring activitiy are a creative way to make learning even more powerful?
A few of the ways your kids benefit from working on these Halloween color by number printables include:
Increasing muscle strength in hands
Enjoying low-stress creative activities
Getting excited about the upcoming holiday
Having worksheets to complete and feel good about
Building confidence with completing tasks
You can use these Halloween coloring sheets at this fun time of the year for:
Your Halloween party
Classroom fun (seatwork, morning work, early finishers, tuck into take-home folders)
Boredom busters
Library event
How to Boost the Fun of These Halloween Activities
Easily make these Halloween printables even more enjoyable for kids by letting them choose their creative tools.
Prepare a variety of crayons, colored pencils, or markers.
Hang up each of the printable pages after your kids or students color them in, getting them in the spirit for Halloween.
If it's in your budget, consider making (or buying) some Halloween-inspired treats after your children complete a page or two from this color by number printable pack.
Play Halloween-inspired music in the background as your kids work on their activities.
Add Halloween theme stickers and stamps to your creative tools.
Oh, and don't forget to have your kids put their name and date at the top of the worksheet! Great way to save special work!
Happy Halloweens Stickers 8 Sheets with Ghost, Pumpkin, Demon, Wizard, Mummy, Vampire, Witch, Skull, Bat, Spider Stickers Decals for Jack O Lantern Scrapbooking Kids Party Favors – 320 Stickers
1000 Pcs Halloween Roll Stickers for Kids Teens, Lorvain Halloween Pumpkin Bats Spiders Witch Web Ghost Favor Roll Kid's Stickers Decals for Halloween Praty Decorations, Holiday Stickers
Rhode Island Novelty Halloween Stamps; Includes: Bats, Ghosts, Pumpkins Pack of 24
Get Your Free Halloween Color By Number Activities Pack
WooHoo! You're on your way to enjoying special Halloween fun with your kids!
This FREE printable pack has 7 Halloween color by number activities with a variety of themes.
You may totally print as many of these Halloween printable pages as you need to enjoy with your kids, class, homeschool co-op, or library event. Want to share with a friend or co-worker? Cool! Please share this post 🙂 Thanks so much for sharing!
To get these 7 FREE Halloween Color by Number Activities, all you need to do is subscribe to Rock Your Homeschool.
When you join the Rock Your Homeschool community, you'll receive this printable PDF file in an email, along with a super-secret password that opens our VIP Resource Library.
In addition to your freebies, you get a weekly email with ways to make life and learning fun.
(Psst! Current RYHS members just need to go to our VIP Resource Library and enter the password in your welcome email.)
Get your FREE Halloween Color by Number pack by tapping HERE or on the image below.
What other color by number printable activities (holiday or just because) would you love to see in our Subscriber's Library of freebies? Let me know in the comment area below! Wishing you a very Happy Halloween!
Oh, and if you like these fun Halloween color by number worksheets, you'll find plenty of other Halloween worksheets and activities like:
Free Halloween Coloring Pages and Cards
Free Halloween Toilet Paper Roll Figures (fantastic for frugal fun and creative play!)
Halloween Playdough Mats (Free)
Free Candy Corn Color By Letter Activities