Outstanding List of The Lorax Activities, Printables, & More
This Outstanding List of The Lorax Activities will help you find and have a blast with printables, crafts, games, and much more.
If you're looking for amazingly fun ways to enjoy this popular book by Dr. Seuss, you're in the right place.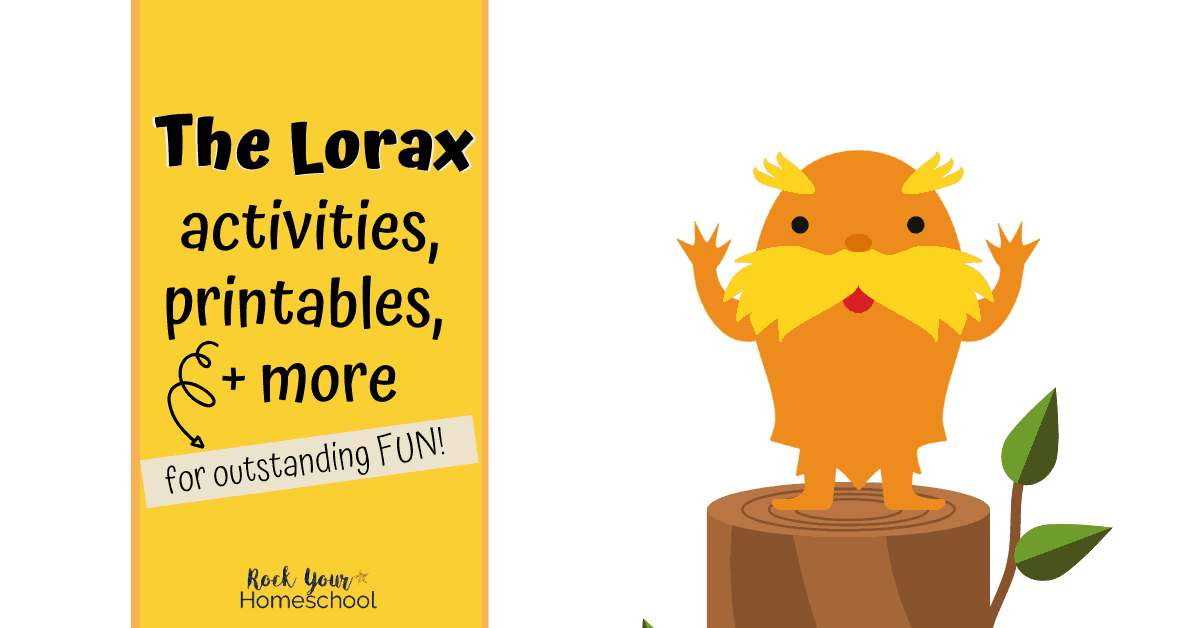 So Many Delightful Ways to Enjoy The Lorax with Kids!
The Lorax by Dr. Seuss has been a long-time family favorite. I adored this book as a child and have cherished special moments reading it to my five boys.
When The Lorax movie came out a few years ago, our interest in the story skyrocketed. In fact, my middle boy was obsessed with The Lorax character. And I often find myself humming the Let It Grow tune 😉
I just love The Lorax's message:  UNLESS someone like you cares a whole awful lot, nothing is going to get better. It's not.
My boys and I love to celebrate fun holidays. We had a blast with our Dr. Seuss Day fun.
Now, I'm getting ready for an excellent Earth Day celebration. And part of that fun will feature The Lorax! This Dr Seuss book is a great way to enjoy fun activities with Earth Day themes and more.
The Lorax STEAM Activities
The Lorax Printables
The Lorax Crafts
Games Featuring The Lorax
Snacks with The Lorax
Writing with the Lorax
Lesson Plans & Unit Studies for The Lorax
Here are some of the ways I'll be boosting our Lorax fun:
Dr. Seuss' The Lorax
The Lorax (Classic Seuss)
The Lorax (Deluxe Edition)
Look for the Lorax (Dr. Seuss) (Step into Reading)
12 Synthetic Mustache Assortment – Costume Moustache (Yellow)
Manhattan Toy Dr. Seuss The Lorax Soft Stuffed Animal Toy
Raymond Geddes Dr. Seuss Truffula Tree Pen, 12 Pack (69384)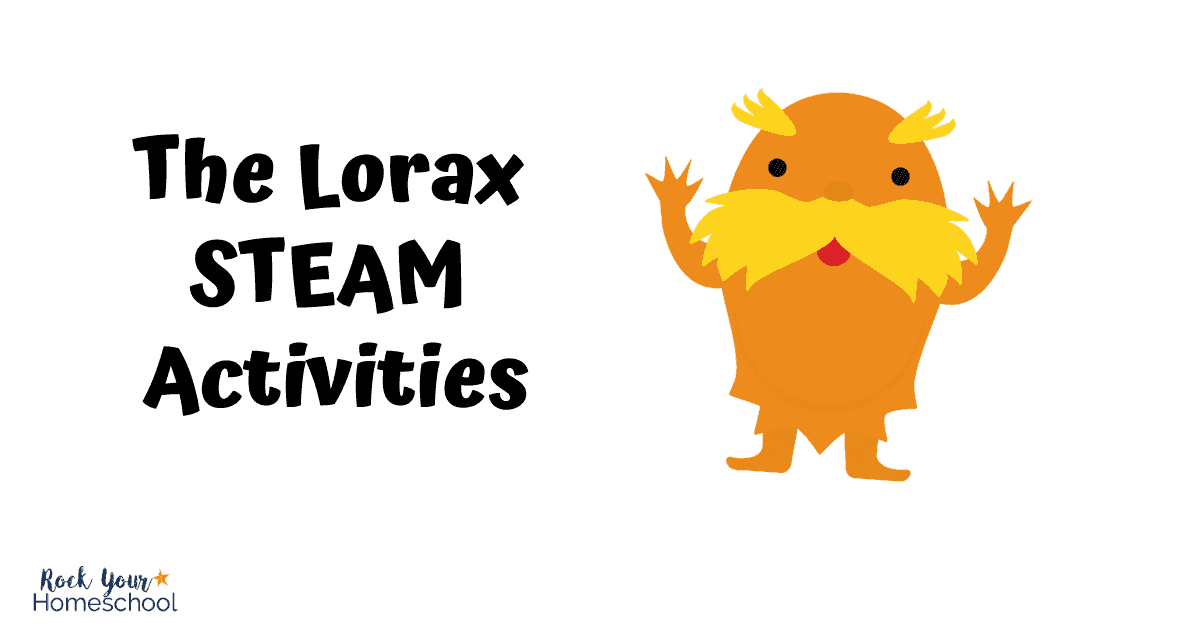 The Lorax STEAM Activities
STEAM Storytime with The Lorax (Preschool STEAM): This activity involves the challenge of building your own truffula tree. Use the suggested materials or get creative and use other supplies in your own home (like building blocks and cotton balls).
Lorax Earth Day Slime Activity (Little Bins for Little Hands): Enjoy some hands-on, gooey fun with this special slime.
The Lorax Science Activities (Science Sparks): Amazing ideas for STEM learning fun featuring The Lorax. The boys and I will be the Whisper-Ma-Phone.
Truffula Trees STEAM Craft | Exploring Color Theory (Schooltime Snippets): Delightful activity to learn about color theory using truffula trees.
The Lorax: Outdoor Activities & Ecology for Kids (KC Edventures): Excellent ways to learn about ecology with The Lorax.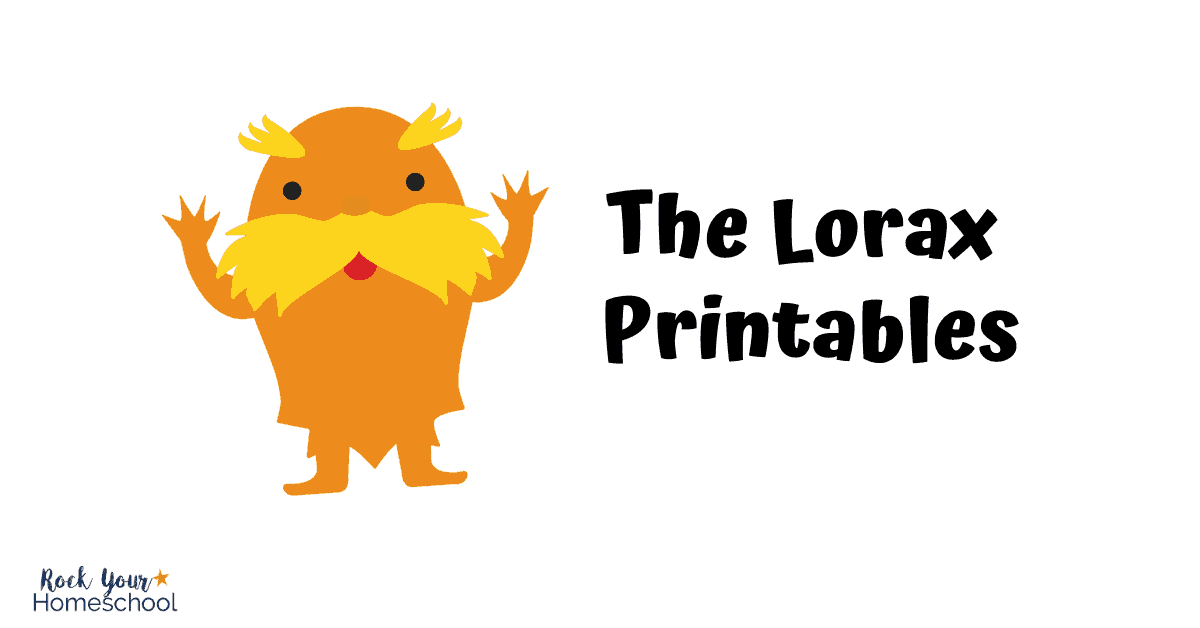 Printable The Lorax Activities
Boost Reading Fun with These 3 Free Lorax Bookmarks (Rock Your Homeschool): Your kids will love these Lorax-themed bookmarks with powerful quotes from the book.
Fun & Free Mazes for Fantastic The Lorax Activities (Rock Your Homeschool): These printable mazes with Lorax themes are great challenges for your kids.
Free Dr. Seuss Printables: The Lorax (Mod Podge Rocks): Free printable quotes from The Lorax.
Dr. Seuss Lorax Coloring Pages (GetColoringPages): Tons of coloring pages featuring The Lorax.
Printable Lorax Coloring Pages (Woo! Jr.): More coloring pages highlighting The Lorax!
Lorax Template Printable (A Few Shortcuts): You can use these cute templates for a variety of Lorax crafts with your kids.
Free Printable Lorax Corner Bookmark (Artsy Fartsy Mama): Simple activity that results in an adorable bookmark to use with The Lorax or any Dr. Seuss book.
FREE Printable Dr. Seuss Lorax Alphabet Banner Pack (HaleGrafx): Awesome printable pack to help you create a customized banner with a Lorax theme.
Free Printable Dr. Seuss Headbands (Simple Everyday Mom): Make an adorable Lorax headband with this printable.
Dr. Seuss' Truffula Trees Counting Activity (Tot Schooling): Free printable for fun counting practice and more.
The Lorax Crafts
Tie Dye Coffee Filter Art for Dr. Seuss The Lorax (Little Bins for Little Hands): Such a simple craft that's filled with such fun! Create a cute craft featuring the Earth with a heart.
Torn Paper Truffula Trees – The Lorax (3 Dinosaurs): Another simple yet creative craft that turns out adorable.
Yarn Truffula Trees – The Lorax (3 Dinosaurs): Add texture and more color to the above craft.
Lorax Toilet Paper Roll Craft For Kids (Dr. Suess) (Crafty Morning): Easy and cute craft for a DIY Lorax character.
Lorax Windsocks (Non-Toy Gifts): This simple craft recycles a toilet paper roll to make a creative windsock.
The Lorax Dr. Seuss Craft (Learning and Exploring Through Play): Another outstanding Lorax craft that recycles an empty toilet paper roll.
Handprint Lorax Craft with Microwave Salt Dough (Jinxy Kids): Incredible craft for creating a special memory with your kids.
Lorax Truffula Seed Craft (Jinxy Kids): Excellent craft for Earth Day or any day you want to pair The Lorax with taking better care of our planet.
The Lorax Paper Bag Puppet and Free Printable (The Inspiration Edit): Fantastic craft to give your kids a fun Lorax to play with (and maybe have a fun puppet show!).
The Lorax Craft (Non-Toy Gifts): Make a special Lorax paper craft with your kids.
Paper Plate Lorax Craft (Non-Toy Gifts): This paper craft has texture and fun!
The Lorax Inspired Hand Print Craft (ABC's of Literacy): Simple craft that uses a paper plate and construction paper to create a Lorax.
Puffy Paint Truffula Trees and Fingerprint Lorax (I Heart Arts and Crafts): Another incredible craft with texture.
The Lorax Dr. Seuss Craft (I Heart Crafty Things): This craft uses cupcake liners, straws, googly eyes, and construction paper for a brilliant arts and crafts experience.
Mixed Media Truffula Trees (The Pinterested Parent): Feature recycling with this creative craft.
Truffula Tree Paper Plate Craft (Kids Activities Blog): Using watercolor paints and paper plates for a great craft for kids.
Great Games for The Lorax Activities
Get Creative with THE LORAX: Roll A Dice Lorax Game (Smashed Peas and Carrots): Fantastic activity for hands-on fun as you build your own Lorax.
Lorax Cause and Effect Matching Game (Inspiration Laboratories): This free printable game packs a lot of punch! Help your kids learn about environmental issues via The Lorax.
The Lorax Number Game (Playdough to Plato): Creative, hands-on game for math fun.
Barbaloot Guesstimation Math Game & Graphing Printables – Dr. Seuss The Lorax (Surviving a Teacher's Salary): Yummy and hands-on way to enjoy math fun with your kids.
Doctor Seuss Math Game- Lorax Adding (JDaniel4's Mom): More hands-on math fun!
FREE Printable Pin the Mustache on the Lorax (HaleGrafx): Fun challenge to enjoy with your kids 🙂
Free Truffula Trees Domino Game (Woo! Jr. Kids Activities): Colorful game for fun with kids.
Snacks with The Lorax
The Lorax Cake (Diamonds for Dessert): This cake is a bit complex but looks decadent if you have time to make it 😉
Lorax Veggie Tray (Desert Chica): Enjoy a healthy snack with these easy to make a veggie tray that looks like The Lorax.
The Lorax Nutter Butter Cookies (The Nerd's Wife): If you don't need to worry about nut allergies, these cookies look amazing and delicious for your Lorax celebration.
Dr. Seuss' The Lorax Inspired Food Ideas (Cute Food for Kids): Variety of creative snacks and treats featuring the Lorax.
The Lorax Activities for Writing Fun
The Lorax Writing Craftivity Freebie (The Teaching Bug): Adorable writing and craft activity to enjoy with this awesome book.
The Lorax Writing Prompts (Inspiration Laboratories):  Free printable creative writing prompts to pair with this book.
Lesson Plans & Unit Studies for The Lorax
The Lorax by Dr. Seuss Lesson Plan (Scholastic): Free list of ways to teach your kids as part of an environmental health plan.
The Lorax Unit Study (Unit Study Ideas): 50+ fabulous ways to boost the learning fun with this popular Dr. Seuss book.
Free Unit Study featuring The Lorax (Homeschool Share): Free printable lesson plan and more.
The Lorax Activities + Printables = Lapbook (Starts At Eight): Create a special lapbook and more with these free printables.
Have you used or created more fun ways to enjoy learning fun with The Lorax by Dr. Seuss?
Please share your experiences and ideas in the comments area below 🙂