Free September Brain Breaks for Easy Homeschool Fun
WooHoo! There are so many wonderful ways to have fun in September. Add some easy homeschool fun activities to this special month with free printable September brain breaks.
These free printable cards with seasonal and fun holiday prompts are also fabulous for boredom busters 😉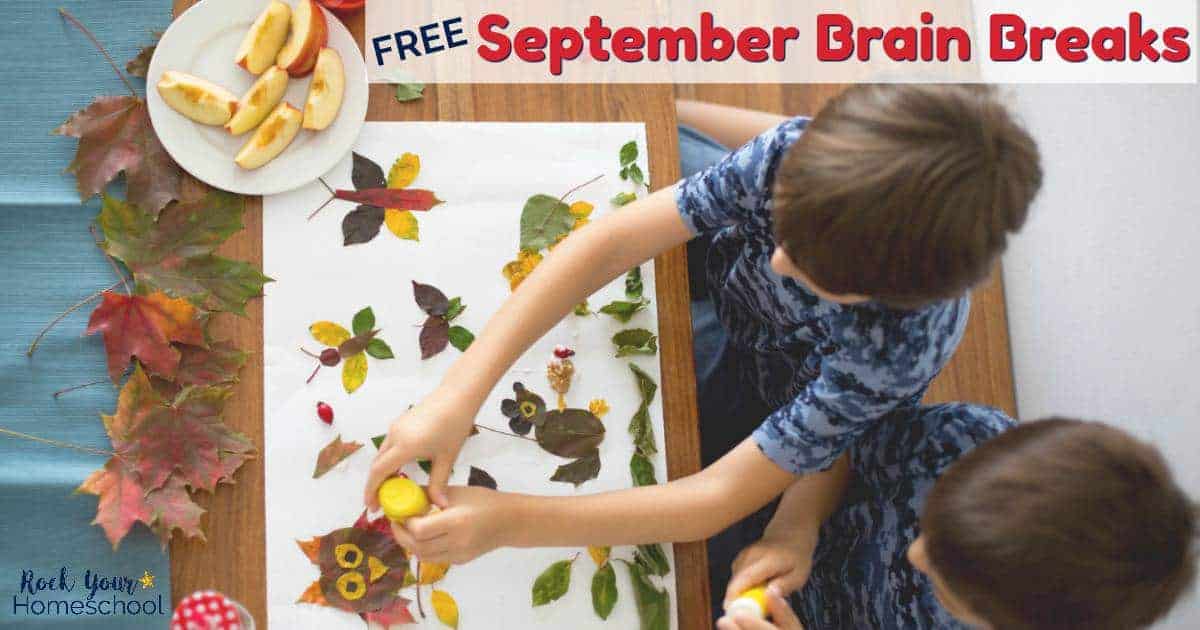 How Brain Breaks Can Boost Learning Fun
Brain breaks have been shown to help kids improve focus and information retention. Plus, brain breaks are fantastic stress relievers that allow kids to let off some steam.
Homeschool brain breaks are great either scheduled in your planner or to pull out when tension is building and you can tell that your kids need a change of pace.
You can build these brain break activities into your homeschool routine or use in a more random fashion on an as-needed basis. Do whatever works best for your homeschool 🙂
Get Your Free September Brain Breaks!
September is going to totally rock!  Make this already awesome month extra special with September Brain Breaks.
Are you starting back to homeschool? Then, it's a great time to build brain breaks into your day. Also, these September brain breaks will give your kids (and you) something to look forward to 
These free printable cards of September Brain Breaks have monthly, seasonal, and fun holiday themes and prompts. These ideas are created to get kids moving, interacting, or relaxing with hands-on fun.
My boys like to cut out the cards and then mix them up into a pile. They'll randomly draw a brain break card to add an element of surprise.
If the suggested activity isn't quite what they'd like to do or need at the moment, my boys will simply replace the card and pick again. They get such a kick out of the process!
There are a total of 24 printable Brain Breaks cards designed for September (4 pages 6 cards each). That's a whole lot of focused learning fun!
Feel free to get creative and put your own spin on the suggested activities. I encourage you to customize the prompts so you and your kids get the most benefit out of using brain breaks.
When you subscribe and join the Rock Your Homeschool community, you'll receive these printables in a PDF download in an email.
Plus, you'll get a super-secret password that opens the library to all our RYHS freebies. Oh, and you'll receive email updates with ways to make life and learning fun.
(Psst! Current RYHS members just need to access the Subscriber Freebies page and enter the password in your welcome email. Or get the instant download in the email the week of this post.)
Click HERE or on the image below to subscribe and get your FREE printable September Brain Breaks for Kids!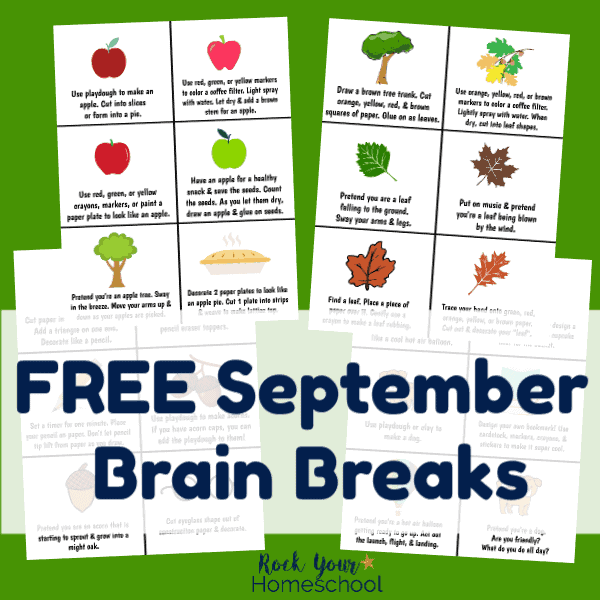 Do you have any questions about using brain breaks with your kids?
Please share your questions or experiences in the comment area below 🙂
If you like these Brain Breaks Cards for September, you'll love:
Free September Conversation Starters for Fun Chats with Kids
Free Calendar of Fun Days for Kids