If you are planning an epic Star Wars party, you're going to need amazing food.
Add some yum to your tasty delights with these Star Wars-Inspired party snacks and treats! These ideas would be great ways to boost the fun celebrating May the 4th Be With You or any day you want to have exciting snacks.
Most of these Star Wars-Inspired party snacks, treats, and drinks are simple to make and only require a few ingredients to mix up your space-themed food. You can even include your Star Wars fans in the fun! My family is obsessed with Star Wars-Inspired Fun and think these party snacks are out of this world 🙂
Outstanding Star Wars-Inspired Party Snacks & More!
TIE Fighter Oreo Pops from Ashlee Marie: These decadent chocolate delights would be fabulous treats to add to your Star Wars Inspired Party snacks list.
Rock Candy Lightsabers from The Shirley Journey: Make your own rock candy lightsabers with this easy recipe or buy this affordable option.
Out of this Galaxy Star Bars from Hello Nature: These creative cereal bars provide you with a healthy option for your Star Wars-Inspired party snacks.
Light Saber Pretzels from Lady Behind the Curtain: This recipe with tutorial will be fantastic in guiding you to make stellar lightsaber pretzels. My boys and I have also created bite-size lightsabers with pretzel sticks.
Star Wars Hot Chocolate from Thrifty Jinxy: Make your own hot chocolate and May the Foam Be With You 😉
Stormtrooper Ding Dongs from The Tiptoe Fairy: These cookies take a bit of decorating on your part with black cookie icing. If you can't find white Ding Dongs, I suggest using sugar cookies.
No Bake Wookie Cookies from Desert Chica: Yummy and easy-to-make treat to add to your Star Wars-Inspired party snacks list!
TIE Striker Appetizer from 2 Geeks Who Eat: Add a bit of zing to your Star Wars-Inspired party snacks with these yummies that could be used for a substantial snack or even lunch.
Star Wars Cupcakes: Easy Recipe from Highlights Along the Way: Transform your regular cupcakes into stellar wonders with pretzel lightsabers!
Jabba Juice from Mama Likes to Cook: This sweet green drink recipe would look awesome in a Star Wars-themed glass!
If you like these Star Wars-Inspired Party Snacks & more, you'll LOVE our awesome ways to make Star Wars-Inspired party bags!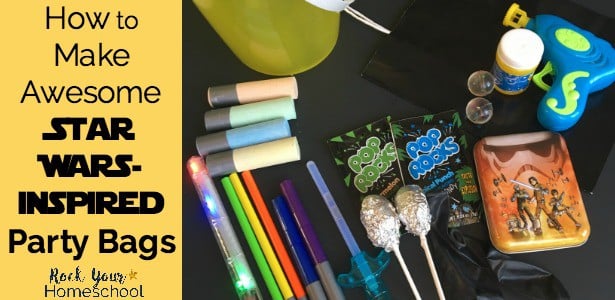 2 Free Star Wars-Inspired Origami Fortune Tellers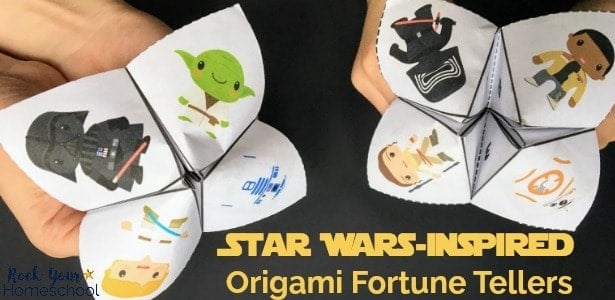 Free Star Wars-Inspired Coloring Bookmarks
Free Star Wars-Inspired Coloring Pages
Free Easy Star Wars Toilet Paper Roll Figures
Free Star Wars Cards for May the Fourth Be with You